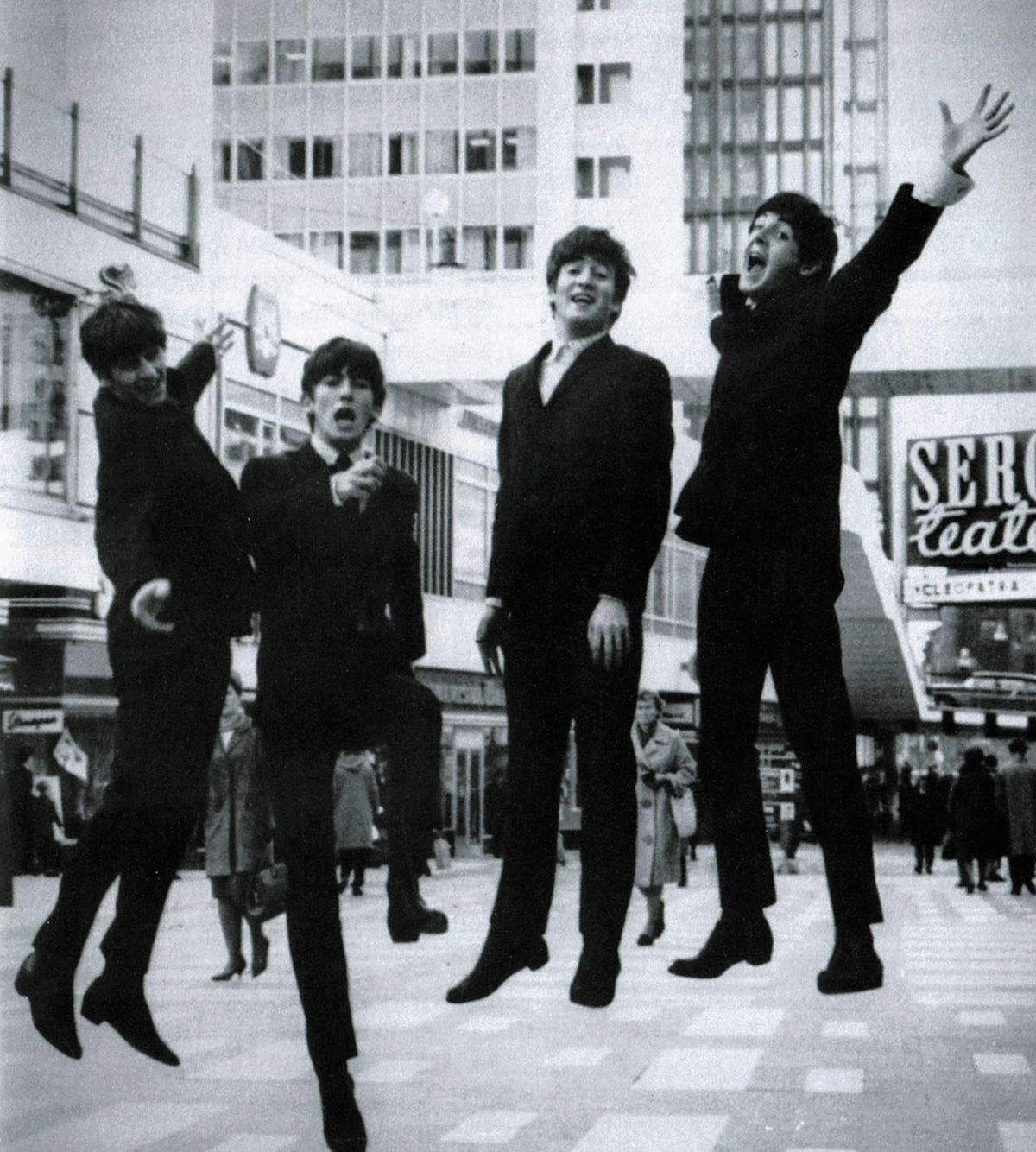 The Beatles, Hötorgscity, Stockholm, 1963. Photo: Wikipedia Commons
To mark the 50th anniversary of the release of Sgt. Pepper's Lonely Hearts Club Band, In Their Lives fuses together the history of the band with the personal histories of the 29 diverse essayists of the anthology and captures the indelible mark The Beatles left on pop culture
Fifty years ago, a band dropped an eclectic album in the middle of the 1960s music scene that changed the world of popular music for years to come. The band was the Beatles, and the album was the phenomenal Sgt. Pepper's Lonely Hearts Club Band. The Beatles eighth studio album marked the band's transition from schoolboy pop to a genre of their own. Although this change was apparent in their previous albums (Revolver and Rubber Soul), the incredible commercial success of Sgt. Pepper's Lonely Hearts Club Band sealed the Fab Four's iconic status. To mark this watershed moment in the history of music, Penguin Random House has released In Their Lives, an anthology of 29 essays that reflect on the cultural impact of the Beatles. Edited by Andrew Blauner, In Their Lives fuses together the history of the band with the personal histories of the 29 diverse essayists of the anthology and captures the indelible mark The Beatles left on pop culture.

Personally, my first brush with The Beatles was through a synthetic connection, or through two degrees of separation. I was seventeen, crushing heavily on a boy in class with an enthusiasm that any seventeen-year-old could muster. (My infatuation was predictably unrequited.) In this hot-headed adolescent period, I heard the song That Thing You Do on my phone's radio while I was on the bus on my way home from college. I found a reflection of my teenage turmoil in the line "You never even knew about the heartache I've been going through..."
That Thing You Do was the OST of the movie of the same name that came out in 1996. A story about a pop band of four boys wearing suits, it was quite apparent this movie found its inspiration from The Beatles. Curiosity and a seventeen-year-old's thirst for more moppy songs led me to the originals: The Beatles. I heard every song of The Fab Four I could possibly lay my hands, nay, my Internet-trailing mouse on. I regret to inform, I was not very impressed. They sounded... old. Boring. What can I say? It was 2007. I was a teen. My idea of good music, like many of my "English music" listening peers, was Bryan Adams and Michael Learns to Rock (MLTR). I'm not proud of that phase, but it was a learning period.
In Their Lives: Great Writers on Great Beatles Songs
By Andrew Blauner,
Penguin Random House,
Rs 1,296, pp. 219
Fast forward to almost a decade. I got over the boy. I got over That Thing You Do. What stayed with me? The Beatles' songs. When I heard them again, nearly 10 years later, something clicked in my head. The Beatles were no longer boring. I find it hard to pinpoint to a particular word or a verse of the song or the music that pulled me towards them. Aldous Huxley, in his wonderful essay 'Music at Night', wrote that music of the exceptional kind has the power to "evoke experiences as perfect wholes". Listening to the Fab Four again did not just let to a resurfacing of the bubbly feelings of a teenage infatuation. Ten years later, I had experienced a déjà vu that the possible futures that I had imagined for myself at the age of 17 perhaps can still exist.

The Beatles had evoked a perfect whole of an experience I had as a teenager. Their songs became a marker of Proustian moments of my life as Andrew Blauner, in his introduction to In Their Lives, explains: "Seemingly everyone, everywhere, knows the Beatles, and ever so many of us seem to have Proustian memories, meaningful and memorable associations, and experiences with them." Perhaps, this is what makes The Beatles one of the greatest bands to have existed. After all these years, they still have that evocative power. This is what the anthology of essays in In Their Lives testify.
When John Lennon and Paul McCartney started writing their songs, McCartney writes in his note in In Their Lives, they had hoped to garner a small number of fans who would love the songs. But, as history tells us, their songs were not meant to be heard by just a handful. McCartney confesses in his note that he was as surprised as the rest of the world by the massive fan following of the band: "...it is astounding to me to realize the extent to which the songs have reached people of all shapes and sizes in so many places around the world."
Page
Donate Now
Comments
*Comments will be moderated