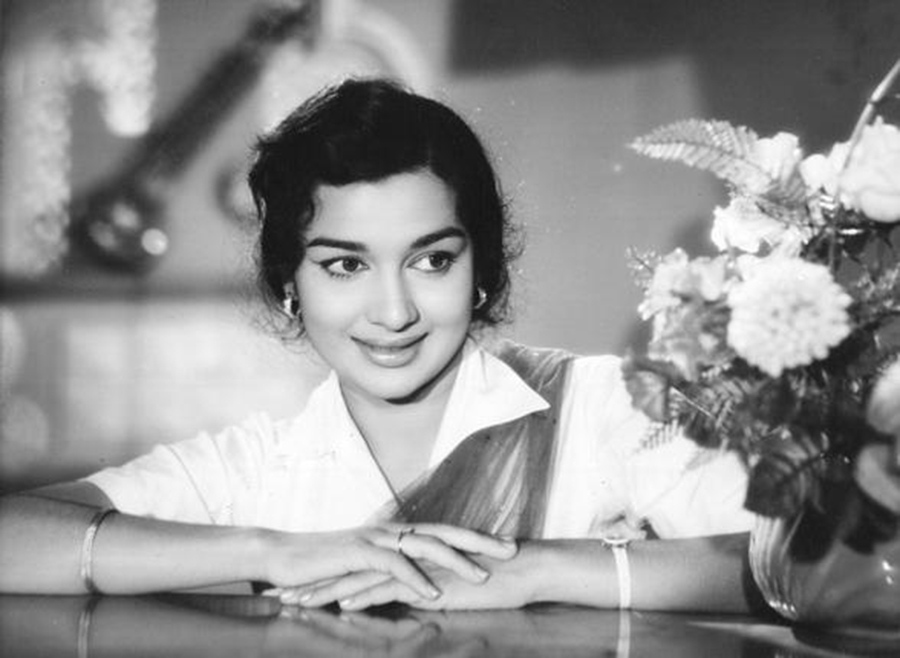 Asha Parekh in a still from Phir Wohi Dil Laya Hoon
The look of the book suits its subject admirably. Asha Parekh, dazzling smile intact, makes eye contact from the front and back covers. And through the book, the images continue, sometimes coy, sometimes fetchingly demure, depending on the movie the still is from and the role she essayed in it.
The colourful pages lead the reader on, much like the songs in her films did, making light of the storyline that weaves in and out between the images. Entire double spreads are devoted to opening each chapter, and indeed the layout and the sudden colour-drenched background on some pages is more reminiscent of a magazine in the nineties than a book. The high quality matt finish paper ensures even the black and white pictures are clearly reproduced. However, this viewers' delight results in a rather heavy volume in this age of light, easy-to-travel-with books.
That said, the book is an easy read. The chapters are clear indicators of what the reader can expect. Writing out a life that has been as colourful and eventful as Asha Parekh's cannot be easy, and it is to the co-author's credit that he has put his years of experience as an editor to use and demarcate the chapters to flow effortlessly from one major milestone to the next.
Asha Parekh starts her story with the dramatic turmoil of her parents' love story. Much of what she narrates must have been told to her, but she brings it alive nonetheless. Her emotional connection with her parents shines through the chapter, and through the book. Perhaps, seeing herself as a daughter first, all through her life, helped her retain the childlike charm that shone through on the screen.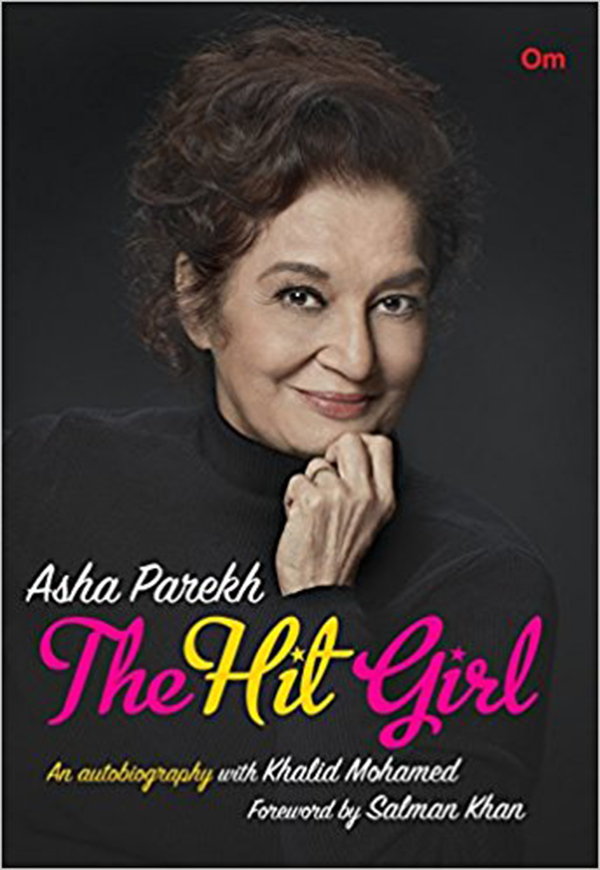 Asha Parekh: The Hit Girl
An autobiography with Khalid Mohamed,
Om Books International,
Rs 895, pp 264
Taking us through her early dancing lessons and her first break into films, courtesy no less a filmmaker than Bimal Roy, the star shares stories about her first significant roles. Dancing alongside the accomplished and much celebrated Vyjantimala in Aasha is one memory that still makes her proud of the fact that she felt no self- consciousness. A list of almost-signed roles in films that went on to star other actors in the female lead, and her enrolment in Filmalaya takes us to the point where the ingénue would find her wings and take her first flight towards stardom.
Though the book goes into detail about Asha Parekh's roles in her debut film, Dil Deke Dekho, and subsequent films like Jab Pyar Kisi Se Hota Hai, it is when she talks about her co-stars in her many films that her candour comes to the fore. We see Joy Mukherjee, Dev Anand, Ashok Kumar, Manoj Kumar, Rajesh Khanna, Shashi Kapoor and even Guru Dutt outlined in quick, insightful cameos through telling incidents. Asha speaks of them with a matter-of-fact objectivity, keeping emotion at bay. Even when she speaks of an actor whom she introduced and recommended for a film, snubbing her with no apparent reason later in life, there is only a hint of regret at the vagaries of human nature.
The same mood prevails through a chapter that speaks of opportunities that passed her by. Films she could have made, but didn't; directors who wanted to sign her on, but did not for some reason or the other; stars she would have loved to act with. It is a chapter that tells one a lot about why Asha Parekh, like Waheeda Rehman and Nanda, contemporaries she admires, remains on a pedestal in the eyes of her fans.
There is also no regret over the fact that she was mainly given glamour girl roles. "As an artiste I did not pause or wonder why I was not ever thought of, for want of a better word, for 'serious' roles," she writes. Instead, she decided to occupy the space that was given to her, and give her best, "go with the flow." Yet, when in 1966, the tomboy- turned actress who delivered jubilee hits was given a deglamorised role in Do Badan, she took on the challenge, learning to emote along the way. The serious roles would follow, and culminate in a Filmfare Award for Kati Patang.
The chapters that deal with her assay into Gujarati films; her stage shows and her costumes are of niche interest, but reflect the same clear image of a woman who held her own in a world that challenges everyone who enters it. As does the chapter that deals with her experiences as Chairperson of the Censor Board.
Khalid Mohamed says in his author's introduction that he has kept the tone and flow of the narrative as close to Asha Parekh's voice as possible. This is both a positive and a negative, because while the flow is smooth, one misses the drama and the craft a write of his calibre could have brought to the telling.
However, one cannot deny the co-author's very strong presence in the captions, which have all the tongue-in-cheek sauciness his reviews were known for. Thus a photograph of Asha Parekh in a bouffant is captioned "Hair Apparent" and there's "Kite Runner" to accompany a still from Kati Patang.
It is in the last chapter that Asha Parekh sounds most real as she speaks of the love she could never revel in, and the loneliness that pushed her to the brink of depression. It is a moving chapter that inspires admiration for the woman beyond the star.
The book has a lot of "extras". For one, there are many appendix add- ons, including a list of her favourite songs, a filmography, a roll call of awards won, and finally an index.
Also, there are three forewords: by Salman Khan, Sai Paranjpye, Sanjay Leela Bhansali (though only Salman gets cover billing). It is as if the publishers felt the star could not sell the book on her own. Strange! She was The Hit Girl, wasn't she?
Donate Now
Comments
*Comments will be moderated