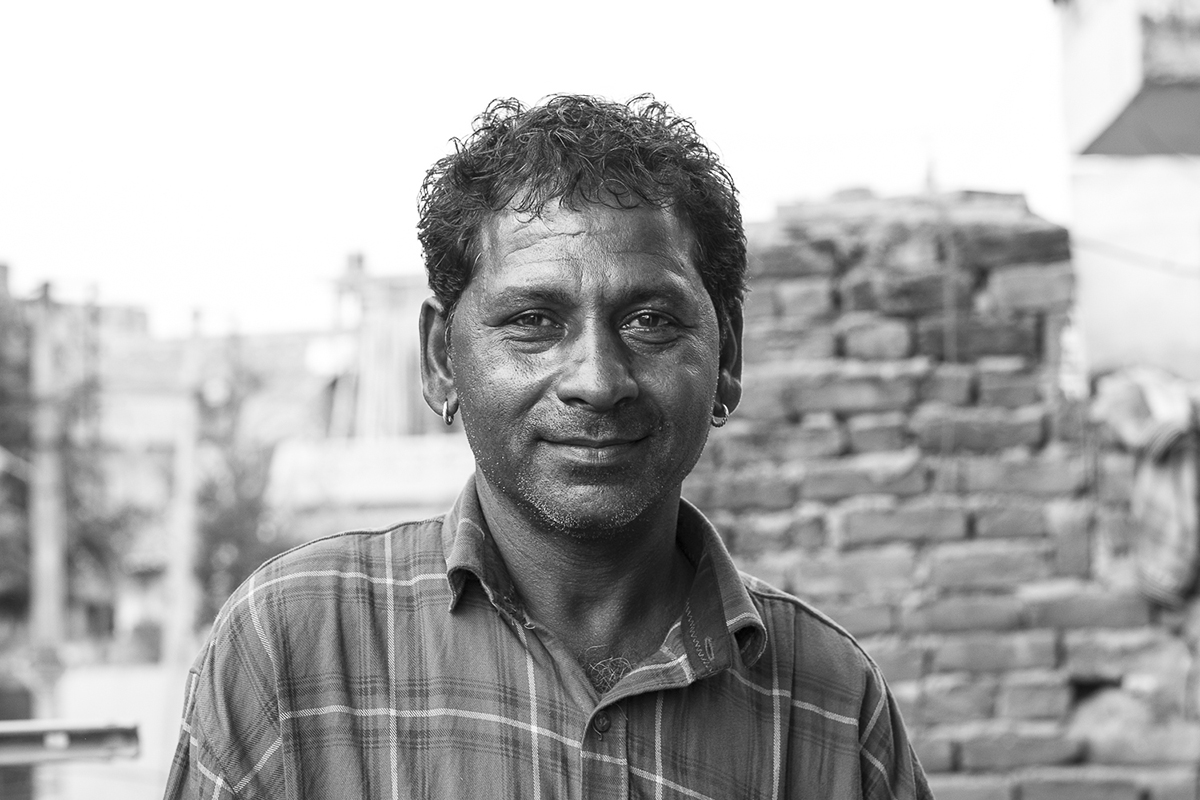 Shankar. Photos: Yamuna Flaherty
Despite the uncustomary attention I received, Shankar's affections for me were not immediately obvious. My rickshaw rides in Jaipur in January were indeed a subtle form of courtship.
Shankar extended his hand towards my mouth, his fingers dripping with rich, brown gravy. I had never taken food from another's hands, save for my own mother or an elder doting on me. My eyes quickly surveyed the empty dining hall to see if anyone was watching; one employee was hunched over a vat of bubbling oil and the other was standing on the stoop outside. I had spent enough time in India to know that feeding another is a gesture of affection often reserved for newly married couples but never ever from your rickshaw wallah. Despite the fact that Shankar was the latter, I leaned across the table and parted my lips to receive the warm, spicy curry from his hand. As if on cue, I smiled shyly and looked down at my plate, suddenly embarrassed by the intimacy we had forged over our lamb curry. Though truthfully, it had been a slow build to this point over the preceding week in Jaipur; with my departure imminent, it finally felt safe to acknowledge the deep significance of his offering.
This dinner was to celebrate my ninth and final night in the "Pink City," a historical metropolis aptly named for the warm terracotta hues of its buildings. The first half of my stay was to attend the Jaipur Literature Fest, the largest free literary festival in the world. I was blessed to have met Shankar not long after I arrived in town and immediately booked him to be my rickshaw wallah for the duration of my visit. He would wait outside my hotel every morning to drive me to the Diggi Palace, the venue of the litfest, and would battle rush hour traffic and hordes of dispersing attendees to find me at the end of the day. From the first ride in the backseat of his rickshaw, I sensed there was something uncommon about him. He seemed unusually well-dressed in comparison to the other drivers — he sported plaid collared shirts and a leather jacket instead of the standard beige cotton uniform that many others wore. Although he didn't keep the tradition of growing a thick moustache, his silver earrings and pointed leather jutis revealed his Rajasthani heritage. His most unusual habit was certainly our daily stop at a roadside stall where he would buy me my morning chai, insisting that I enjoy it in the backseat. I felt certain this was to protect me from the throngs of men huddled together over the day's news. However, his attentions didn't stop there. If I coughed along the way, Shankar would pull up in front of the first medical shop he spotted without question and return with a handful of lozenges. When the morning air was chilly, he'd offer me his scarf. He never missed a beat. In a city suffused with a rich royal legacy, I began to regard Shankar in his little yellow rickshaw as a noble knight upon his steed.
Despite the uncustomary attention I received, Shankar's affections for me were not immediately obvious. At first, I questioned if they were his attempts at trying to procure more money from my pockets. But when he undercharged me and refused tips, I naively assumed his service was a reflection of the gratitude he felt for finding a steady foreign customer for the week. Or did he simply practise a form of male chivalry that was so rare to encounter in the modern day that it immediately raised suspicions? On the final evening of the litfest, I started to put the pieces together: my rickshaw rides were indeed a subtle form of courtship.
By tradition, Shankar was a string puppeteer from the Kathpuli tradition of Rajasthan, and so driving a rickshaw was a secondary income, which would ensure he could fulfil his paternal obligation to marry off all of his offspring. He made it known to me that he had proudly fathered nine children with a single woman, and now a man of fifty, he was already a grandfather. He had married his wife at fifteen years of age and has been a husband for as long as I've been alive.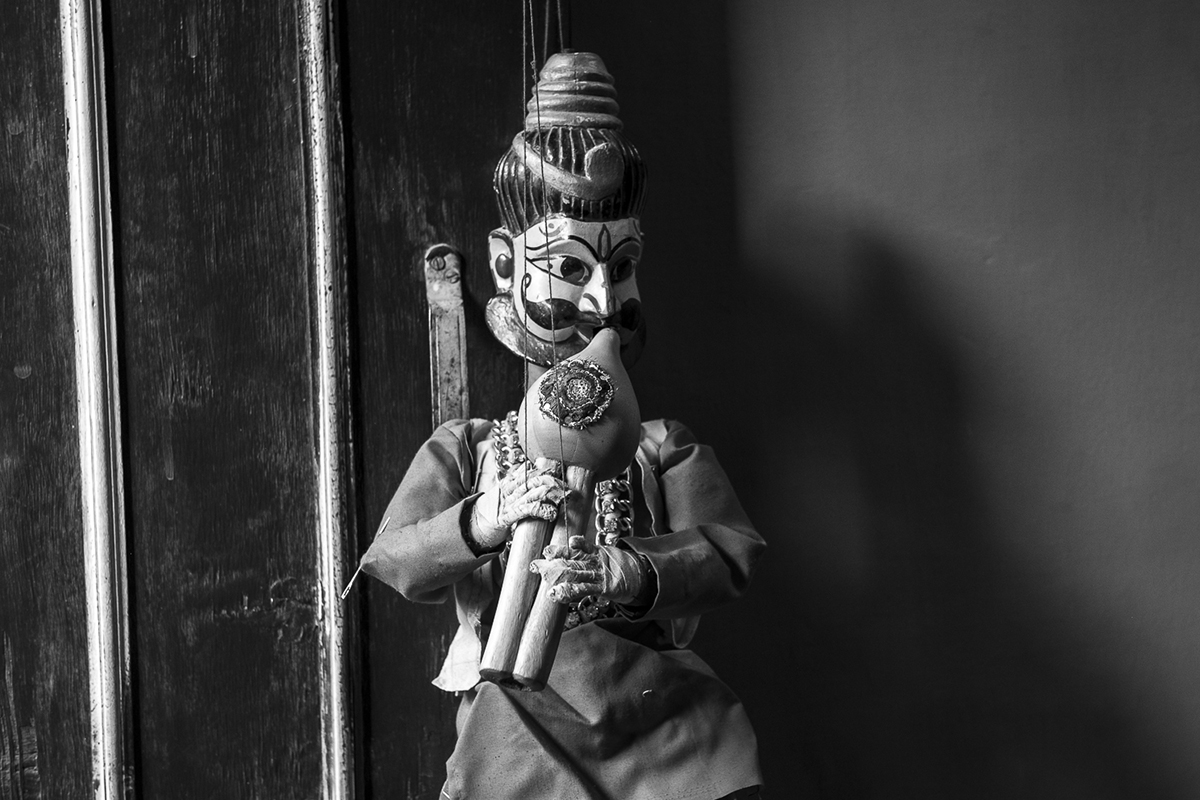 One afternoon, he brought me to the congested lanes of his residential colony and introduced me to his entire clan. Together with four generations of family, he lived in a neighborhood of puppeteers, where it seemed as though every person I met was somehow related to him. Shankar seated me on a king-sized mattress in the main bedroom of his home as various family members encircled me with curiosity and excitement. I was amazed that a man I had considered middle-aged could fill an entire room with his progeny — standing room only. Suddenly, from the incoherent chatter and delightful giggles, his flock parted down the centre to make way for Shankar's two eldest sons. One held a handmade marionette decorated like a typical Rajasthani woman, and the other held a dholak, a double-sided folk drum played on one's lap. The entire family sat on the floor around the bed as each brother took his position for the impromptu performance. With an expert manipulation of his thumb and a gentle flick of his wrist, the eldest son animated the puppet to clutch the edge of her skirt and thrust her hips to the beat of the drum. We all clapped and whistled with enthusiasm. I could feel Shankar's pride beaming through his expression as he watched his children entertain me. It was certainly not my first time being invited to someone's home for a cultural experience, but there had been ulterior motives enough times in the past to leave me wary. I kept waiting for the other juti to drop, but it never did. Shankar's chubby-cheeked wife brought me a plate of curry and rumali roti, a thin flatbread named after a handkerchief, and she and her children watched approvingly as I finished everything on my plate. As the sky began to darken and the crowds thinned, I felt a perceptible shift towards my departure. Shankar's wife gestured towards him standing on the small balcony of the bedroom and with both hands motioned that I should take him with me to Canada. I nervously laughed, though internally wondered if it was really a joke. Shankar's brown eyes twinkled as he smiled awkwardly, either complicit in her wishes or caught by her reference to his true feelings for me.
The grand finale concert was to be held at the luxurious Hotel Clarks Amer on the outskirts of town, and I convinced Shankar to take the night off, preferring to keep myself open to spontaneous possibilities. I did feel a confused pang of guilt when I canceled our regular pickup, yet he insisted on coming for me no matter the hour. Knowing that a gathering of literary delegates and an open bar might force him to wait for long hours in the biting cold of a January night, I flatly refused. As it turned out, my phone battery died halfway through the evening, and so I planned to figure out my return when I was ready to depart. I finally emerged from the front gates of the hotel at half past midnight. The street was populated by a gang of rickshaw wallahs that clearly had the upper hand in fare negotiations. I inhaled a deep breath of the cool air and braced myself for tough bargaining. I was alone at the centre of a group of determined men wrestling for my business: "Where you going, Madam?" "Madam, I give you best price!" "Madam, this way please." I suddenly realized I hadn't the faintest idea where I was, I just knew that I was really far from my hotel. For the first time since I had arrived,
I was without Shankar's protective bubble in the midst of the uncouth hustle of the streets.
That's when I heard my name. I followed the voice to the light of a dim street lamp illuminating the silhouette of Shankar, my hero, standing next to his rickshaw. It took a moment for me to register his presence, but when I did, a wave of relief coupled with utter disbelief spread over me. Shankar must've waited there for me the entire evening. He wouldn't have known if I was still inside the venue or had caught a lift with someone else and slipped past him unawares. Unable to call, he had remained outside with total faith that I would eventually emerge from the front gates. As we coursed through the empty streets of Jaipur together, the sharp staccato of his sputtering engine pierced the night's silence like the arrow of revelation that had finally struck my ignorance: my rickshaw wallah adored me.
So, on my final night in town, when Shankar reached into his pocket to find his wallet to pay for our dinner, I did not protest. If nothing else, I could allow him this moment. We drove straight back to my hotel and sat in his rickshaw for a few minutes in silence. He turned his body towards me so that his contour was illuminated by the streetlights; I was afraid to break the silence with any paltry talk, but it was Shankar who spoke first.
"You are a nice girl. You and me, same-same."
I wasn't completely sure I understood what he was trying to say, but I took it to mean that he and I had similar natures.
"You are same like Indian," he continued.
I nodded in agreement. Although there were a lot of very "Western" things about me, my Indian ancestry had conditioned me with a code of cultural conduct that made it easy to fit in when I wanted. However, despite my mutability, I had a penchant for independence and nomadism that was most certainly from my upbringing in Canada. In my heart, I knew that Shankar only had the ability to see this one side of me and not the chasm of difference that existed between us too.
"Thank you for everything, Shankar." The words felt flat compared to the swirl of emotions that sat heavy in my chest. He bowed his head, looking at his feet.
"No, no thank you. You are good," he repeated.
I could feel the thickness of the unspoken tension suffocating the air between us. I understood the impossibility of him expressing his deepest sentiment, and a part of me preferred not to name what was perfect just as it was. I wished to give him something, anything to remember me by, and so I took off the new wool shawl I was wearing and extended it towards him.
"No, Yamuna. No, you keep," he appealed.
I pressed on, "Please. I want you to have it. Please take it."
Shankar held the shawl between his palms and wobbled his head from side to side in submission. "Tomorrow morning I come?" he asked.
"No don't come. My bus is at 5 am, it's too early." I didn't want Shankar to wake up in the middle of the night to drive me a distance I could easily walk. The bus to Bundi was departing only three blocks away from my hotel.
"Ok." He agreed.
I stepped out from the backseat and offered my hand to him. Shankar took it in his and shook it goodbye.
On my final morning, in the blackness of pre-dawn, I strapped on my backpack and started down the road towards the bus stop. Not more than a few paces from my hotel, Shankar suddenly drove out of the shadows with my shawl tied around his head like a turban in the local style.
"Shankar! I told you not to come, it's too early."
"I am no sleeping Yamuna, only thinking." For the first time, there was a perceptible sadness in his expression. We drove the few blocks together and parked the rickshaw near a chai stall at the bus stop. He went in to verify that the parked bus was indeed the one I would travel on and returned with chai —but this time only one cup. He put his lips to the rim and carefully sipped the hot, sweet liquid before passing it back to me. We looked at each other without speaking, and I put the paper cup to my lips on the same spot he drank from.
"This time marriage good for you. Baby good. You looking nice boy, ok?"
The sincerity of his wish for my well being stung my eyes with tears. The way he cared for me was so measured and dignified. He had never once tried to advance his aims nor ask for anything in return. Even now, when the moment was unequivocally his, he thought of my future happiness instead.
"I will marry one day Shankar, when I find someone just like you."
The bus blared its horn long and loud, alerting all passengers to come and take their seats. Shankar carried my backpack to its door and stopped. The other passengers squeezed past me to enter the bus until we were the last two standing outside. He extended his hand and looked at me with a hopeful expression. This time I took his palm in mine and gave it a little squeeze before turning to the door and boarding the bus. I may not have had Shankar's protection for my journey onward, but I had his blessing, and that had certainly made the ride worth it.
Donate Now
Comments
*Comments will be moderated