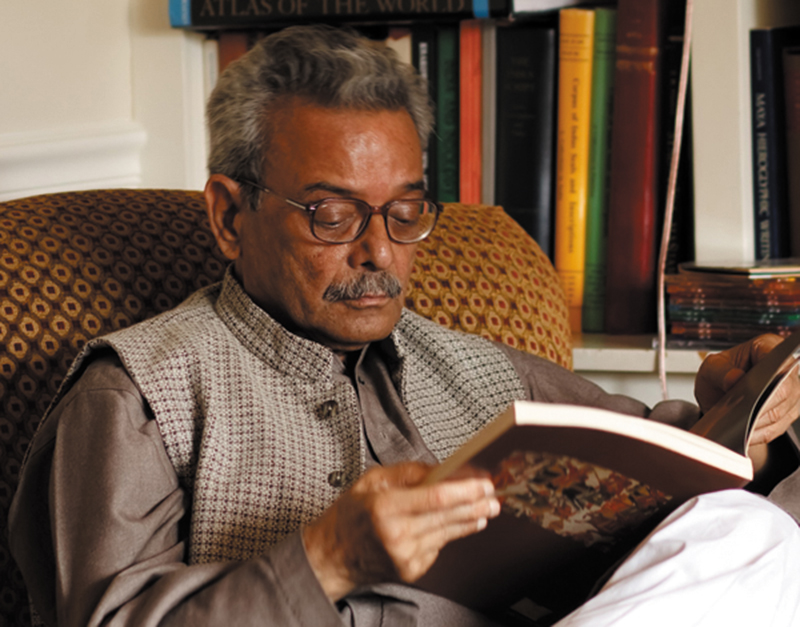 Shamsur Rahman Faruqi. Source: Wikipedia
My father is a Vigilance Officer." This was what I was instructed to say in reply should anyone ask at my new school. By "New School" I mean the hoary St. Mary's Convent, the oldest girls' school in Allahabad where I was enrolled in class I when I was very small (and perhaps precocious in my parents' eyes). It mattered little that I didn't understand what a "Vigilance Officer" meant and what he was being vigilant about. Being a "Vigilance Officer" was something very important, I subconsciously believed. Why I call St. Mary's my "new" school is because ever since I remembered, in fact since very shortly after I was born, I had been accompanying my mother to "her" school, the Kidwai Memorial Girls' Inter College of which she was the founder-Principal. I was a somewhat coddled baby, having been breast-fed by my mother and assiduously fussed over by my mother's juniors in this girls' school for children from the poorer, the disadvantaged, many of whom though by no means all or even the majority were Muslim. My mother worked tirelessly as the team leader, supervising all with a stern hand but a benign eye.
My special care giver at my mother's school was an elderly but sharp-tongued widow called "Ustaniji" by everyone. I later learnt that it meant "female teacher" in Urdu and she was supposed to teach the Arabic alphabet to the smaller Muslim girls at the school leading to a study of the Qur'an in the original, but almost always without translation or explication. For me and my sister Mehr (who had been under her care before me and was now in St. Mary's), she was "Taani". Taani always wore a plain, almost homespun white kurta-pyjama outfit and wooden sandals which she (and we) called khatpati. The khatpati was as simple an affair as Taani's attire: its sole strap was a stout piece of canvas, or cotton tape.
The origins of Taani, who loved me very nearly as much as my mother, had always been a matter of curiosity for me. Who was she and why did she love me so much, even to defend and protect me against some of the senior teachers who would sometimes try to tease or banter. One of the teachers whom I cordially detested in my feeble way would detain me whenever I crossed her path on my way out and ask:
"What does your father do, little girl?" And I would answer, "He's a Vigilance Officer!"
To this she would derisively reply:
"Oh no! He cuts the grass in people's lawns and cleans the water tanks of the desert coolers." How I hated that teacher! And why did Ammi take so long to come out of her office and get into the car? (She drove herself.) Taani would then retort:
"Don't you harass my babu with your cracks. Go your way."
My father explained to me much later that Taani had lost her all in the great earthquake of Patna in 1934. She'd come to Allahabad as a refugee. In my closely protected life, such a thing seemed like a remote bad dream, I couldn't make much sense of it.
I don't remember my father ever visiting St Mary's Convent. My mother's head clerk took me there one day for getting me enrolled. He guided me to the school office, where I was interviewed by a nun and later taken to the Principal, who used to be called Mother Superior. She gave me a very warm smile and an equally warm handshake. Probably admissions were not such a big deal those days, even in the best schools of the town. I know now that my mother's influence must have been at work there. After all, she herself was convent educated and was the Principal of a respected girls' school. Influence, personal interventions were ideas forbidden to ever get into our heads!
At St. Mary's, however, an unpleasant discovery that I soon made was that I couldn't speak English for nuts! English was not a language encouraged by my father to be spoken at home. In fact, my parents had been focusing entirely on having me learn elementary (but not spoken) English — there was no dearth of children's books in English in our home — Urdu, Maths and learning to read fluently some of the smaller chapters (called a Sura) of the Qur'an. I was also made to learn by heart some prayers in Arabic and some of the shortest of the Qur'anic Suras.
I don't know if any nursery school or pre-nursery existed in Allahabad at that time. For me and my sister, such things didn't exist anyway. I had also been made to memorise some Urdu sher's (couplets). I hardly understood spoken English and could barely write the Hindi alphabet.
Page
Donate Now
Comments
*Comments will be moderated