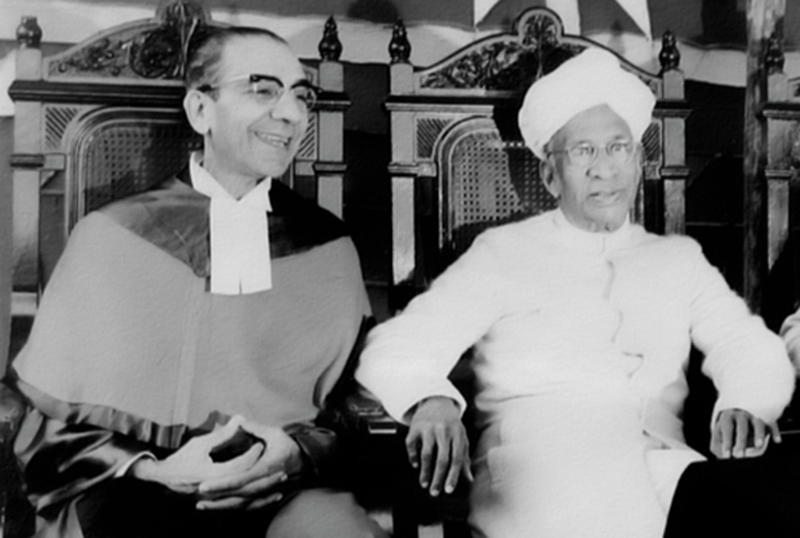 Nasirullah Beg, former Chief Justice of Allahabad High Court with S. Radhakrishnan, former President of India, in 1966
Everyone has a god on earth they worship. I worshipped my father. I worshipped the ground he walked on. Whatever I am today and whatever I will be or achieve in the future, I owe it all to his blind faith in my capabilities. He always said, "I want you to be the kind of person the world will look up to and want to emulate."

My father was Chief Justice Nasirullah Beg. He kindled in me a love for poetry. If I wrote poems, it was his love for Shakespeare and Keats that goaded me on. While he shaved before going to court, I sat behind him on the stool in his dressing room and recited last night's poetry. I wrote for the sparkle in his eyes or his comments "That's good!" or "Could be better!" It was he who imbued in me his love for English literature. One of my most precious memories is of the time when my family and I were the guests of Pandit Nehru at Teen Murti House. I was only ten. Panditji asked me to recite something and I recited 52 verses from The Life and Death of Abraham Lincoln. I still remember Pandit Nehru's remark. He said to my father, "You have a genius in the family. Educate her. Do not get her married early!" I was filled with pride and happiness, but I know that I owed it to my father, who inculcated in me this love for poetry and belief in myself. My father's great pain in life was that I got engaged at 14 and married at 15. He swore to himself that he would help me finish my education after I got married.
My father came from a family of legal luminaries. His father, Mirza Samiullah Beg, was the Chief Justice of Hyderabad and the Governor of Nagpur during the pre-Independence days. He sent both his sons — my father Nasirullah Beg and my uncle Hamidullah Beg — to Oxford to study law and become Barristers. They both rose to the heights of the legal profession in India. My grandfather was very patriotic and was involved in the freedom movement. Pandit Motilal Nehru was a personal friend and stayed at my grandfather's house whenever he visited Hyderabad. This was the beginning of a close friendship between the two families.
Every day, in front of his mirror, he had an open diary in which he wrote a new word — he told me the meaning and made me memorise it, while I sat starry-eyed in front of him. Every day, I wrote a poem or a short story to please him, while he shaved. For me, he was my idol, my mentor, my teacher, my best friend. One of my father's principles was his utmost punctuality. When his car left for court, it was 9 am. When he came back from court it would be exactly 4 pm. You could set your clock by his timing. He was very British in his habits, style of dress and respect for time. If he had an appointment at 6 o'clock, he would be there at 5 minutes to six.
We lived in Lucknow, where my father was posted and later moved to Allahabad, when he became Chief Justice of the High Court in Uttar Pradesh. In fact, it was during his tenure that the Allahabad High Court held its centenary celebration, which was attended by the then President of India, Dr S. Radhakrishnan, the Governor and leading Chief Justices. My father addressed this august gathering and his speech was greatly appreciated. Later, my father became the Chairman of the Minorities Commission.
My father guided me and became my real inspiration to take up a career. When I started my business, he taught me to have faith in my own abilities. He said, "There is no such thing as destiny, you can make your own destiny, you can be, what you will yourself to be." I decided to open a herbal clinic in my own home in a small way. It was my father from whom I borrowed Rs 35,000 and started my first herbal clinic in the verandah of my home. Behind the success of one herbal clinic to the expansion into a worldwide chain lies not only my relentless determination and hard work, but also my father's faith that I would succeed.
Page
Donate Now
Comments
*Comments will be moderated