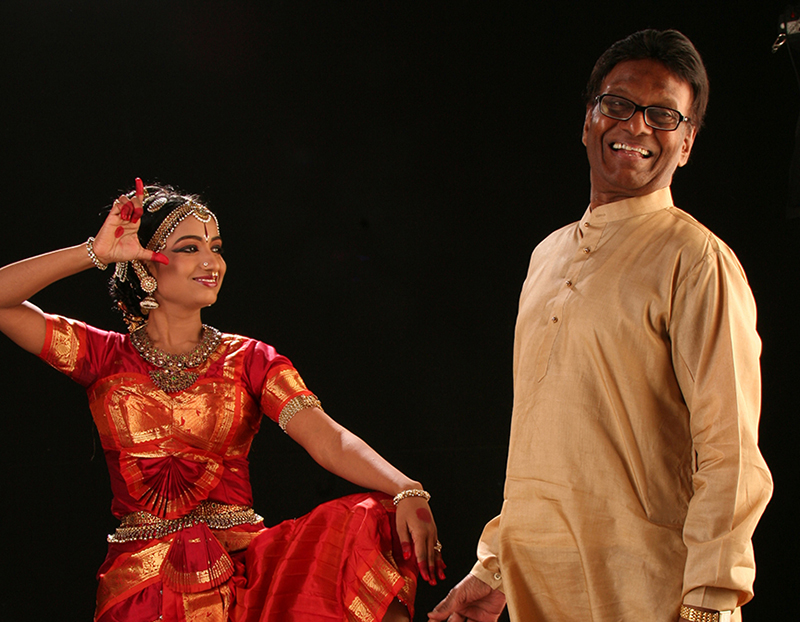 Yamini Reddy with Raja Reddy. Photo courtesy of the author
It is natural for all daughters to find their father the best man in the world, but when I say my father is one of the greatest dads in the world I am not exaggerating. My father is one of the leading male dancers our country has ever produced. He, along with my mother Radha Reddy, has dominated the Kuchipudi dance scene as the captivating dancing duo for nearly five decades and their charm still lingers.
People usually choose a vocation in life, then they work hard at it and hone their skills over a period of time. But, in my dad's case, dance chose him. How else can you explain a simple village boy belonging to an agricultural family consumed by the passion for dance? An inexplicably strong passion for which he ran away from home with his wife, penniless, to a big city with nothing but a dream to dance. I think dance chose him, wanted him to be who he is today. Because it saw in him a man with a heart as vast as the ocean, with creativity seeping out of his pores and a beastly hunger to learn.
And learn he did. He pursued gurus, got rejected, yet kept on going until he, along with my mom, came under the guidance of Guru Prahalada Sarma, with whom they trained tirelessly in perfecting the art of Kuchipudi. They moved to Delhi and began their journey after which there was no looking back. He took on challenges head on and stormed the dance world, along with my mom. He started off with a vision of popularising Kuchipudi all over the world. For this, he has instituted the Natya Tarangini dance school where they have been training students in the art of Kuchipudi dance. Further expanding his vision, he is now fervently working towards preserving and propagating the classical music and dance of India. He has set up a state-of-the-art performing arts centre in the heart of New Delhi. The centre boasts of dance, music, yoga classes, art gallery, amphitheatre, etc. My father is a focused person. He rarely ever takes his eyes off his goals and vision. Distractions annoy him as he likes to stay immersed in his passion.
Another very admirable quality about dad is that he is very observant of his surroundings and learns from experiences. After travelling extensively around the world, he has learnt many things about choreography, light design costumes etc and has applied to the original art he learnt at the Kuchipudi village. He has managed to refine the erstwhile art of Kuchipudi to suit the modern stage, changing its style of presentation and making it more understandable for the audiences without compromising on the grammar of the traditional dance style.
As a dancer and choreographer, my father is a sheer genius. It baffles me even today how his mind works. He will sit for hours in a secluded place (usually the bathroom), just thinking and counting on fingers. No one will have a clue to what is going on, until one day he will catch hold of me, take me to the class room and try out his ideas with me. He will teach me what he has in mind and then we start an exchange where I will give my point of view and share my ideas. The process sometimes takes days or even months, until the choreography is ready. This is the beauty of my father: Despite being such a senior artist and great guru, he is always open to ideas from someone, no matter how young. And it's not just me. Even students are welcome to give their inputs.
My father is a thorough perfectionist in whatever he does. He is not satisfied until he feels everything is rightly done. My mom and he used to rehearse for hours. They persevered day in and day out through fevers, fractures etc. I remember when I was a little girl watching my father dance was the most favourite part of my day. I just couldn't take my eyes off him. The vigour with which he moved, the majesticity in every movement was so captivating. I wanted to be just like him, I wanted to dance just like him.
Page
Donate Now
Comments
*Comments will be moderated