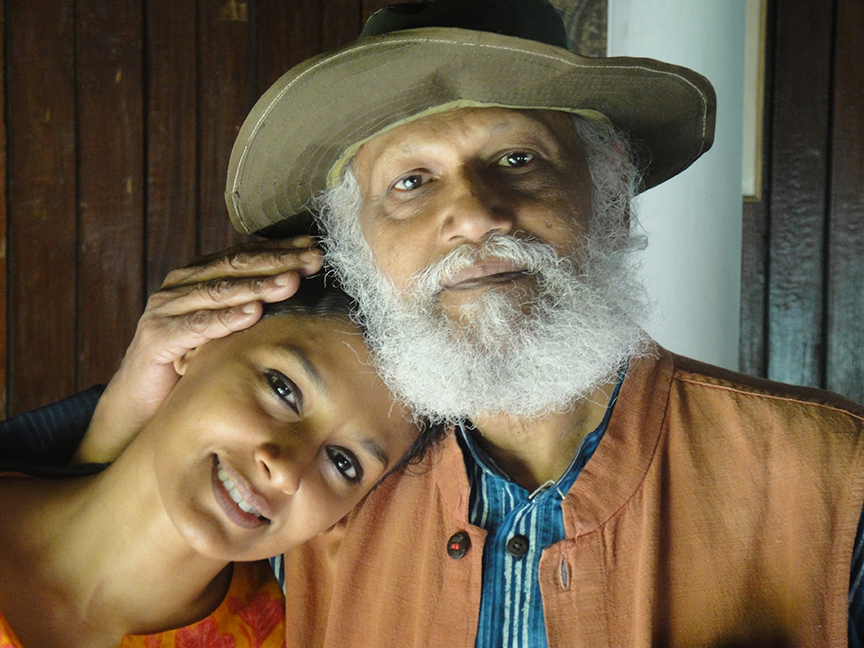 Nandita Das with Jatin Das. Photo courtesy of the author
I have always wanted to capture, in some form or another, my feelings about Baba, as I call him, but I want to believe that the respect and affection I have for Baba is not only because he is my father, but the person Jatin Das is. And that too is something he taught me — to be unbiased and fair. Today, if I am working towards social justice, in my little way, it is because of what I so naturally saw around me in my growing-up years.
I grew up in a house where my mother, Varsha Das, worked from 9 am to 5 pm at the National Book Trust and my father cooked and cleaned and I thought, for recreation, painted. As a child I was convinced that mothers go to office while fathers stay at home. I feel fortunate to have been exposed to such role reversals at an early age. Though it sure had its problems — my father's creativity also permeated into the kitchen, which meant that my school lunch box was an unusual mix of one-of-a-kind dishes. My friends would love my father's ensemble of sprout salad, dahi baingan, brown bread with cold cuts…, thinking it to be rather exotic, while I devoured their roti-sabzi-achar, which somehow for me was the real ghar ka khana.
To understand the man, I have to first share his past with you. Baba grew up in Baripada, Orissa, what is strangely now spelt as Odisha. One of five brothers, who had one much-loved sister, parents, doting grand-mother, uncles and aunts — the Indian joint family as we Indians like to describe. They were all truly very close. I have heard many stories of how he would paint endlessly under the trees in the field behind his home instead of preparing for his exams. He was studying Science like all good boys ought to be doing at the time, but decided to run away from home to Bombay at 17, with almost nothing in his pocket, to join the JJ School of Arts. There, he painted incessantly, won the gold medal, and became one of the youngest artists to have a studio at the Bhulabhai Desai Institute. It was called Hasman, a paradise for artists like M F Hussain and V S Gaitonde, theatre directors like Ebrahim Alkazi and Satyadev Dubey, actors like Harihar Jariwala (Sanjeev Kumar) and Jatin Khanna (Rajesh Khanna), writers like Gieve Patel and Nissim Ezekiel, musicians like Pandit Ravi Shankar and designers like Dashrath Patel. All of them had their 8ft by 8ft studios. Some of their first performances, exhibitions, concerts… all began there. They would view each other's work, offer friendly criticism and despite financial struggles, their friendships were what sustained them.
In my own mind, the era evokes nostalgia, because there are hundreds of stories that my father fondly recalls, as if he is talking about something that happened only yesterday. Madhuriben Desai and Solibhai Batliwala, the owners of Hasman and patrons of the artists, charged only one rupee as daily rent. And on days they would not come, even that was not charged! This was despite the fact that their belongings occupied the rooms. These stories convince me that it was really another time when openness was the way to be, competition and elbowing was not the order of the day, people mattered and were invested in journeys and not just destinations.
This brings me to Baba's passion for art that goes beyond his paintings. It is a love for creativity, aesthetic, seen not as a separate entity, but as an integral part of life. Even as a child I remember hearing him argue that the modern division of the fine arts on one hand and crafts has harmed the preservation of India's incredible and diverse artistic heritage. In his twenties, he began what has now grown into a major collection of paintings, artefacts, antiquities and books from India and all over the world. Henurtured a vision to create an Art Centre that preserves and promotes tribal, folk, classical and contemporary art, without boundaries. This vision has manifested itself in the JD Centre of Arts (JDCA) in Bhubaneswar, which will be located across the historic 2nd century BC Khandgiri caves, and is finally becoming a reality with support from the state government and the Ministry of Culture. There are some eminent people from Odisha and elsewhere, who also share his dream and have joined hands in different capacities.
The Centre's core collection and all its activities, since its inception, have been funded entirely by whatever he earns through his art. He has kept it up since 2001 (JDCA, www.jdcentreofart.org) through its monthly "Meet the Artists" programme and thereafter the annual Film Festival on Art and Artists which has completed its 9th year. It is not easy for a practising artist to be single-handedly doing this, but it is his passion and undying optimism that keep him going. The centre will house, conserve and promote a whole range of traditional and contemporary visual and plastic arts. There will also be a dedicated gallery for traditional toys, brass and bell metal, terracotta and ceramics, basketry etc. Apart from gallery spaces, there will be a sculpture garden, an open-air auditorium, library and archives, conservation and research units.
Page
Donate Now
Comments
*Comments will be moderated