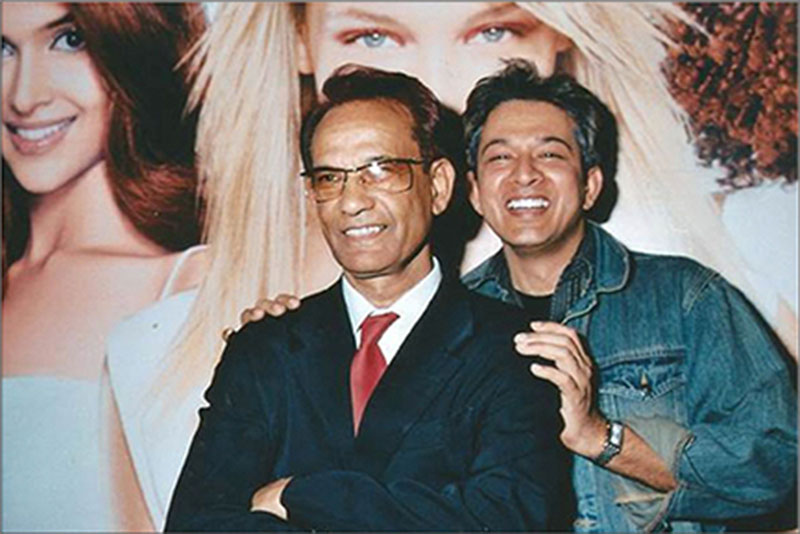 My relationship with my father, Jahir Habib, has never been a drift. Growing up, it was explained away as "he's quiet". As I get older, I begin to understand him better and I think that he was actually quite a simple guy to understand. But I was too much of a kid and the distance became unbridgeable after a point. Being the eldest in the family, he always wanted me to be a part of his empire and I never wanted to do the same, to which he never forced me also. Being the true father-and-son jodi, we shared a common habit: both were stubborn. I am very close to my parents. If my life was dependent on choosing one amongst them, it would be very difficult. My mother is the more emotional half between my parents. I am really close to my mother and can talk to her about anything. My father is less expressive with his emotions. He just wants me to be happy and do what I think is right. I am more like my mother than my father. But the equation, love and emotion never changed at any point. I respect his choice. I am happy as well as he is happy. I am very finicky about my work ethic and like to zone into what I am doing.
His movement, his action and act — you just take it and that's a lesson in your life. I have seen him working so hard that this has entered my bloodstream. He is also a very straight-forward person. He doesn't believe in cheating, he is a very helpful. My father always says, "Focus, focus and focus is the only mantra". He has encouraged me to invest time and energy into one thing and make sure it is done to perfection. He has also taught me the value of relationships and the best ways to manage them. The never-die philosophy and a positive attitude have helped him stay relevant amidst growing competition.
"An important ingredient to have successful profession is 'madness and passion'. If you don't have these two things, all the number crunching will not serve you much," my father had told me when I had stepped into business. I think I have learned so many things from him that I managed to be 99% of him. My father is an inspiration for me and I want him to have a very long and active life.
What made Jawed Habib different from other salons was education. I think education can provide the necessary knowledge and opportunities for individuals to change their circumstances and live prosperous and sustainable lives. Education also enables individuals to develop a strong sense of identity and have absolute autonomy over their decision-making. Before me, the only awareness about hair industry was Bollywood. When I started going through small towns and cities, I realised that I developed my own techniques based on their needs and the city's requirement. Today, you will be surprised to know that with passing time I have developed so many techniques that every client who comes to me will experiment something new with her hair. For instance, people say one cut, but I say that every cut is a different technique that an individual can be styled after. I owe all my techniques to hair education. And, today, Jawed Habib is known for its new innovation and creating awareness about this 'education'.
When I started, I was a bit worried initially, but you take a step back, take a big gulp and say, "Ok, are you in or are you not?" I was in. I just kept doing my work with lots of innovation which people loved. I also give a share of my success to the media who have always trusted my thoughts and believed that whatever I was saying about the hair industry was genuine and different from other experts. My tips were so logical that people started following them. My fans have been great. Even today, when I go to seminars, people come up to me with their hair queries and express their enthusiasm to join this field.
Page
Donate Now
Comments
*Comments will be moderated