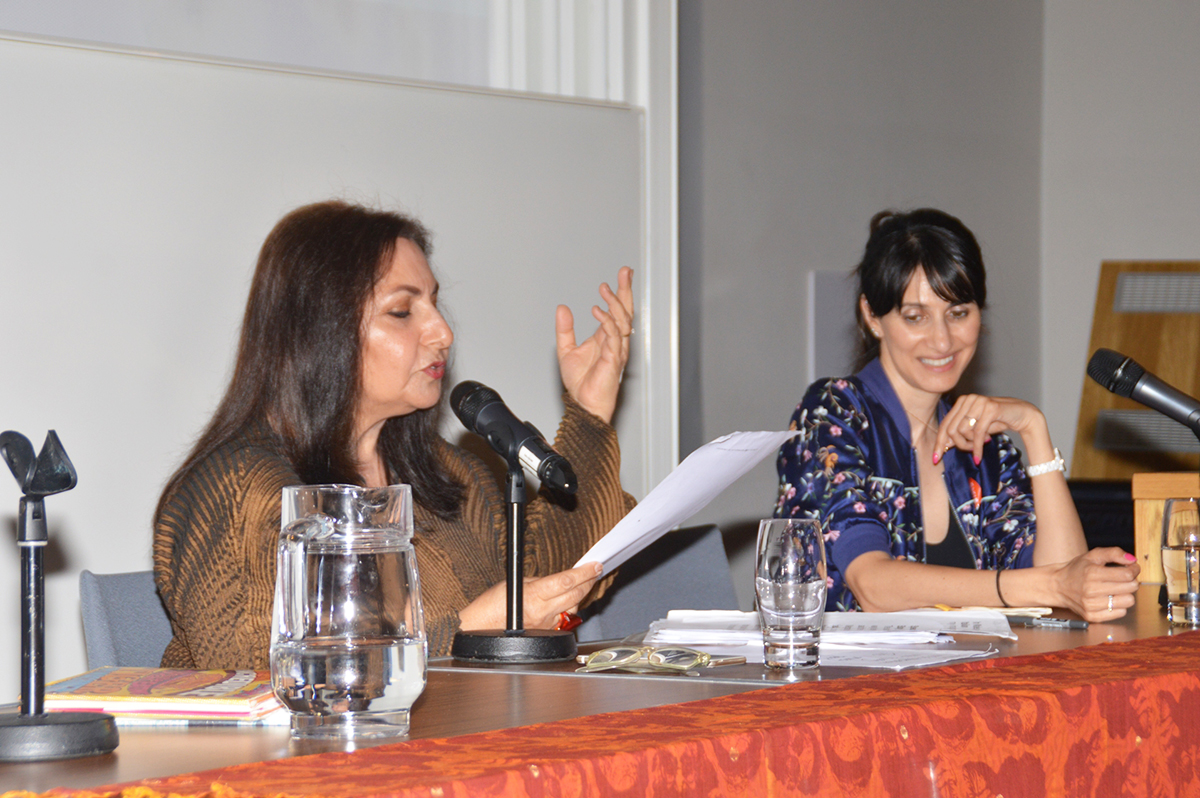 Poet laureate that may have been, Imtiaz Dharker (left), and Mona Arshi enthrall the audience with poetry at KSLF London. Photos: Zari Malik
The two-day literary fest, which has earlier been held in Kasauli, was organised this year at the King's College, Khushwant Singh's alma mater
Perhaps it was rather apt that Niloufer Billimoria and Rahul Singh decided to hold this year's Khushwant Singh Literary Festival at the King's College, London, for this was Khushwant Singh's alma mater. Yes, London was where he had studied and also initially worked. Also, London was one of his favourite destinations.
In an earlier given interview to me, Khushwant had detailed: "The happiest phase of my life was when I was studying in England. I was carefree, and I had many friends… I'd loved the English and became closer to them than to any of my Indian friends. We (my English friends and I) continued to be friends till their last days… All the English who were friendly with me were pro-India. And contrary to the notion that the English are reserved, they are warm… With some English families, it was an ongoing friendship and even now when they are all gone their children and grandchildren are in touch with me and with my children — Rahul and Mala. Amongst those closest to me were the Sinclairs. Sinbad was head of Burmah Shell. When in Bombay, I never stayed in a hotel — it was always with Elinor Sinclair and her family. Later, whenever I was in England, the Sinclairs' home in London was my home…"
At the two-day long festival, held on June 1 and 2, there were several sessions on the various aspects that Khushwant focused on — closer ties between India and Pakistan, equal opportunities to women, upholding the democratic values, freedom and liberty to speak out, the right to dissent and question and much more along the strain.
The one particular session which I found to be the most gripping and dripping with fascinating facts was the one on Freda Bedi… where the two UK-based authors, Norma Levine and Andrew Whitehead, focused on the life and times of this extraordinary English woman, Freda, who'd married an Indian Sikh, B.P.L Bedi, in Oxford in 1933. And with that she shifted to India, residing with her husband and children (actor Kabir Bedi is one of their children) in the various regions (Kashmir one of them) … but after several years of marriage, Freda had decided to become a Buddhist nun. To quote from Andrew Whitehead's recently launched book on her, The Lives of Freda: The Political, Spiritual and Personal Journeys of Freda Bedi (Speaking Tiger, 2019): "The life of Freda Bedi is a remarkable story of multiple border crossings, confounding accepted definitions of identity. Born in a middle-class home in provincial England, she became a champion of Indian nationalism, even serving time in jail in Lahore as a satyagrahi. In Kashmir in the 1940s, while her husband. B.P. L. Bedi drafted the 'New Kashmir' manifesto, she kept in contact with underground Left-Wing nationalists, and joined a women's militia setup to defend Srinagar from the invading Pakistani tribesmen…"
Perhaps we could get to know many more details to Freda as a film on her life and times is said to be in the making by her son Kabir Bedi.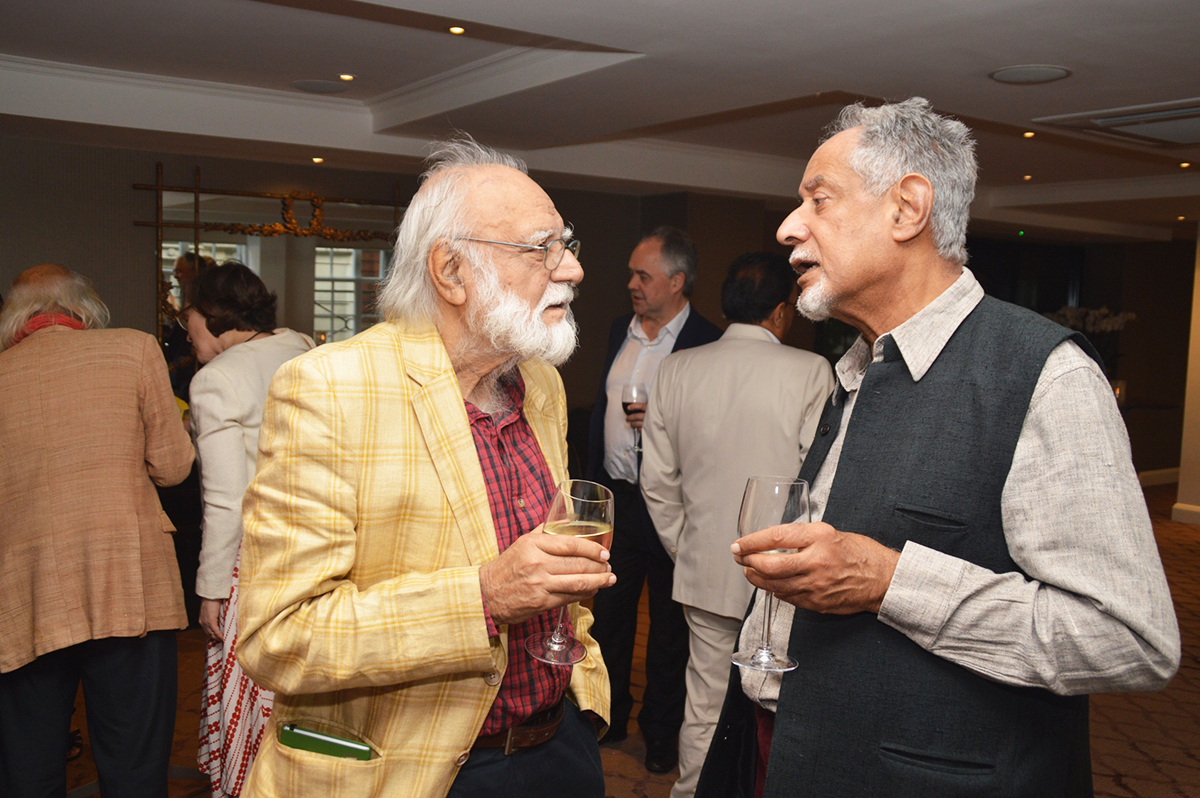 Rahul Singh, festival director, KSLF London, shares a quiet moment with KSLF London speaker Zareer Masani, the eminent London-based historian and biographer
Another session that was much appreciated was the one on poetry. Three poets — Imtiaz Dharker, Daljit Nagra and Mona Arshi — rendered verse after verse, but perhaps Imtiaz stole the show. She has a way of rendering in a certain style; ebbing or highlighting her voice to portray the very essence to the very flow of thoughts and emotions and words and the sentiments. I loved her verse on Khushwant…It was so very apt.
And, as were the sessions diverse, so were the speakers and discussants from the various fields and backgrounds: Allan Lamb, Robert Winder, Roderick Matthews, Farrukh Dhondy, Ayesha Siddiqa, Raza Rumi, Rachel Dwyer, Mihir Bose, John Elliott, Norma Levine, Andrew Whitehead, Moin Mir, Zareer Masani, Ian Magedera, Rhiannon Jenkins Tsang, Bhaichand Patel, and many more.
Needless to mention that I met the who's who on the circuit at this literary festival — Achala Sharma – the former head of the BBC Hindi Service; Pervaiz Alam, broadcast journalist, who was earlier with the BBC and now heads the Cine Ink media productions; entrepreneurs Laxmi Dhaul and Harry Dhaul, Zed Cama, Pushpinder Chowdhry, author and director of UK Asian Film Festival, and the London-based Indian artist Prafulla Mohanti.
Mohanti, an internationally famous artist, has more than interesting background to him. He was born and brought up in his village Nanpur, Orissa, but, perhaps, destiny brought him all the way to London… He came to England in 1960 after graduating as an architect in Bombay. Initially, he had worked as architect-town planner for the Greater London Council, but later focused only and only on his paintings and writings. Residing in London, working from his home-studio, he makes it a point to visit his ancestral village in Orissa once a year, to reach out to his people, for the vital connect. In fact, it wouldn't be incorrect to say that his ancestral village and those childhood experiences-cum-memories have left a deep impact, writ large in his paintings, art forms and writings. He is on the international circuit yet his village remains close to him. With all his achievements and recognitions, the man is modest and humble. And that makes him stand out.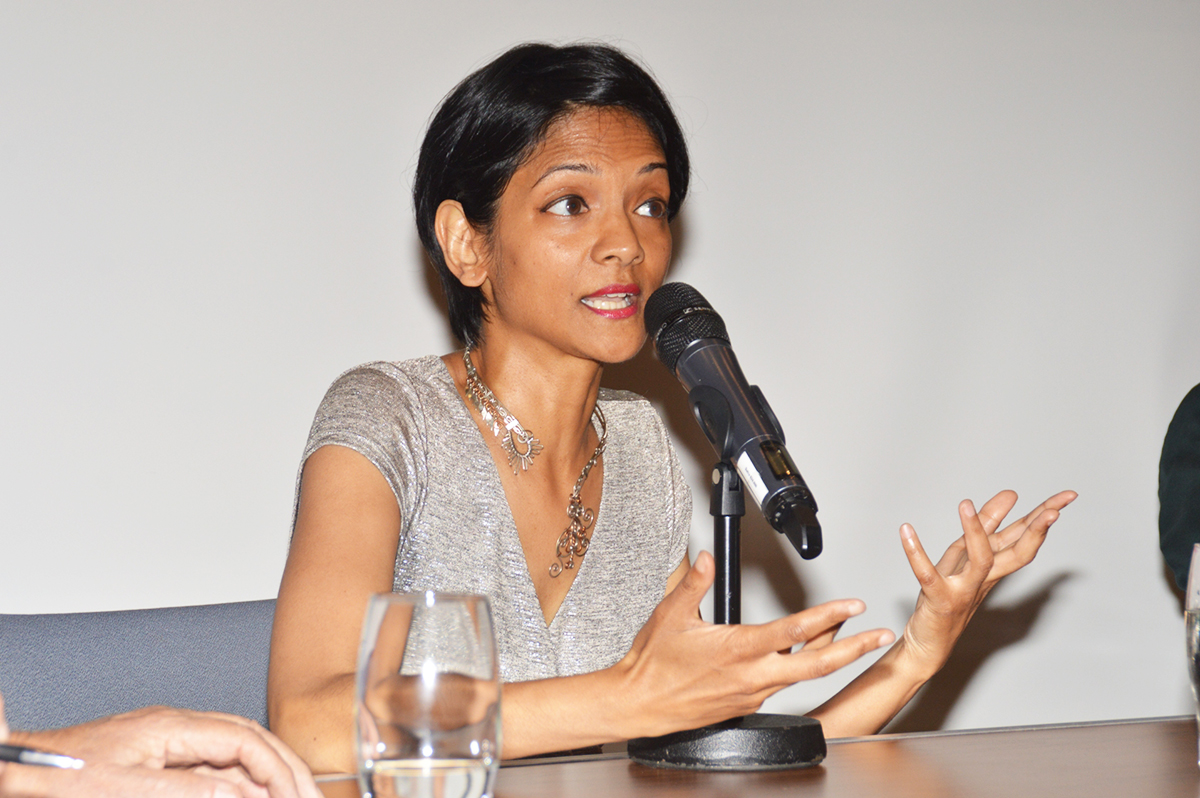 Talented dancer, relationship mentor to the stars, romance and sex expert, Vena Ramphal, is at home in London with her Indian ancestry. At a session on migrations at KSLF London.
In fact, I was so touched by his modesty that after meeting him, I decided to visit his home at the posh up-marker Sussex Street with my daughter, Sarah, and my younger grandson, Hasan. It was indeed an artist's abode — right from the front door painted in post office red/PO Red, to his studio on the ground floor, to the drawing room on the first floor to the kitchen-cum-dining room on the second floor and his living rooms on the topmost floor. And the 80-plus Mohanti manages the four-storey home by himself; looking content and carefree, he went about preparing a great supper for us.

At his home, we met a Japanese artist, Yoko Hagen, who is married to an Italian. This 60-year-old artist told me that though her husband and son have moved back to Italy, she decided not to move from London as she says that London is the apt place for arts and artists and she's happy residing in one of the suburbs which is mix of the city life and yet not too far away from nature.
Donate Now
Comments
*Comments will be moderated