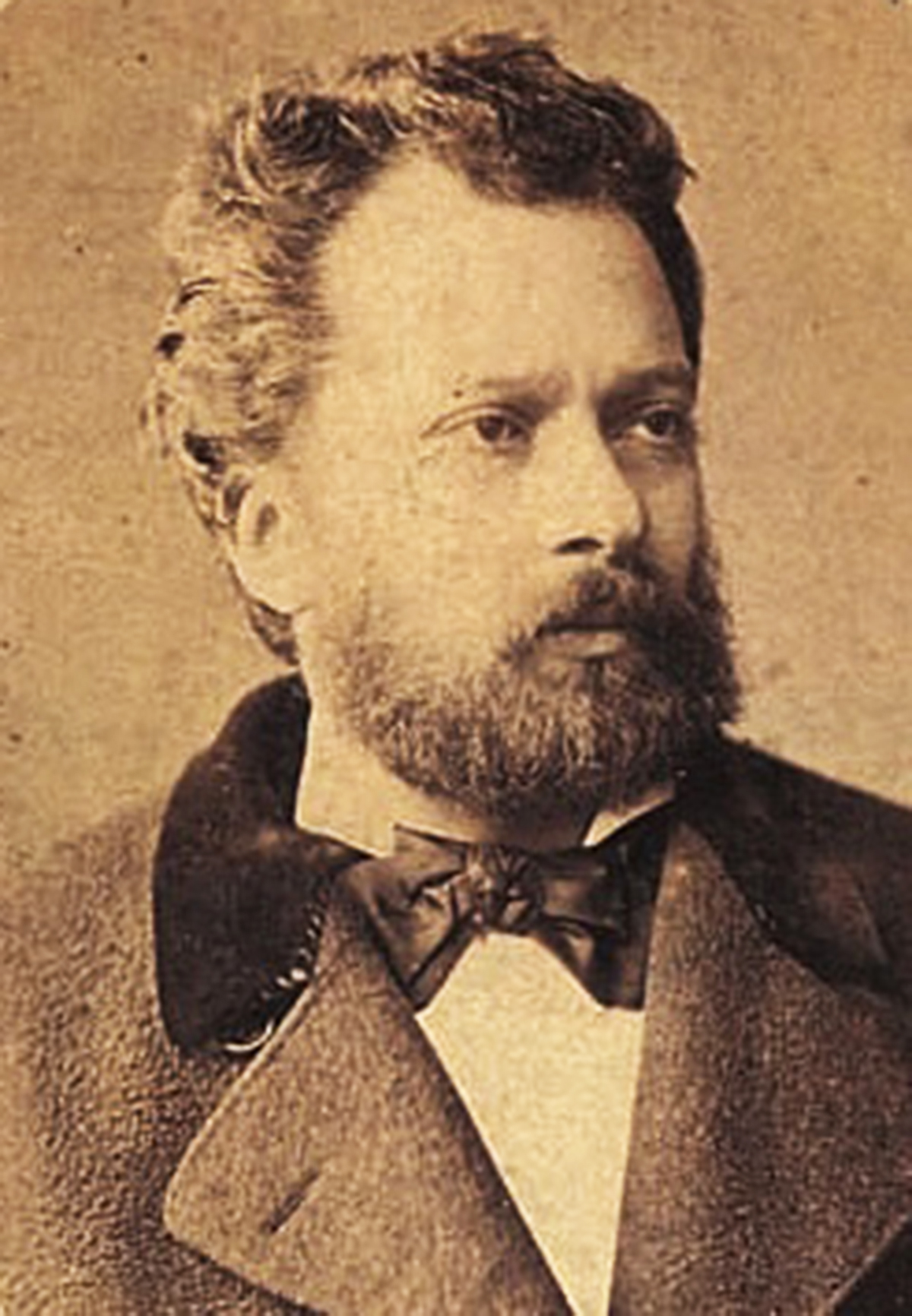 Namık Kemal. Photo: Wikimedia Commons
Refugees transform their host and lost countries alike. Since the Victorian era, London has been importing refugees, many of them Turks, and exporting liberal ideas. A comparative study of the stories of two journalists from the Ottoman era, Ziya Pasha and Namik Kemal, and two from the present — Tarik Toros and Turan Goruryilmaz — all from Turkey, all asylum seekers in London, with 150 years difference in their spans
Britain might not be the best country to seek asylum in, but it has traditionally been a fertile refuge for trailblazer nomads. Some of them, like Karl Marx (1818-1883), arrived with their genius intact but needed the freedom of London to produce their magnum opus. Others, like Farrokh Bulsara (1946-1991), would never have become Freddie Mercuries if not for the fertilising atmosphere of England. Ziya Pasha (1825-1881) and Namik Kemal (1840-1888), refugee journalists who stayed a short while in London in the late 19th century, might not have gained universal fame, but their years in London had profound influence on the mindsets of the founders of the Turkish Republic. Britain's capital is where Turkish national identity and parliamentarism were first conceived.
A hundred and fifty years later, Tarik Toros and Turan Goruryilmaz, two Turkish journalists, are retracing their footsteps. Whether they will grow into mind-makers of the future Turkish reformers is yet to be seen, but a comparison of the two stories is telling enough: In the last century and half, persecution became harsher, resettlement harder and English courts replaced the Houses of Parliament as the bastion of rule of law in the eyes of the refugees.
'England is not like France'
Ziya and Kemal landed at Dover on 28 June, 1867. Onboard the ship, Pasha, already 38, told his fifteen years younger colleague, "England is not like France. Nobody can deport us from England." Only a month ago, the two members of the Young Ottomans Society had been smuggled out of Istanbul by the French Ambassador, but when Napoleon III decided to invite Sultan Abdulaziz (1830-1876) to the International Paris Exhibition, national interests outweighed French commitment to freedom of expression. The two spent the following three years in London, publishing 89 issues of Hurriyet (Freedom), a newspaper that shaped the intellectual discussions in Istanbul.
Ziya and Kemal were fluent in French but had poor English. They were well funded by the opposition figure Mustafa Fazil Pasha (1830-1875), a half-brother of the Khedive of Egypt — and in the Victorian Era, a fezzed Ottoman was seen as authentic, not strange. They opted to live in upmarket houses around Piccadilly Circus and navigated English intellectual life under the guidance of French tutors.
The following three years were coloured with brandy — which, Kemal believed, was a must to digest English food — with occasional visits to night clubs or the newly opened Turkish bath at 76 Jermyn Street, and "a few imaginary, and a few real soulmates," if Kemal was not altogether showing off in his letters back to Istanbul.
This wasn't a case of desperation made more comfortable through indulgence. It was their way of observing a society in flux. Ziya and Kemal experienced their first parliamentary election in 1868 when Gladstone's Liberals won power. As polemical poets themselves, they loved to listen the lengthy clashes between Gladstone and Disraeli in the House of Commons. The former's rhetoric and the latter's aphoristic style left a lasting mark on their writing.
When the titans were not clashing, Ziya and Kemal found repose at London's parks and occasionally at the British Museum reading room. At the time, Karl Marx was there working on what would become the first volume of Das Kapital (1867), but they never met. Marx's teachings wouldn't attract their attention either. Kemal adored London's capitalist pace of production. "If the means of wealth in Istanbul are tied to the hour-hand of a clock, they are tied to the minute-hand in London," he wrote in Hurriyet. When they covered the first ever clash of industrial workers and employers in Sheffield, they approached it not from a class struggle perspective, but as a question of freedoms.
* * *
Tarik, 47, came to London in March 2016. His younger colleague, Turan, followed in May the same year. After Ipek Media Group, where Tarik was a general manager of a successful TV channel, and Turan was working as a producer and anchor-man, was taken over by brute — and brutal — police force, both had fallen out of love with journalism in Turkey. In London, they were hoping to establish themselves as players in the global league of English-language media.
But the midsummer nightmare was yet to come; on the night of July 15, 2016, in the form of a thwarted coup attempt. It was "a grace from God" in the words of President Erdogan, who used it skilfully to turn Turkey's already suffocating illiberal democracy into outright authoritarianism. On July 21, Erdogan launched his counter-coup. Both Tarik and Turan were implicated in the witch-hunt that followed. On July 25, Turan's house in Turkey was raided, together with the houses of 42 other journalists. They were all accused of involvement in the coup attempt. Horrified to see his name in arrest warrant lists while he was already in the UK, Turan decided to seek asylum in September. It took almost two years before he was granted permission to stay. Turning from the representor to the represented is always a difficult experience. He had covered stories of Syrian refugees in the past, but never thought of becoming a refugee himself someday. But if making that decision was difficult, to wait for the Home Office's answer was even worse.
"When you are an asylum seeker, you become a seeker of asylum stories," Turan remembers. "It became harder to wait when we heard that applicants who arrived far later than us were given residence permits," Turan remembers. "At some point, we started to wait by the window for the postman. That envelope from the Home Office never
came…"
The call of journalistic duty forced the two friends to abandon their ambition to go global, and instead start a small YouTube channel, MoonStar TV, where they would try to fill the vacuum created by the closure of 189 media outlets in Turkey and the censorship of social media.
Then, the Sultan Came to London
Ziya and Kemal had spent only a few weeks in London when they learned that Sultan Abdulaziz would extend his Paris visit to London. That visit would mark the first split in the small Young Ottomans group in the city. Ziya abhorred the idea of meeting the Sultan in person and went to Brighton when his delegation arrived at Charing Cross station. Later, it was revealed that he had sent the Sultan an apology letter, demanding an amnesty and the right to return home.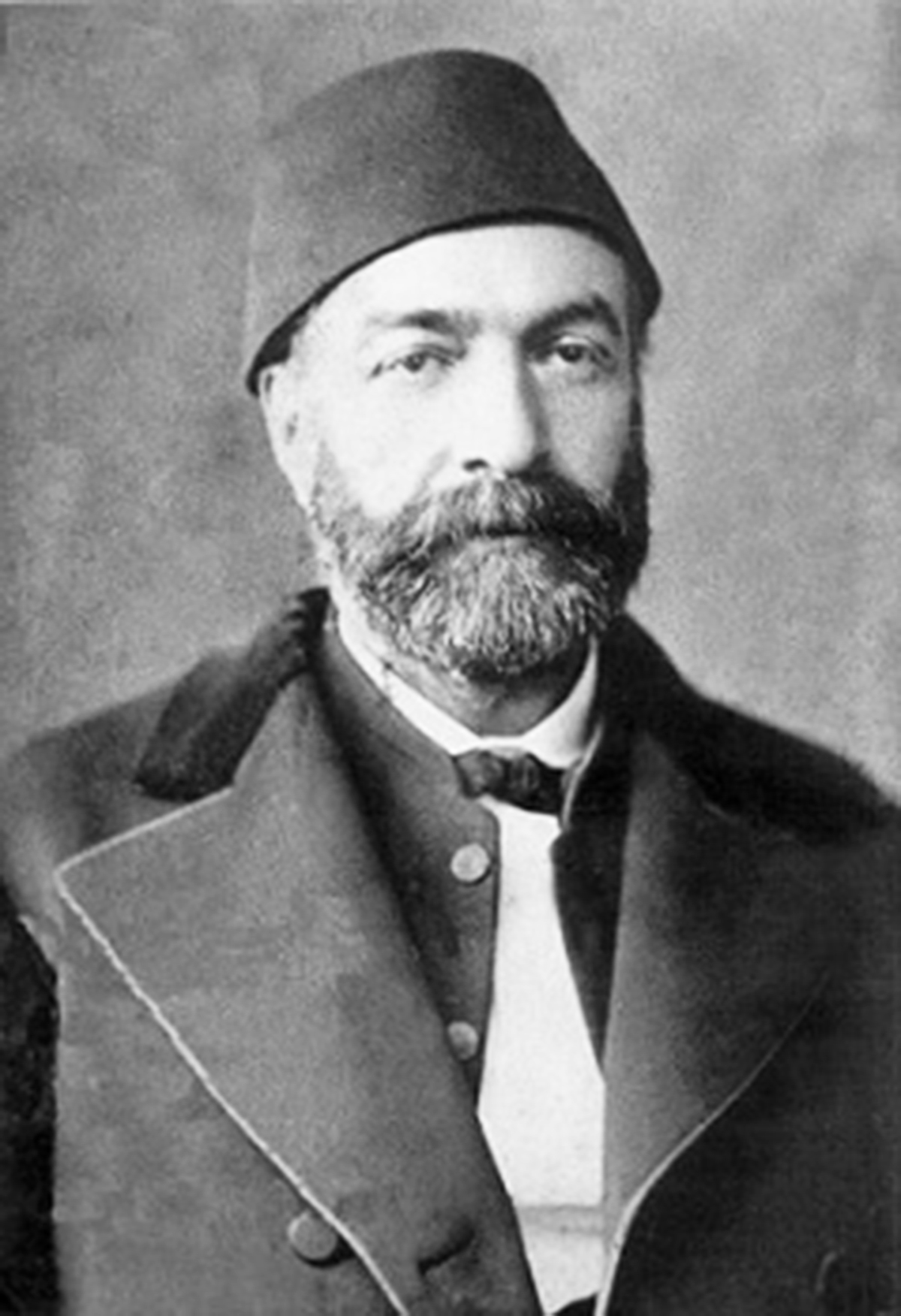 Abdul Hamid Zia Pasha (1825-1881), University of Texas portrait gallery. New York : Dodd, Mead and Company, 1902.
Neither Ziya nor Kemal were against the Sultan. In fact, they couldn't think of an Ottoman society without a unifying royal figure. When Ziya wrote his famous book The Dream, his unexpected suggestion to get rid of Ali Pasha had come from the Sultan himself. When the Sublime Porte (a synecdoche for the central government of the Ottoman Empire) suggested taking out 2,000 subscriptions to Hurriyet, in an apparent attempt to buy off its critics, Ziya was ready to write his reverential article "Long Live Sultan Aziz, bravo to the Porte!"
Hence, when the Sultan was received by Queen Victoria, neither felt annoyed. And nor was the Sultan annoyed to see three Young Ottomans following his entourage on a visit to Crystal Palace, their red fezzes standing out from the crowd.
* * *
On May 14, 2018, Erdogan came to London for a three-day official visit, which included tea with the Queen at Buckingham Palace. Turkey was due to have an election on June 24 and this gesture was seen as a boost to Erdogan's public image.
Turan's asylum application was still pending, and Erdogan's visit made him angry and fearful. He knew that Erdogan was visiting world capitals with extradition request lists. "When you are an asylum seeker in this country, and the President of the country you fled is given the red carpet treatment, it hurts," he told me. The British willingness to champion human rights, universal legal standards and freedom of expression, and its equal readiness to establish friendly relations with a country that does not meet any of these values, hit Turan hard.
"Heaven forbid!" Tarik responded when he heard about Ziya Pasha's letter of apology. But, at some point, he deliberately missed a remote encounter with Erdogan: "His convoy passed through the street where our office is. I didn't even bother to look. I was so alienated from him."
Freedom in a London Printing House, Free Broadcast From a London Kitchen
For almost three years, Ziya and Kemal introduced their readers into the theory underlying liberalism and constitutionalism. Neither Ziya nor Kemal would live long enough to see the Young Turk Revolution of 1908, when words first published in Hurriyet would become the slogans of the emerging constitutional monarchy.
The demise of Hurriyet came from within. When Mustafa Fazil, soon to join Ali Pasha's cabinet as finance minister, informed Kemal in late 1869 that he wished Hurriyet to cease publication, Kemal quit the newspaper. Eventually, he turned back to Istanbul, and joined Mustafa Fazil's entourage, only to be exiled again three years later.
But Ziya had a personal interest in continuing to publish Hurriyet: to bother Ali Pasha. He was quite successful in that. When he published an article by Ali Suavi, in the 67th issue of Hurriyet, implying assassination as a way of removing Ali Pasha from office, he found himself involved in a lawsuit. While released on bail, he fled to Geneva, where he would publish Hurriyet until its 100th issue. He was able to turn back to Istanbul only after Ali Pasha died in 1871, and the Sultan liked one of his rather sycophantic poems.
* * *
A hundred and fifty years later, Tarik and Turan decided to speak back to Turkey through a Periscope broadcast. MoonStar TV began in Tarik's kitchen in London. Soon, they moved to YouTube, which would not only take care of hosting and information security, but also would help monetize the channel.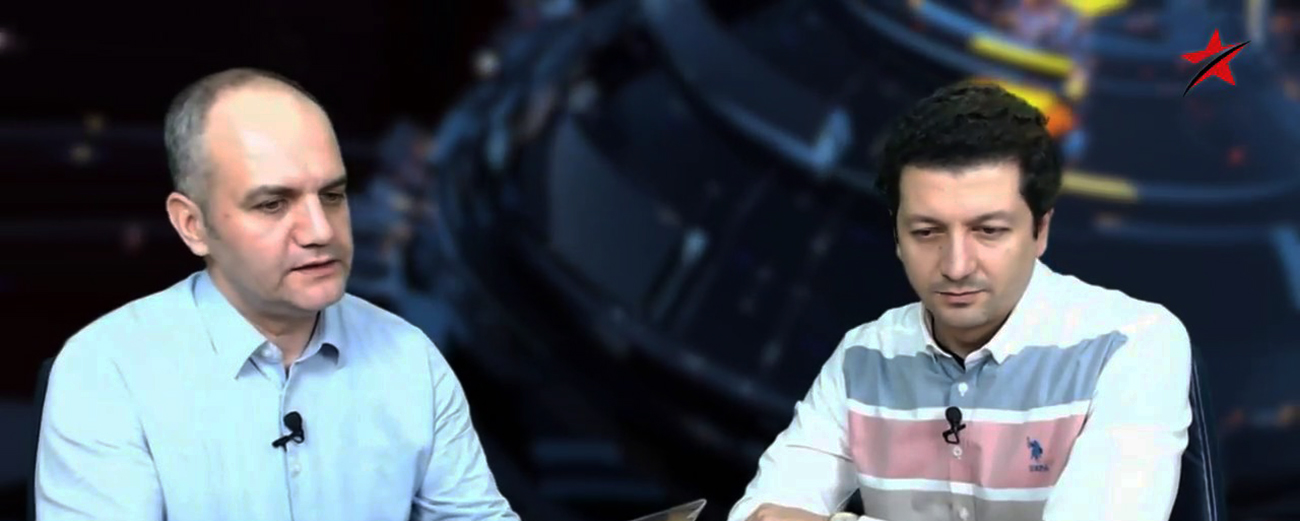 Tarık Toros (left) and Turan Goruryilmaz's MoonStar TV channel reached 67,000 subscribers in two years. Photo: YouTube
In June 2017, when they uploaded their first video, they had two subscribers: themselves. In less than two years, they reached 67,000 and over 5 million monthly viewings. Turan's measure of success is the same measure used by Hurriyet: "We are banned in Turkey. We are four people overall. We are still working from a house, using a green-box studio made out of green curtains and we are able to bother the authoritarian regime. This is success!"
For Tarik, who works six days a week as a driver for an international pizza chain, MoonStar is a mission that they could not ignore. "Me and Turkey are like divorced couples. We may have been divorced, but this does not change the fact that we have had shared lives. Half of the journalists jailed in Turkey are my colleagues. In the absence of a free media in Turkey, I have a responsibility to speak out," he explains.


The Dreams That Never Came True
One day, Ziya Pasha was sitting on the grass at Hampton Court Park. While thinking about his exile from the Ottoman Palace, he fell asleep and dreamt a fantastic vision in which he had a lengthy dialogue with the Ottoman Sultan. He was able to convince the Sultan that Ziya's sworn enemy, Ali Pasha, was the stumbling block for all reforms. The lengthy essay The Dream, which is largely believed to be the first example of Turkish fantastic literature, has influenced the thinking and writing of many intellectuals to follow, including Kemal, who would pen his own The Dream while in exile in Cyprus. Kemal's The Dream was a utopian account of the awakening of the Turkish people's desire for freedom. It became a source of inspiration for several generations of Turkish activists to come. The kind of advanced civilisation he envisioned for Turkey in The Dream, was nothing but a description of London.
* * *
Today, Tarik and Turan's dreams are no different. They dream of a time that Turkish people will enjoy the same rights as Britons, the same rule of law, a time that people will be able to express their thoughts freely, a time that a change of president wouldn't change everything in the country in one night…
But they themselves do not appear in these dreams. "If one day Turkey enters into a restoration and if we can be of help in that, we would be happy to do so. But that contribution will be from afar," Tarık told me. "My story in Turkey was left half-unwritten. My heart is broken for the Turkish people. Nothing will do away with that brokenness."
* * *
Ziya and Kemal remained broken, too.
Ziya died in 1880, while 55, after three consecutive appointments as governors of Syria, Konya and Adana, all arranged to keep him away from Istanbul, and all short enough to prevent him from engaging into any reform project.
Kemal died eight years later at the age of 48, while in exile in Chios. He had developed pneumonia during his previous exile in Cyprus. On his deathbed, he was reading Victor Hugo's Les Miserables (1862).
Donate Now
Comments
*Comments will be moderated