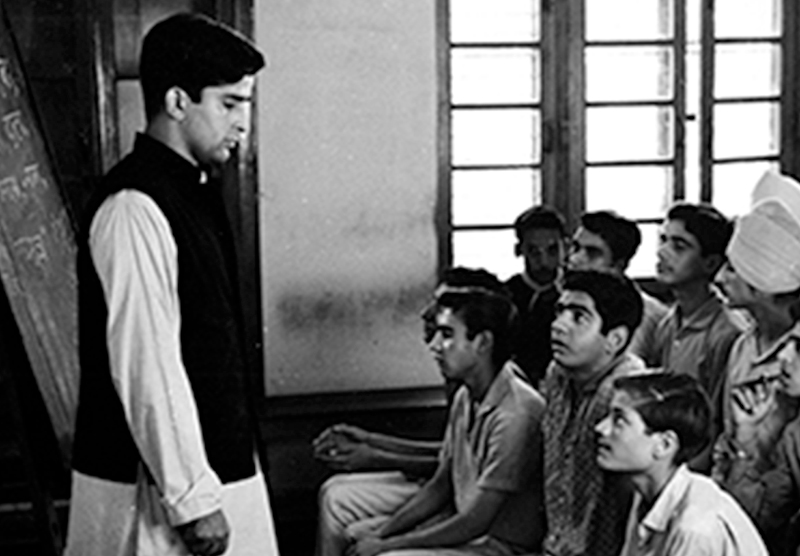 The Householder, 1963. Shashi as a harried teacher. Courtesy: Merchant-Ivory Productions
James Ivory remembers it clearly. In November 1961, he had arrived in a wintry Bombay, en route to a tiny village in Gujarat, where he planned to shoot a feature film, Devgar — written by the anthropologist, Geetal Steed. His New York-based friend, Ismail Merchant, was planning to produce it, and Sidney Meyers was to become the director. Ismail hoped to cast Shashi Kapoor and Leela Naidu, a young French-Indian actress, in lead roles, and get veteran actress, Durga Khote, to play the elderly mother.
But first, Ismail wanted James to meet Shashi. And so, one evening, James and Ismail headed to the Cricket Club of India for a film function. As James recalls, 'I remember going down the long corridor — a tented corridor, as it were — to some place where Shashi was supposed to be. But just at that moment, Shashi and Jennifer emerged. So, we had our meeting right there, in that enclosed passageway. Jennifer was very nice and welcoming. Ismail had told Shashi about me, and the actor was friendly in his usual way. That was the first time we met — he must have been twenty-three then — and I was struck by how extraordinarily handsome he was.'
At an earlier time, under equally unusual circumstances, Ismail had met Shashi; accompanied by an Australian woman who worked at an advertising agency, he had gatecrashed a party that the young actor was hosting at his house for a few film journalists. Ismail — who passed away after a brief illness in 2005 — writes in his autobiography, My Passage From India:
I saw no reason to waste time. 'I am Ismail Merchant,' I said. 'I am here from America to make films and you will star in them.' […Shashi] seemed rather taken aback by my approach, but by the end of the evening I had infected him with my enthusiasm.
Shashi confirms: '[Ismail] started attacking me [the moment] he […] entered my house. Anyway, when he came in, there were lots of people […] and they mingled and talked. [But] Mr Merchant was in a hurry to know when he could see me with his director.'
Shashi was two feature films old at that time, having played the lead in Char Diwari and Dharmputra. He was without the best track record — both movies had fared poorly at the box office. But Ismail — the exuberant, positive, uber salesman that he was known to be — was ready to offer Shashi the world on a platter: 'I said, "Here is an opportunity for you to become an international star. This is a terrific role for you." [Shashi] was completely astonished […] We hit this incredible rapport.'
Once Shashi met both Ismail and James in that tented corridor, he felt compelled to respond to their petitions for Devgar. 'I said, this is hardly the place to come to any decision,' Shashi remembers. 'But they wanted a quick decision. And [so] I said, okay, okay, I'll do it.'
Meanwhile, Ismail calls to mind another part of the story — that perhaps Shashi thought that American producers were going to offer him a sizeable remuneration: 'He didn't realise that huge amounts of money were not in the cards.'
Page
Donate Now
Comments
*Comments will be moderated