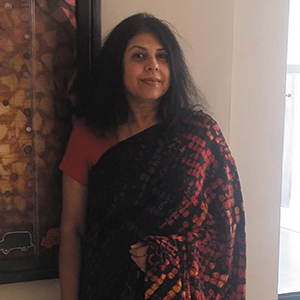 Chitra Banerjee Divakaruni. Photos: The Punch
Chitra Banerjee Divakaruni has juggled several genres — poetry, short stories, essays and fiction. In fiction, her narratives have taken multiple forms — realistic, historical, magical realism, myth and fantasy. Set in the US and India, they often deal with the experiences of the South Asian immigrants. What's more, she has even written for children and young adults.
Her short story collection, Arranged Marriage, won the American Book Award in 1995. Two of her novels (The Mistress of Spices and Sister of My Heart) as well as a short story "The Word Love" were adapted into films. Mistress of Spices was shortlisted for the Orange Prize. Currently, Sister of My Heart, Oleander Girl, Palace of Illusions, and One Amazing Thing have all been optioned to be made into movies or TV serials. Divakaruni's latest novel, Before We Visit The Goddess was published by Simon & Schuster in 2016. A story of three women across generations, it explores the complex relationships between mothers and daughters and the different kinds of love that bind them.
She is the Betty and Gene McDavid Professor of Writing at the University of Houston Creative Writing Program. Divakaruni, who was in New Delhi recently, spoke to The Punch about her journey as a writer. Excerpts from an interview:
THE PUNCH: It has been such a long journey as a writer for you. And, in all these years, you have been so prolific. When you look back, do you see any specific trigger to be a writer? How much did your own experiences as an immigrant shape your writing?
CHITRA BANERJEE DIVAKARUNI: I started writing after some years of having migrated to the US. When I was growing up in India and even when I went to the US and started studying, I was not ever thinking of becoming a writer. But as I went through the immigration experience, it was a very powerful and transformative experience for me because I had come from a very sheltered background and it was for the first time I was living alone and living a whole other culture. To top it off, my grandfather in India passed away at that time. That was very traumatic for me. I had been very close to him. I couldn't even go back for the funeral because everything happened so quickly and so I thought that I must start writing things down or else I'll forget. Also, I felt like I was forgetting my grandfather. That was one part of what I was writing — about things that I remembered about India. On the other hand, the immigration experience was so different, not just for me, but for other people in my community. I remember this is in the 1970s. There is not a large Indian community. We are isolated. There is no Internet. There is very little connection. It's much harder to be an immigrant in such isolation, but it's still a very transformative experience, but it was more so then than now, when people who are going there already know so much about America and still stay very much in touch with their Indian families. We couldn't even call our families. It was so expensive to call in those times. As a student, I didn't have enough money. I could only call my family once in a few months. I wanted to write about that experience. So, those are the things that made me want to start writing. When I started writing, I wasn't very good because I had not had any training. I really had to learn how to become a writer. I started with poetry. It took several years of writing, re-writing and sending out things, and getting rejected. Pretty much all my writing happened after I went to America.
THE PUNCH: Even though your books straddle similar worlds, they are, at the same time, very different from each other. How do you approach a story?
CHITRA BANERJEE DIVAKARUNI: When I sit down to write, I generally have a story in my mind. I have characters in my mind. Movement across continents is something that is exciting and interesting to me. It could be immigration or, like in Oleander Girl, it could be a journey in search of something. Then, she (Korobi Roy, Oleander Girl's protagonist) would come back to India. So, it's a different kind of movement. With each story, the movement will be somewhat different. Before We Visit The Goddess has a different movement because there is grandmother, mother and daughter. Once you are in another country, how do you connect back, if at all, to your culture? Do you have to break away from it before you connect back with it? So, with this novel, I had some different questions. Perhaps the thread that runs through all my books is the importance of women making choices for themselves about their own lives, whether in India or in America, and how such choices can enable us to grow even if they lead to problems. So, even if it leads to some complications in between, ultimately, there are ways in which a woman grows through these experiences that is of interest to me. Often, immigration is one way of doing it. But in a novel like Palace of Illusions (a reimagining of the Mahabharat), Panchaali (the narrator modelled on the wife of the Pandavas) is making her choices herself. It's a very different kind of environment, but that element is still there, she is making choices....because I feel that it is very important as, in so many ways, society kind of blocks women from that. Society, especially traditional society, is not very encouraging of women making their own choices. They would rather say this is the path you should take. I think women in India would find a resonance with this. I think they are realising how important it is to make choices and also how important it is to break down something the society has always said that women should not do. After the Nirbhaya episode, one part of the society was saying she shouldn't have gone out so late. That was a problem. Why was she out there? It's not okay to say women cannot do something. And, if you do something, you are going to be punished. Those are some of the taboos or boundaries I want my women to break. When we venture into new territory, there might be problems, but it's still important to venture out and it's still important for the society to say, 'We'll support you as you venture out there.' So, in literature, it's important to start such conversations ...Literature goes side by side with what is happening in real life.
THE PUNCH: You're also an activist. Is your activism integral to your role as a writer?
CHITRA BANERJEE DIVAKARUNI: You are right in pointing out that there is a real connection between my activist work and my writing. The attitude is a little different because when I'm doing my activist work, I will go out there and say that this is wrong and women must be allowed to live life of dignity. They must be allowed to do their own changes and that is there in the back of my mind when I'm writing, but I understand that books, especially fiction, would not work very well if I allow the characters to bring that out this way. I cannot have an agenda upfront. I can only say that as a writer, I'm going to display or develop the lives of women and their own reader. We can make the reader sympathetic, make the reader think in slightly different ways. Also, for my male readers, it will create empathy for my female readers. I hope it will give them some inspiration and strength.
THE PUNCH: In Before We Visit The Goddess, you have three generations of women: Sabitri, Bela and Tara — grandmother, mother and daughter. How difficult was it to delve into the different mindscapes of three women from three generations?
CHITRA BANERJEE DIVAKARUNI: That was a challenge. I really wanted to show how each generation is very different and yet how each generation affects the next one. Even when Bela (one of the three protagonists) doesn't want to be influenced by her mother, but in her own life she is going to repeat some of her own mother's mistakes. Ultimately, she is more like her mother than she'd like to think. So, the complexities of heritage was something I wanted to point to. But it was a challenge to create each woman and make her very different, yet show the complexities of heritage, show the connections and to show that although they have complicated relationships, there is love and care at the end and that is what heals them at the end and brings them together and hopefully, in a way, that surprises the readers.
THE PUNCH: As a writer, you're also someone incredibly fascinated by the idea of impossible love, and love and loss. Do you have to conceive your narrative arc in a particular way so that all this could fall into place — women making different choices, embarking on different journeys, searching for something or the other, with some of them also being buffeted by the impossibility of love and loss.
CHITRA BANERJEE DIVAKARUNI: In each of these novels, women live as they push forward, breaking taboos, entering new territory. They will lose something. In Before We Visit The Goddess, one of the things I'm trying to say is that if we are too afraid of losing what we have now, we'll never be able to move ahead and grow and gain other kinds of things. So, in the novel, the inheritance of loss begins with Sabitri, who is willing to leave her village behind and to come and live in the city in a rich woman's household where she is not going to be treated well and she really misses the familiar environment, but she pushes ahead because she wants education, because she has a dream. It's not going to work out like she thinks, but she will grow and become a much stronger individual and then when she stands on her own, several possibilities open up. She becomes a female entrepreneur and she has gained many other things. So, in some ways, that is the complicated nature of life where each gain will come with some loss and with each loss will come some gain, but we can't be afraid of that process of life. And, in some ways, all these three women push forward and change.
THE PUNCH: There is something remarkable about your characters. They are so well-etched out, some of them travel with you long after you have read about them. How do you work on characters? In Before We Visit The Goddess, while the other two women (grandmother and mother) would have been relatively easier to create, Tara comes from another generation and thinks and acts differently. How do you work on creating characters that are removed from your own experience?
CHITRA BANERJEE DIVAKARUNI: Tara was a real challenge to write. I did a lot of research. I spoke to a lot of younger generation people and I observed a lot of younger generation people. Even among the younger generation, she is unusual because of the pain of the divorce. She has cut herself off from her family and from her culture. I had to research and think about her, but I'm very sympathetic to her because I understand how she is trying to find herself. She has decided that the old rules didn't work for my mother and so I cannot follow those old rules. She thinks that her mother did everything she thought was right and still her marriage didn't work out. She is still in a bad place. So, Tara thinks she is not going to do that. She thinks she has to find her own way. She gets into lot of trouble, but ultimately things work. But she had to go through a lot of self-questioning self-doubt. She has cut herself out from her heritage, and yet she will discover at some point that cutting oneself off from one's heritage is not the right answer. She has to discover it for herself. And that's one of the things that I say over and over in different ways and different books — the woman has to discover for herself even if she has to discover it through a mistake because otherwise we don't grow. People could tell us all the wisdom about life but that doesn't make sense. It won't help us. We have to experience at least some of it ourselves. As a mother, I see the paradox in that because as a parent you really want to protect your child from all of life's problems, all the things you face, the mistakes you've made, you want to tell the kid, 'Hey, don't do that.' So, in Before We Visit The Goddess, Sabitri tells Bela not to make the same mistake of dropping out of college, 'I did it, you don't do it,' but each woman has to find her own path.
Page
Donate Now
Comments
*Comments will be moderated