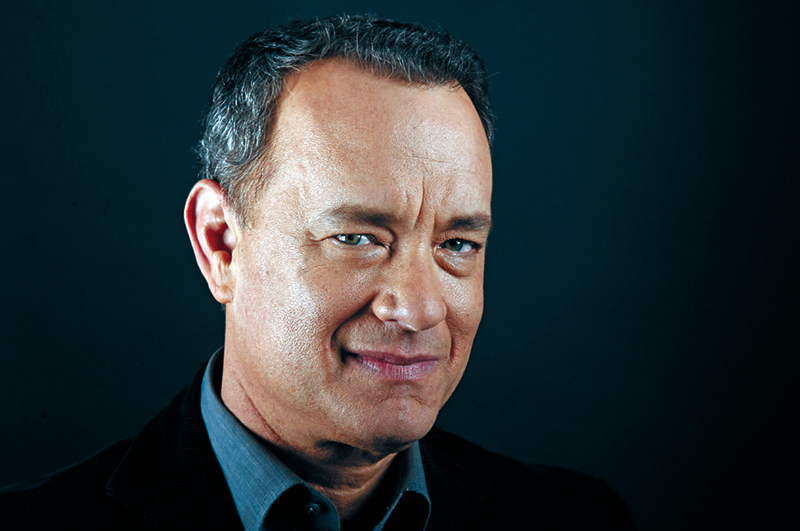 Celebrated actor and filmmaker Tom Hanks has donned the author's hat. Uncommon Type, a collection of 17 wonderful short stories by him, will be published by William Heinemann in October, a release by Penguin Random House Company said on Wednesday. William Heinemann is an imprint of Cornerstone, which is part of The Random House Group Ltd, a Penguin Random House Company.
Hanks is known for his various comedic and dramatic film roles, including Splash (1984), Big (1988), Turner & Hooch (1989), A League of Their Own (1992), Sleepless in Seattle (1993), Philadelphia (1993), Forrest Gump (1994), Apollo 13 (1995), Saving Private Ryan (1998), You've Got Mail (1998), The Green Mile (1999), Cast Away (2000), and The Da Vinci Code (2006), as well as for his voice work in the animated films The Polar Express (2004) and the Toy Story series.
Susan Sandon, managing director of Cornerstone and Jason Arthur, publisher of William Heinemann, have acquired UK and Commonwealth Rights (exc. Canada) in Uncommon Type: Some Stories by Tom Hanks. The deal was struck with Suzanne Smith at Knopf, Penguin Random House in New York.
Uncommon Type will be published in hardcover, ebook and in audio with Tom Hanks reading. Publication will be simultaneous with Knopf in the US and in addition, rights have already been sold in Canada, Japan, China, Germany, Italy, Brazil and the Netherlands.
Uncommon Type features 17 stories, each in some way involving a different typewriter (Hanks is an avid collector of vintage typewriters and owns over one hundred of them). In the book, there is a story about an immigrant arriving in New York City after his family and life have been torn apart by his country's civil war; another about a man who bowls a perfect game (and then another, and another) becoming ESPN's newest celebrity; another about an eccentric billionaire and his faithful executive assistant on the hunt for something larger in America; and another about the junket life of an actor.

"I read a story by Tom in The New Yorker several years ago," Sonny Mehta, chairman and editor-in-Chief of Alfred A. Knopf, was quoted as saying in the release, "and was struck by both his remarkable voice and command as a writer. I had hoped there might be more stories in the works. Happily, for readers, it turns out there were."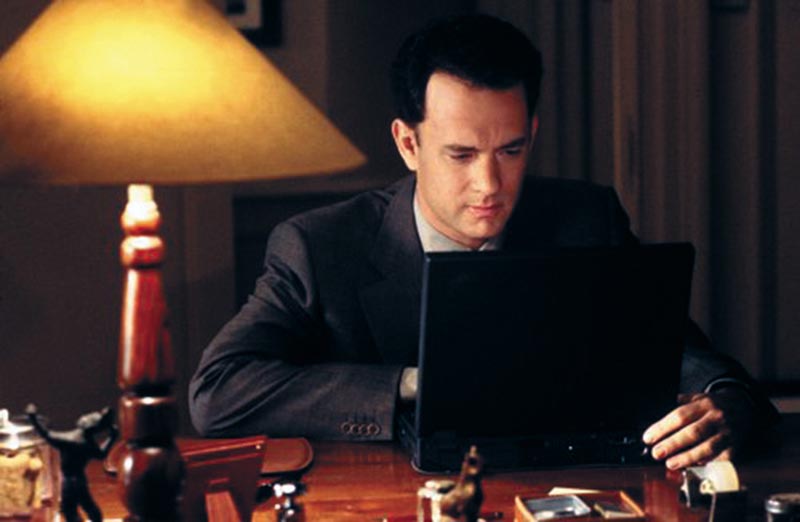 Tom Hanks in a still from You've Got Mail
Hanks began writing the book in 2015. "In the two years of working on the stories," Hanks was quoted as saying in the release, "I made movies in New York, Berlin, Budapest, and Atlanta and wrote in all of them. I wrote in hotels during press tours. I wrote on vacation. I wrote on planes, at home, and in the office. When I could actually make a schedule, and keep to it, I wrote in the mornings from 9 to 1."
Jason Arthur was quoted as saying, "Uncommon Type is uncommonly full of compelling voices and utterly memorable characters. With these astonishingly accomplished, vivid and vital stories, Tom Hanks proves himself to be an exuberant writing talent and an exciting new voice in fiction."

Susan Sandon was quoted as saying, "We read these wonderful stories with mounting excitement and offered within hours of Suzanne's submission. This will be a major publication for us this autumn, indeed a major publishing event."
Hanks' films have grossed more than $4.5 billion at US and Canadian box offices and more than $9.0 billion worldwide, making him the third highest-grossing actor in North America. Hanks has been nominated for numerous awards during his career. He won a Golden Globe Award and an Academy Award for Best Actor for his role in Philadelphia, as well as a Golden Globe, an Academy Award, a Screen Actors Guild Award, and a People's Choice Award for Best Actor for his role in Forrest Gump. In 2004, he received the Stanley Kubrick Britannia Award for Excellence in Film from the British Academy of Film and Television Arts (BAFTA). In 2014, he received a Kennedy Center Honor and, in 2016, he received a Presidential Medal of Freedom from President Barack Obama,as well as the French Legion of Honor.
Hanks is also known for his collaborations with film director Steven Spielberg on Saving Private Ryan, Catch Me If You Can (2002), The Terminal (2004), and Bridge of Spies (2015), as well as the 2001 miniseries Band of Brothers, which launched Hanks as a successful director, producer, and screenwriter. In 2010, Spielberg and Hanks were executive producers on the HBO miniseries The Pacific (a companion piece to Band of Brothers).
Donate Now
Comments
*Comments will be moderated