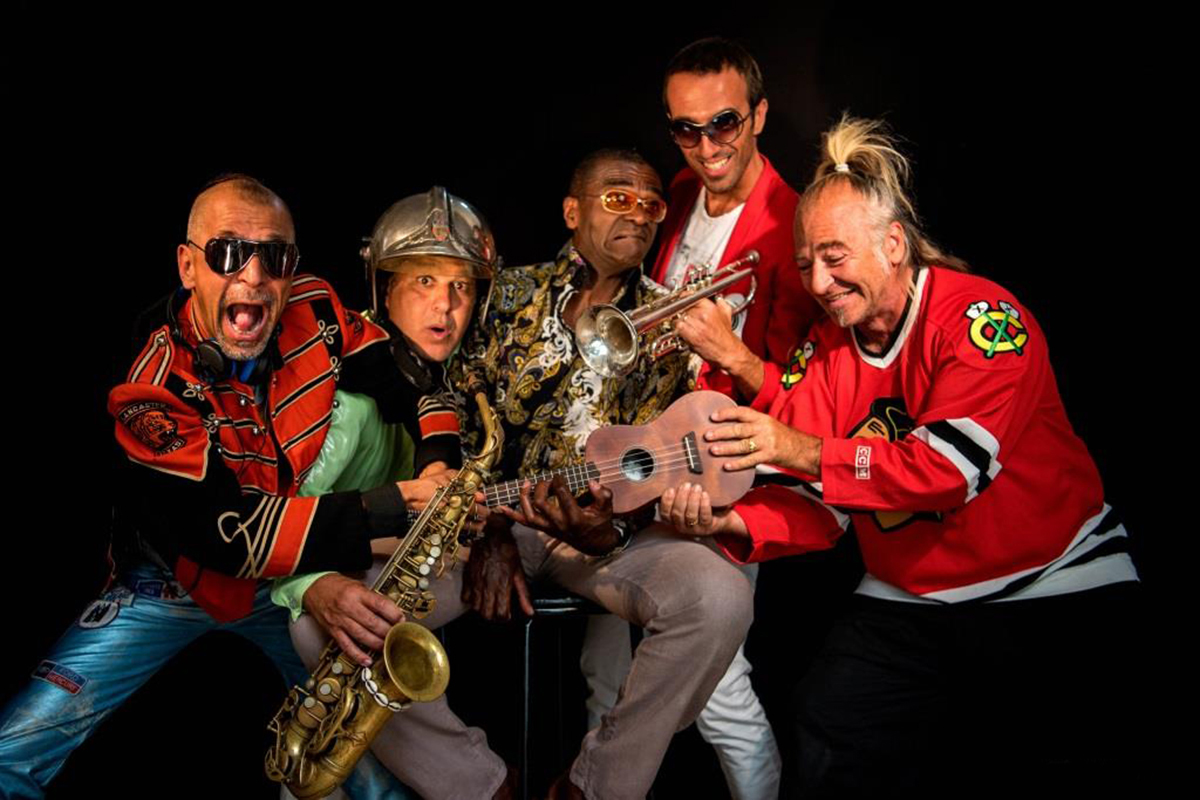 Members of Nojazz, the French electronic band, which borrows sounds from jazz and soul music. Photo courtesy of Nojazz
The shores of idyllic lakes in Udaipur, Rajasthan, reverberated with mellifluous strains of world music in February. Organised from February 9 to 11, the Udaipur World Music Festival, which was in its 3rd edition, brought together some of the best bands strumming electronic music, jazz, reggae, fusion, including international headliners, such as Nojazz from France, Txarango from Barcelona (Spain) and Paris-based Brazilian singer Flavia Coelho. Shubh Saran, the Indian singer, who lives in the US and singer-songwriter Ankur Tewari ensured the young grooved to their renditions, tapping their feet, jiving along.
Spread across lakes, the festival cut through several genres of music and brought together over 150 artists from countries such as the US, Spain, France, Paris, Thailand, Philippines, Switzerland, Israel, Greece, Nepal, Italy and India. There were three stages created at three different locations across the city — Amet Haveli at Ambrai Ghat, Fatehsagar Paal and Gandhi Ground. Rajasthani folk singers Nathu Khan, Babu Khan Bagadwa and group from Bikaner performed at Maharana Pratap Airport and Udaipur Railway Station.
The venue for the morning music sessions was an old palatial haveli — Amet Haveli at Ambrai Ghat nestled in the backdrop of lake pichola in the old city area. Since four-wheelers could not negotiate through the narrow lanes, one had to navigate on foot, passing by beautiful palace hotels and shimmering lakes of a city that has been described as the "Venice of the East".
The Petrakis-Lopez-Chemirani band consists of Stelios Petrakis, a young composer and virtuoso lyra and lute player from the island of Crete and Efrén López, a multi-instrumentalist who plays the hurdy-gurdy, rabab, ud, fretless guitar and kopuz, and composer from Valencia, Spain, who has spent years travelling in the Mediterranean area, the Middle East and Afghanistan, and studying their various musical idioms. Petrakis-Lopez-Chemirani played some traditional instruments. Their meditative music seemed to cast a spell, taking listeners to soulful terrains.
Classical vocalist Subhadra Desai's songs were seeped in the Vedic traditions. The fusion of traditional and vocal music was seen in the collaboration of Classical Carnatic singer and Padma Shri Awardee Aruna Sairam & Dominique Vellard, director of Gilles Binchois ensemble, who presented a jugalbandi of sacred Carnatic songs and Gregorian chants.In the mornings, the spiritual music, punctuated with sips of kulhad chai, set the mood of the day, heralding afternoons and evenings packed with powerful performances.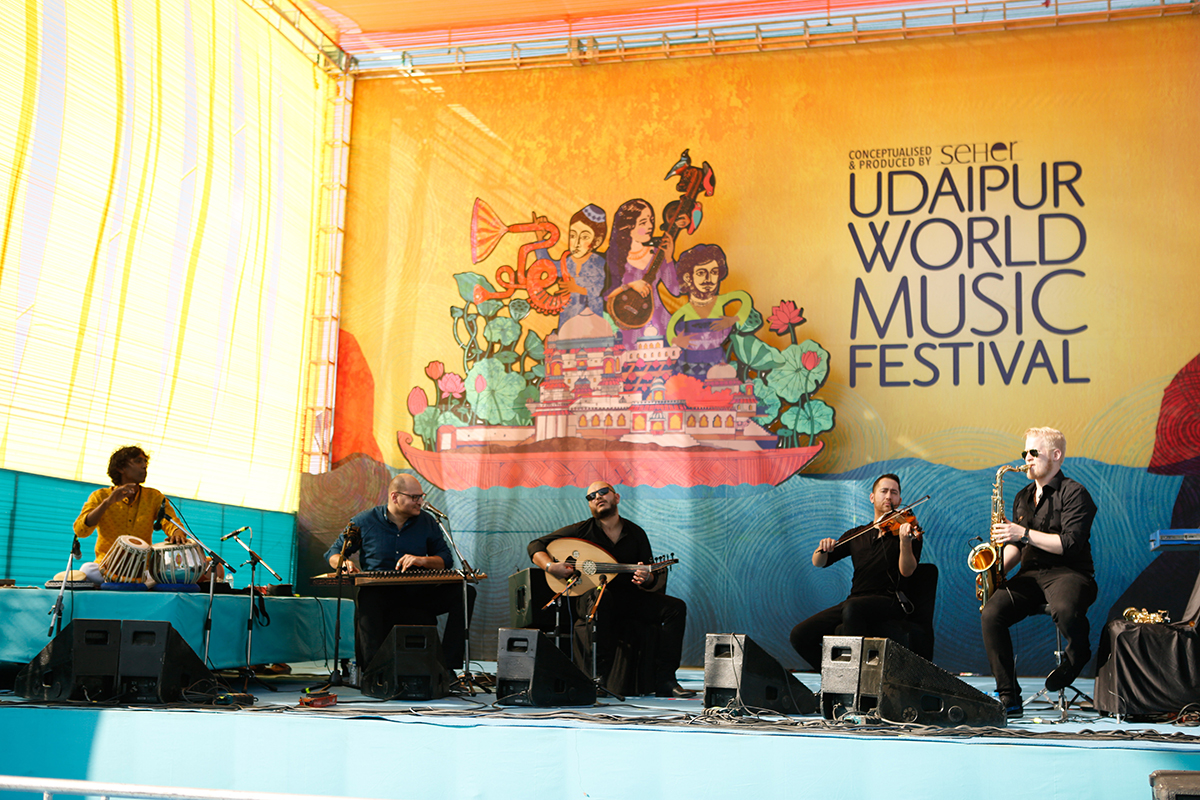 Amine and Hamza M'raihi, the Tunisian musician brothers duo, played oud and qanun, the two major instruments of the classical Arabic music. Photo: Udaipur World Music Festival
The stage for the afternoon session was set up at Fateh Sagar Lake. New York-based Shubh Saran, the guitarist and composer of Indian orgin, blended modern jazz, neo-soul, and rock with classical and contemporary Indian music. Saran also performed in multiple cities across India during this visit. Amine and Hamza M'raihi, the Tunisian musician brothers duo, played oud and qanun, the two major instruments of the classical Arabic music. Maati Baani, the homegrown music band, specialises in avant-garde stuff, combining elements of Hindustani Classical with various styles of folk music and new age sounds. They collaborated with Linsey Pollak from Australia, a social media sensation, known for creating instant musical instruments out of day-to-day objects like folding chairs, hand gloves etc.

Multi-talented frontman singer and songwriter Ankur Tewari, with dexterity in guitars and vocals, held fort for long. He sang some beautiful Hindi/indie songs from his albums. A track like Dil Beparvah had people swooning and singing along. His another heart-warming track, Teri Yaad, was dedicated to those nursing broken hearts ahead of Valentine's Day.
Among performances in the evening, Sicilian band Oi-Dipnoi struck a chord with the audience. Dipnoi are living fossils, an order of prehistoric fish that have vestiges of rudimentary lungs: during periods of drought, adapting to the environment, they take refuge in small, moist burrows and can breathe atmospheric oxygen. This is a metaphor that evokes the current music scene in Sicily: in the name of survival. In their performances, the trio found the meeting grounds between tradition and innovation, combining elements of jazz and progressive archaic folk.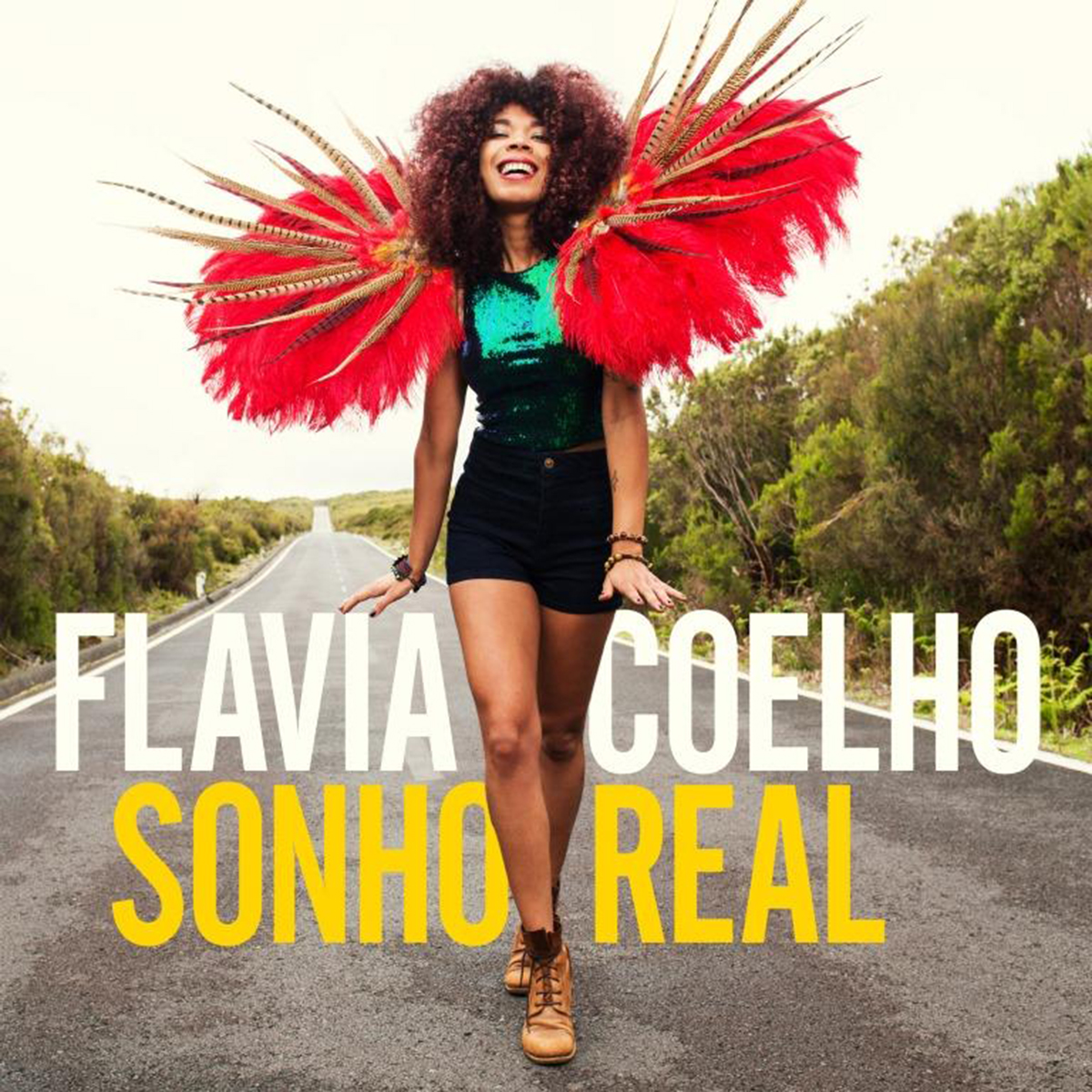 Flavia Coelho, who performed for the first time in India, blended Brazilian samba and reggae rhythms
Flavia Coelho, performing for the first time in India, blended Brazilian samba and reggae rhythms. She set the stage rocking with her energetic and peppy tracks, screaming in between her renditions, "Are you with me, Udaipur"? The audience, reciprocating, would roar. She danced, jingled, jumped, played a sleek guitar and drummed — all this with tremendous ease and fluidity. She belted out "Bom Bom" from her album Sonho Real and Bossa Muffin from her album of the same name ( Bossa Muffin) and her other hit numbers.
Shankar-Ehsaan-Loy also stole the show with their trademark tracks of popular Bollywood films like Dil Chahta Hai and Kal Ho Na Ho. They wrapped up their performance with Breathless, singing it twice on demand, with thousands of cellphones lighting up the venue. Scores of swinging hands were up in the air as people got in the groove.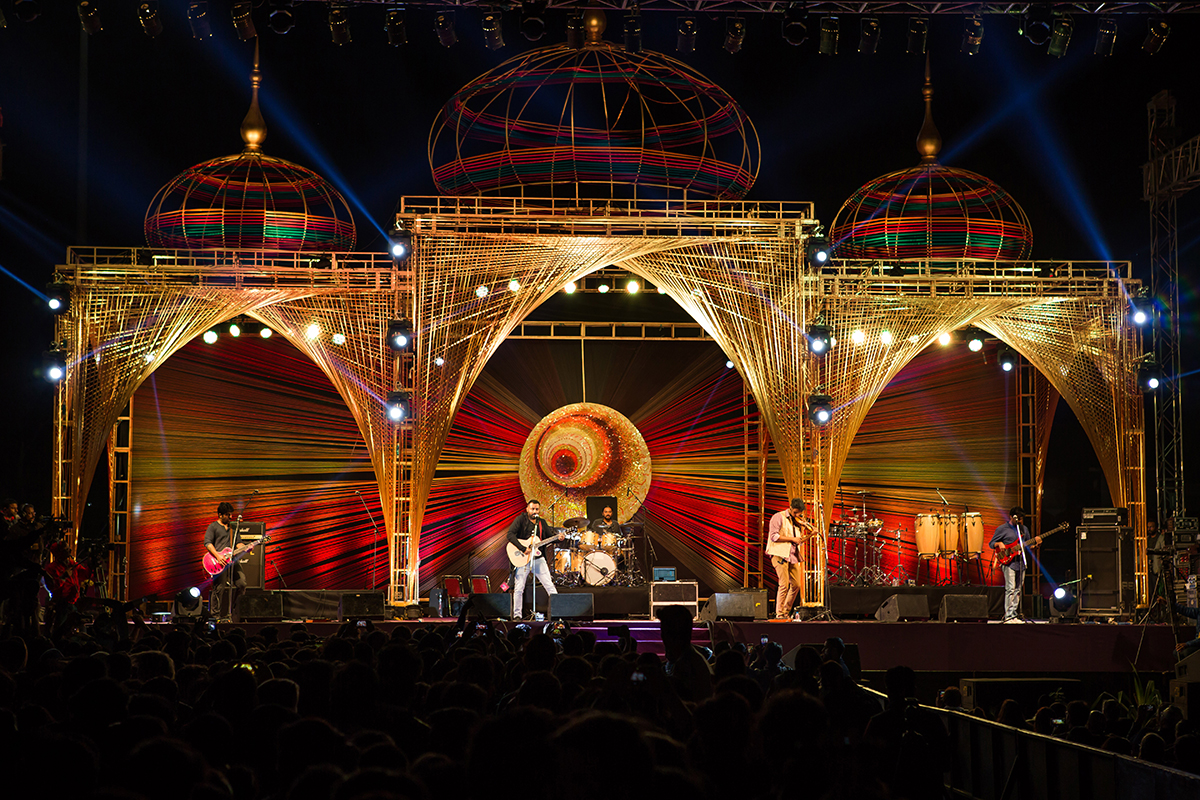 Anand Bhaskar Collective performs at the festival.
The evening attraction on the second day was Nojazz, the French electronic band, often labelled as being a Nu-jazz band, with sounds borrowed from jazz and soul music. Their performance was well-paced and choreographed. Brimming with energy, they stirred things up with their sensational numbers. Their sonorous numbers — hip-hop-electro fusion, left the audience asking for more. And they sang with a swag and elan that endeared them to the audience that ensured they didn't miss a beat. Perhaps it helped that the band had performed in India before, making it easy for them to connect with the audience. Higher State from their album Zooland and Swinging in the Rain from their album Soul Stimulation were some of the songs sung by the lead vocalist, Jeffrey. After Udaipur, they also had performances lined up in Mumbai and Bengaluru. Their songs are available on Saavn.
The sterling line-up of the non-stop musical extravaganza concluded with the performance by Txarango from Barcelona. Txarango, formed in 2010, performed some high-octane numbers. The lead singer, Alguer Miquel, danced, ran, jumped and rolled throughout their rollicking performance. Their dance numbers, Una lluna a l'aigua and Ulls de corall and many others from their latest album, El Cor De La Terra, left the crowd hankering for more.
The festival was conceptualised and produced by Seher India, spearheaded by Sanjeev Bhargava. He announced the dates for Udaipur World Music Festival 2019 — February 13-14-15, 2019.
Donate Now
Comments
*Comments will be moderated