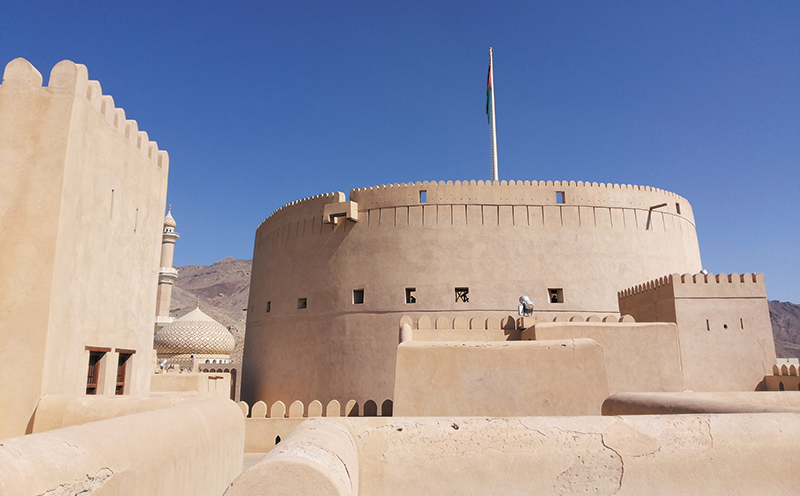 Inside Nizwa Fort, with a mosque visible in the background. Photos: Suman Tarafdar
It was nothing like I had expected. While that could be said about all of Oman itself, Nizwa, named one of the must-visit places for this year by various travel lists, is an old town at a crossroads of desert and mountains, suspended somewhere between traditional roots and creeping modernity — all below an unbelievably deep azure sky.
Just about 130 kilometres southwest of Muscat, Nizwa is an unusually smooth 90-minute drive through the desert from the sprawling national capital, but it might as well be a world away. While modern commerce and retail, cobalt seas and majestic opera houses and bejewelled mosques dominate the three cities that comprise Muscat, Nizwa's core is still a medieval fort and a traditional souk where every Friday you could buy and sell goats or cattle or camels. You bargain well, right? Camels ain't cheap, not even in interior Nizwa. My attempts at camel-buying were a little mistimed — camels are over by 0730, so go early if you want options!
Nizwa is literally at a crossroads of the modern nation of Oman, which has transformed into its present rather liberal avatar under the present sultan. The town, at the base of Hajar Mountains, is where you could also glimpse remnants of an older Arabic civilization.
The Past...
Nizwa was the capital of Oman in the 6th and 7th century, and is known for being one of the first cities to convert to Islam. For centuries, it was a seat of conservative Islamic scholarship, especially after the Imams of Oman decided to base themselves here in 792 AD. Rather remote geographically, it flourished for centuries as a centre of Islamic education, trade, culture and arts, and was considered hostile to outsiders even in middle of the 20th century, when British explorer Wilfred Thesiger was forced to steer clear of Nizwa, as going there would have meant endangering his life.
Today, the most spectacular reminder of that past comes from the impressive Nizwa Fort. Get this, Oman is dotted with hundreds of forts, including some in the neighbourhood, but the magnificent fort here, dating back in its present iteration to the late 17th century, is one of the most important, and was the stronghold of armed opposition to Muscat as recently as 1950. The foremost feature is a circular structure 35 metres high, with a diameter of 46 metres — imagine a massive squat brown mud drum rising to the skies, and marked with narrow slits — to pour hot oil from, if you are a sucker for fanciful tales. Petroleum's use is a recent discovery, guys! Arrows would be a truer guess.
The museum inside the fort has detailed historical representations of the region's past, and is well worth taking time over. The view from the top is one of best in this nation — cannons and ramparts overlooking the town's baked mud and white roofs, a wadi (valley) fringed with laden lush green date palms, with the majestic Hajar mountains in the backdrop.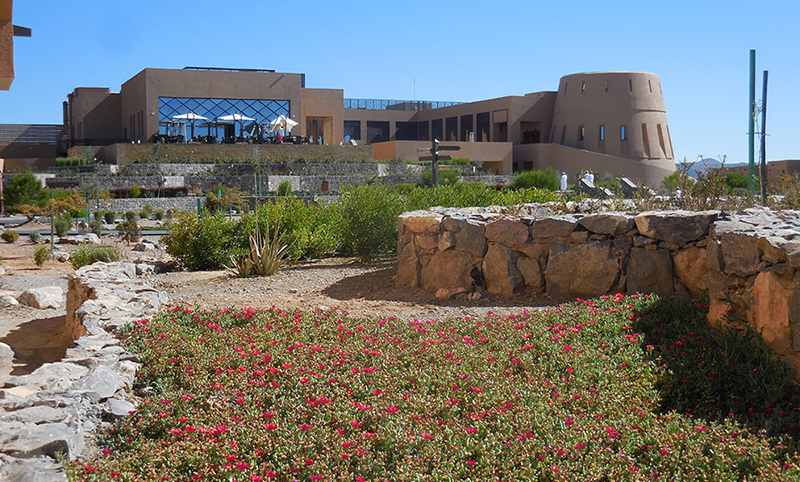 The main block of the resort, Anantara Al Jabal Al Akhdar
It is here that many of Nizwa's famed attractions lie. Jabal Shams is Oman's highest peak, and offers breathtaking views of Wadi Nakhr, a gorge bested only by the Grand Canyon. With an almost vertical, 1,000-metre drop, those with vertigo are well advised to stay away, through the rest can have the thrill of their lives. A visit at midday ensures the shadows are at a minimum, ensuring best photographs! The Balcony Walk takes about four hours and creates memories for life. Even the way to the top, possible only in 4x4 offroaders, through rocky desert-mountain roads interspersed by sudden springs, is an adventure.
Then there is Falaj Daris, an aflaj or gravity-fed irrigation system. This falaj has been in operation since at least 500AD, though is possibly much older. Wondrous, and included by UNESCO in its heritage list, it is a testament to human ingenuity and survival skills in even such climatically harsh environs.
Just as amazing a settlement is Al Hamra, a 400-year-old town built on a tilted rock slab. Budget quality time to marvel at the almost perfect ruins of the houses, among the oldest in the country.
Page
Donate Now
Comments
*Comments will be moderated