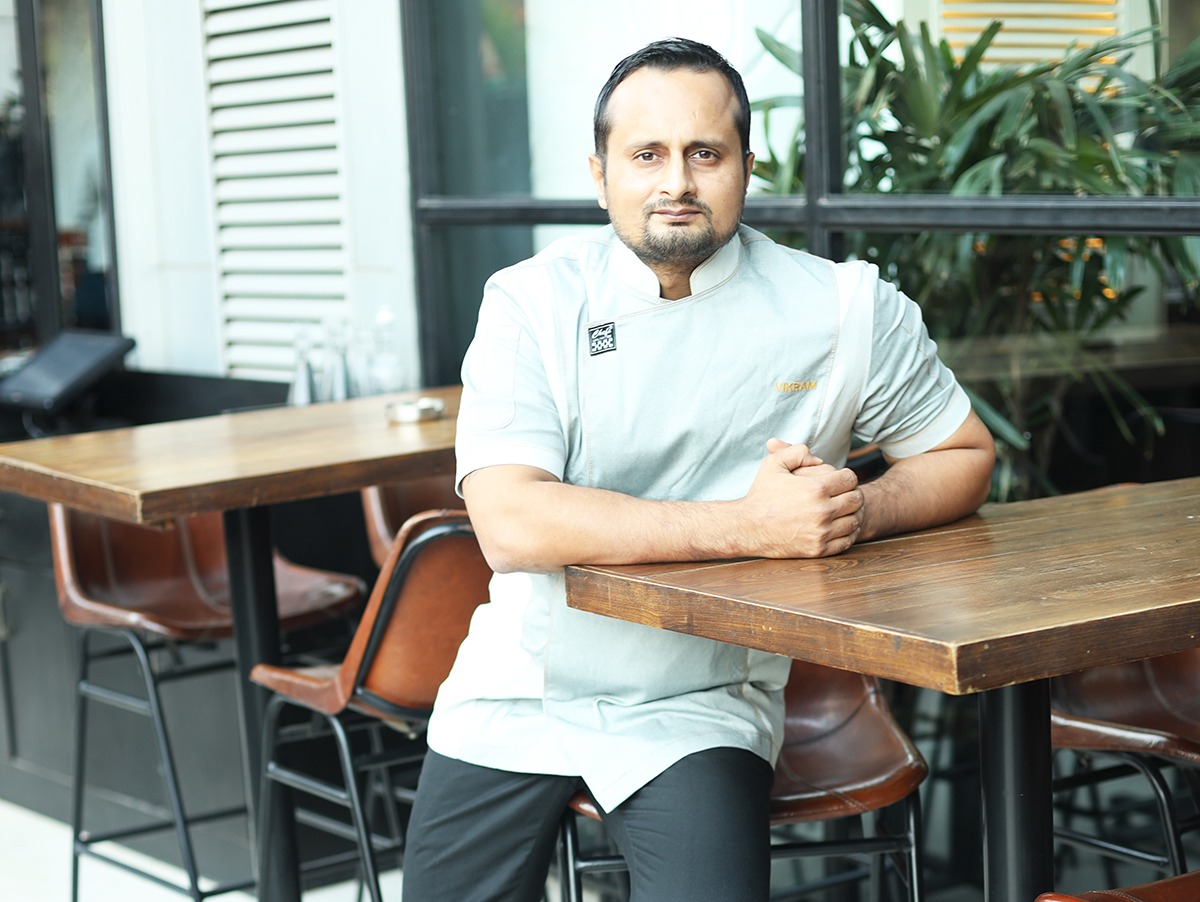 From top: Chef Vikramjit Roy; Black Cod Miso, Pickled Peppers; Crispy Prawn Cheung Fun; interiors of The Kimono Club Photos courtesy: The Kimono Club
The gourmet lovers in Delhi have a new destination to gorge on Chinese and Japanese food: The Kimono Club. It is the next luxe offering by restaurateurs Ashish Dev Kapur and Joydeep Singh, who also own Whisky Samba and The Wine Company in Gurgaon, The Wine Rack in Mumbai and Antares in Goa. A blend of Chinese and Japanese cuisines, The Kimono Club is a welcome addition to the array of fine dining hotspots that dot the city. The restaurant promises to add "modern twist" to the two cuisines. Its offerings include caviar, oysters, lobster and duck, specially curated whisky and wine, and a unique 'call-for-champagne' buzzer at every table, perhaps a first at a restaurant.

Chef Vikramjit Roy, Group Corporate Chef and Executive Chef of The Kimono Club, is one of the best Japanese cuisine chefs in the country and brings a rich and diverse gastronomic experience with him. He started his career with the Oberoi Hotels, New Delhi, where he worked in the trend-setting 360°, Travertino and Taipan, which was the best Chinese restaurant of the city. Apart from this, he has also worked with Hyatt, Intercontinental, Okura in Tokyo, etc.
He has successfully launched the "Pan Asian" at the ITC Grand Chola Hotel, Chennai and Tian — Asian Cuisine Studio at the ITC Maurya Hotel, New Delhi for ITC Hotels. Having opened "Wasabi by Morimoto" at the Taj Mahal Hotel, New Delhi, which was listed as the 54th best restaurant in the world by San Pellegrino, he also opened the Tian and Pan Asian with a concept of "Progressive Asian food", which unlike its predecessors, have been able to connect with guests very well.
Excerpts from an interview with Chef Vikramjit:
We were very impressed with the tasting menu at The Kimono Club before it officially opened on October 24. Right from the first course (funghi) to the other entrees, mains and desserts, there was a slight tweaking of the dishes, an added touch that made it unique. How did you manage to achieve that?
The thought process behind the culinary experience at The Kimono Club was to make sure that the ingredients were the hero, for which we went quite a length to ensure that we had the best quality and the right supply chain to maintain consistency. What we do to these ingredients is actually not mess with it. The trick lies in simplified cooking to enhance the flavours of these ingredients rather than dilute it. We are just happy cooks, who are cooking with love hoping that the Guests would connect with it and have a holistic experience.
Delhi and Gurgaon are proud to declare that they have the best restaurants, cafes, nightclubs and bars anywhere in the country. Where do you see The Kimono Club fit in? What kind of clientele do you expect?
The Kimono Club has very distinct experiences for guests — right from an elaborate lunch in daylight with friends, family and delegates to dinner in an entirely different atmosphere to nightlife with unique performances and acts. Situated in one of the finest localities of Delhi, we are expecting a fabulous variety of guests —expats, delegates and dignitaries, families and other gourmet lovers.
We enjoyed the explanation that introduced the different items very much. It seemed obvious that ingredients were a vital part of your cooking.
Very much so. We spent a lot of time firstly travelling to source the right ingredient for every dish to creating a sustainable supply chain. All our vegetables are grown organically in Gurgaon and Manesar and we hardly buy anything from the open market. The emphasis here is on the flavours of the ingredients and that's what we wish to highlight with every dish. The servers, too, have been through this journey which makes it relatable to them and then, in turn, explaining it properly to our guests here.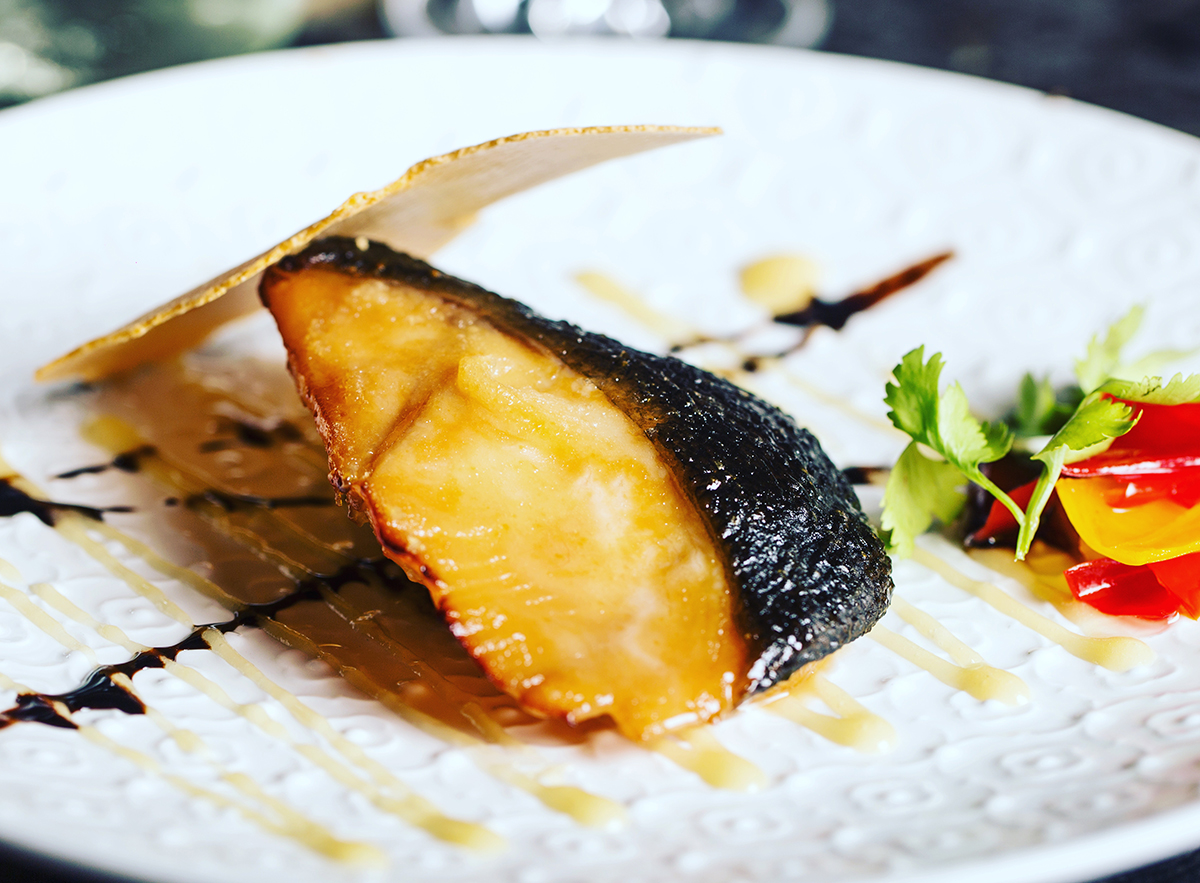 You have had a five-year stint earlier in Tokyo. What was your experience like? What new discoveries did you make? Did the authentic Japanese cuisine influence you in your cooking?
I think travelling plays a pivotal role in any cook's life and exposes him/her to a whole new level of thinking. The more we travel, the more we are aware of the diversity of ingredients, cooking techniques, rituals, culture, etc, which broadens the mind and pushes one to try out different things to give guests a unique experience. This also did the same to me. My travels exposed me to a whole new new level of thinking and probabilities. Japanese cooking technique is my foundation and has shaped the kind of cooking I do. The attention to detail and using the right equipment is one of the most important things that I learnt.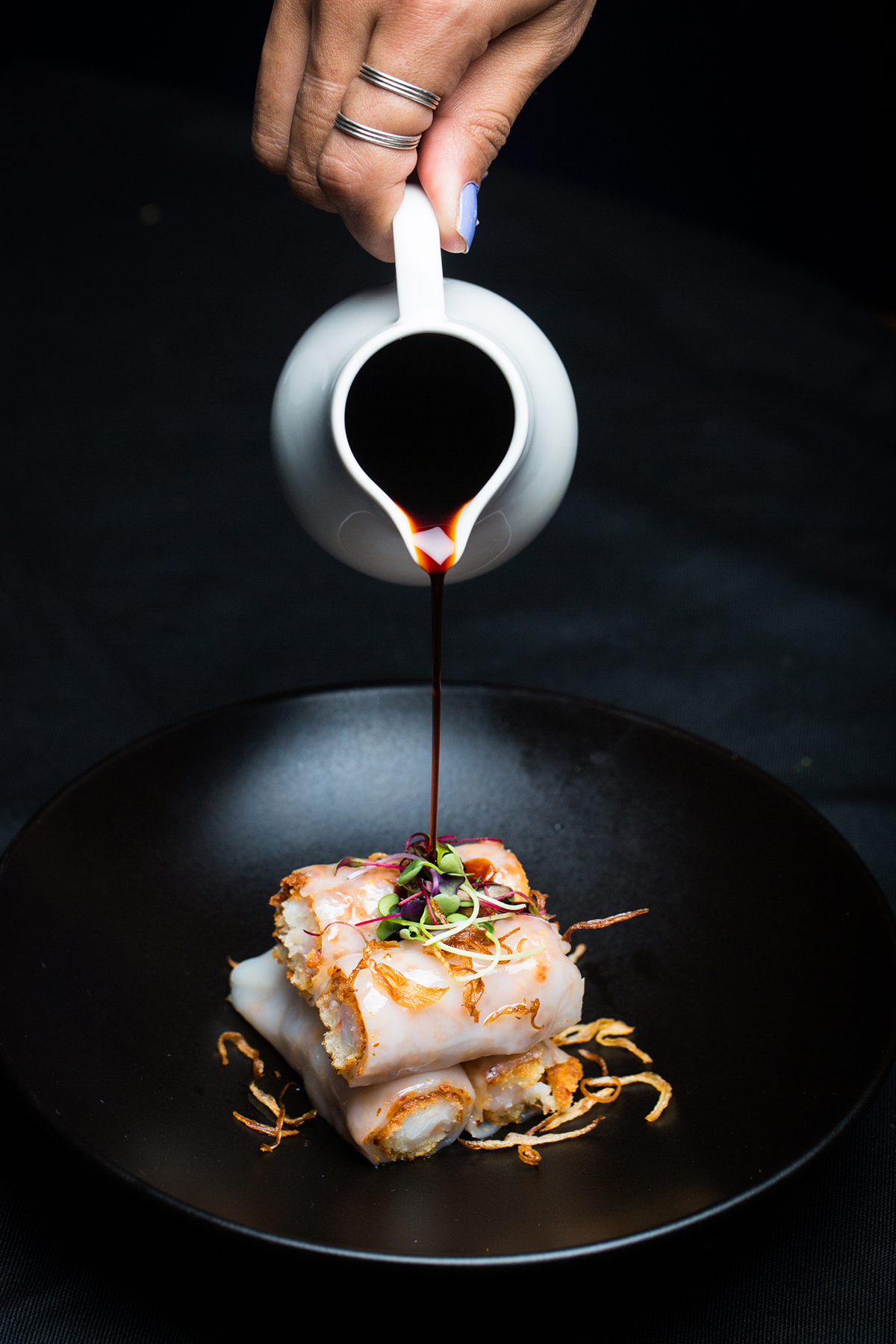 You worked with many hotels, including the ITC, for many years. How different is working at a major hotel chain vis-à-vis running a standalone restaurant such as The Kimono Club?

I had worked in hotels for around 15 years at hotels like The Oberoi, Intercontinental, Hyatt, Taj, ITC, etc, and it was a fabulous experience. I have had the privilege to work in some of the finest kitchens that we had set up and deliver unique dining experience for guests. But, after a point of time, I felt the need to understand the intricacies of running restaurants a little bit more and understanding what goes in making a successful restaurant apart from the freedom of expression in diversity of cuisine, which is very difficult to achieve, considering hotels are very territorial in that respect. In order to achieve this, I had to move out of the hotel space and explore this segment, which has taught me a lot and am happy to be expressing my thought process through my food across all our restaurants.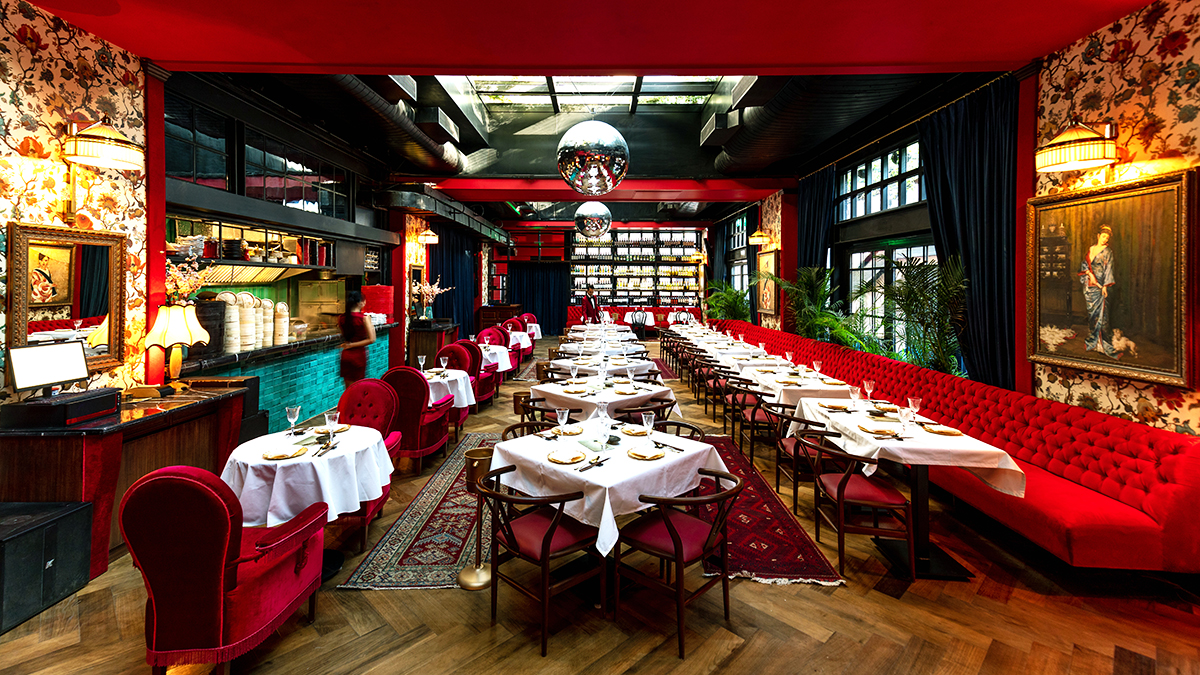 You set up Pan Asian restaurants in the city earlier. Were the local diners adventurous or did they play safe?
Things have changed a lot in the last 10 years, courtesy travel and tourism. Earlier, guests had a different opinion about trying new cuisines or combinations, but now I think that has bettered a lot. Everyone is comfortable to go out of their comfort zone and try a variety of newness, but all of this is sustainable till the food is delicious and quality is consistent.
Being a Bengali, your culinary tastes have been honed by a very different cuisine. What inspired you to take up Japanese cooking?
I think it had to do with the cooking techniques and the attention to details. Like Bengali food, Japanese Cuisine also pays micro-level emphasis on the cuts, temperature, method of cooking, etc. That is what intrigued me to explore this cuisine.
Tell us about the walks that you have started curating for food enthusiasts in Gurgaon?
Well, I do not curate any food walks professionally. It's something that I do passionately whenever I have the time and opportunity. It's usually a very close group of friends who go to different restaurants (most out of the map and radar of normal people) for specific dishes or set of dishes. Because of my profession, I get to meet a lot a lot of people both from within the industry and out of it too. This is where I get to know some specific places for specific things. Once I create a database of these things, we go out in groups to these places and try it out.
Please share one recipe that our readers can experiment with at home, ideally with vegetarian and non-vegetarian options.
Steamed Chicken/Tofu Tartar
Chicken Breast/Hung Tofu: 60 gram
Soy Milk: 20 gram
Fresh pineapple: 10 gram
Ripe mango: 10 gram
Fresh red chilli:
1 piece
Sugar: 10 gram
Yuzu juice: 2 ml
Salt: 3 gram
Rice vinegar: 10 ml
Lemon grass: 2 gram
Salt: 3 gram
Shiro miso: 5 gram
Unsalted butter: 10 gram
Olive oil: 20 ml
Method:
For the Chicken/Tofu
Mince the Chicken/Tofu in a blender with the soy milk and olive oil to a fine paste. Adjust seasoning with salt, white pepper powder. Put the mixture in a Siphon and charge it twice shaking vigorously. Leave it to rest lying horizontally in the refrigerator for a couple of hours. Shake it vigorously again and take it out in a mould. Using a spatula level the mixture to form a uniform shape. Steam it for 20 minutes. Allow to cool and cut it in the desired shape. Right before service, sauté it on a pan with little olive oil and butter to form a light brown crust.
For the Pineapple
Chop the fresh pineapple and mango to fine dices. Oil a pan and caramelize the pineapple, add the chopped red chilli, add the mangoes and season it to taste. Add the sugar and yuzu juice (you can replace yuzu juice with lemon juice too) and cook for a couple of minutes. Reserve for use later.
For the lemon grass sauce
Mince the lemon grass and ginger along with rice vinegar, shiro miso, olive oil and seasoning in a high speed blender. Strain it through a fine sieve. Put this back in a pan and add 5 grms of butter to it. Emulsify the sauce nicely.
Assembly
Put the pineapple mixture on the base and arrange the sautéed chicken breast/Tofu mixture over it. Pour the sauce adequately over the chicken/tofu only. Garnish with love.
Donate Now
Comments
*Comments will be moderated