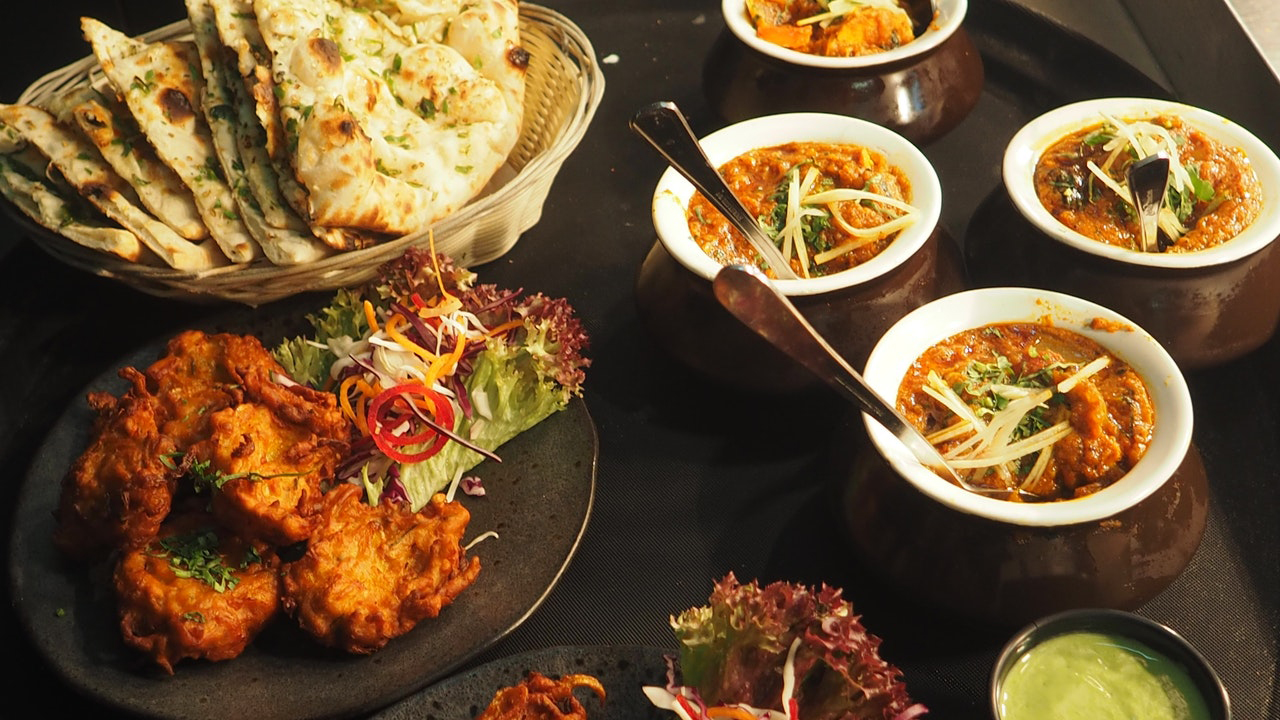 Photo courtesy: Chan Walrus
Tasting India, an annual symposium held in Delhi, aims to take the Indian palate to the world. The third edition of the three-day symposium, co-founded by Sourish Bhattacharya and Sanjoo Malhotra, was held in December across several venues. Evening events were organised at The LaLiT, The Park and The Roseate. The symposium saw a series of talks, conversations and workshops, besides tasting, lunches and dinners.

The symposium was inaugurated by NITI Aayog CEO Amitabh Kant, who called for "an inclusive, sustainable and nutritious food culture" that would help small and marginal farmers to raise their income levels. The symposium, he said, was working towards encouraging and evolving a collective vision of a sustainable, nutritious and inclusive food culture.
Speaking to The Punch Magazine, Malhotra said the symposium had a clear goal: To make India a leading food destination. "It'll create an economy for everyone from our farmers to our housewives who can earn income. It'll create new opportunities that are not there. Our food is fantastic and we want to show that to the whole world. We should become No. 1 country in tourism."
According to Bhattacharya, the symposium has three clear-cut objectives. One, to promote India's gastronomy soft power in the world. Second, to promote zero waste, zero hunger within the Indian hospitality community. "Today, we are in the age of celebrity chefs who can set the agenda. If they adopt the cause which is connected to reduction or elimination of hunger, everyone is going to join them. No one is going to say no to a good cause," says Bhattacharya. The symposium's third objective is agritech and food innovation. "We want the Tasting India Symposium to be a dialogue from the consumer to the cultivator or visa versa. All stake- holders in the food chain have to be a part of it and that's what we are aiming at," says Bhattacharya.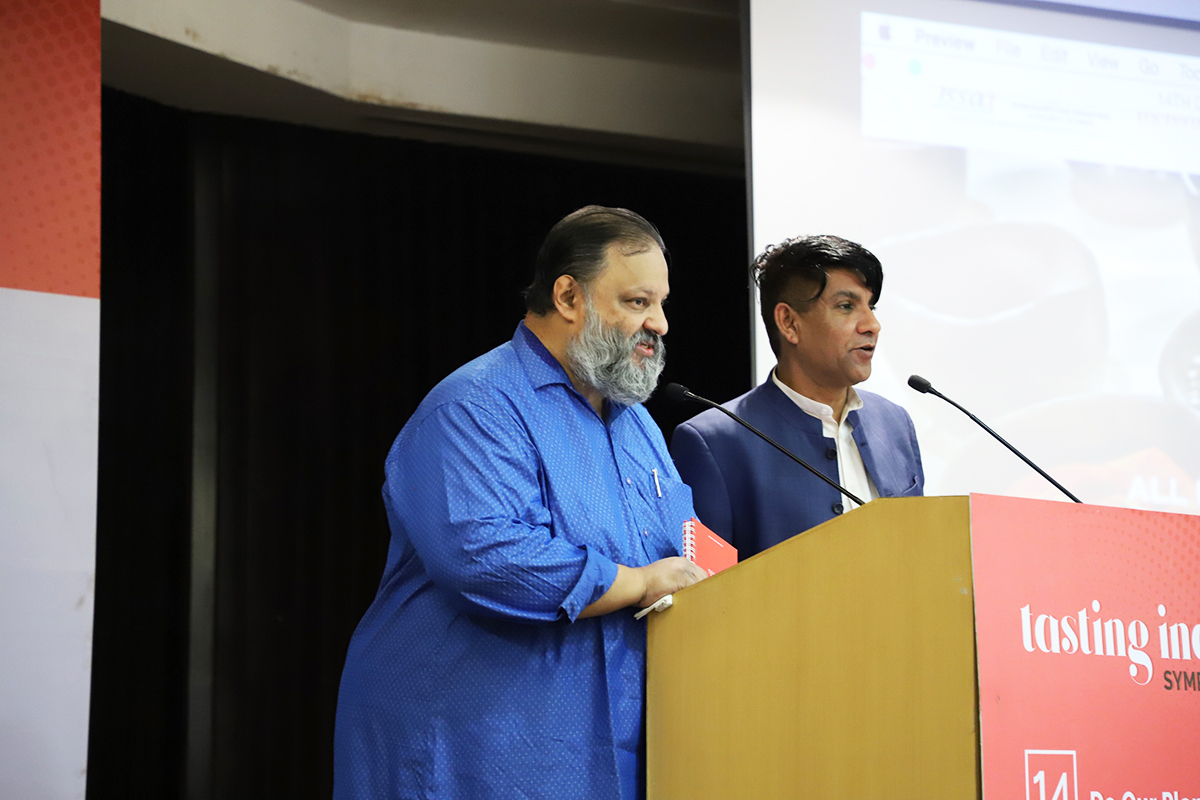 The three-day symposium has been co-founded by Sourish Bhattacharya and Sanjoo Malhotra. Photos courtesy: Tasting India Symposium
In three years, the symposium has kept on enhancing its agenda. "We began planning for 3-4 activities, but we ended up doing 11 activities in the third season," says Bhattacharya. In the second edition, the symposium introduced Chaupal, inviting people from rural areas, from Ladakh to Karnataka to Uttarakhand, to participate and share ideas.

The symposium, which enjoys the support of the Ministry of tourism, Food Safety and Standards Authority of India (FSSAI), the Ministry of External Affairs (MEA) and the Indian Council for Cultural Relations (ICCR), plans to have a permanent secretariat so that it becomes a full-time work.
"This time round, we have the Nordic Council as a big supporter. For the first time in India, we have started a dialogue with the Nordic Council which represents the Nordic Council, FSSAI and NITI Aayog," says Malhotra, adding that the Nordics have been in the forefront of food revolution in the world during the last 15 years. Earlier, he says, it was Spain and other countries. In 2003, Swiss had not much to be proud of their food. However, in 2004, the Nordic Kitchen Manifesto was conceived and formulated. Among its ten points included purity, season, ethics, health, sustainability and quality. The new Nordic food, marked by an innovative approach to traditional food, puts a strong focus on health and an ethical production philosophy. "Today, they are extremely proud because of the manifesto. It changed the entire ecosystem. They have the top restaurants in the world. People go there because they want to explore the cuisine, the culture and its other aspects. This is the kind of revolution we want to bring in India. It's a great learning how did they do it. Why can't we do the same?" says Malhotra.
He adds that the Nordic Council willing to be a part of the process started by Tasting India Symposium is a great feather to the symposium. "They are very good in policy, in sustainability and child policies. In Copenhagen, 95% of the food is organic. It's a good benchmark for us to look at. They want to collaborate and create a partnership so for us there can be nothing better than this. There are other countries we have to work with. Today, there are people from Canada and UK. We will work with the world because it's a way for us to promote India since people from other countries will take these stories back," says Malhotra.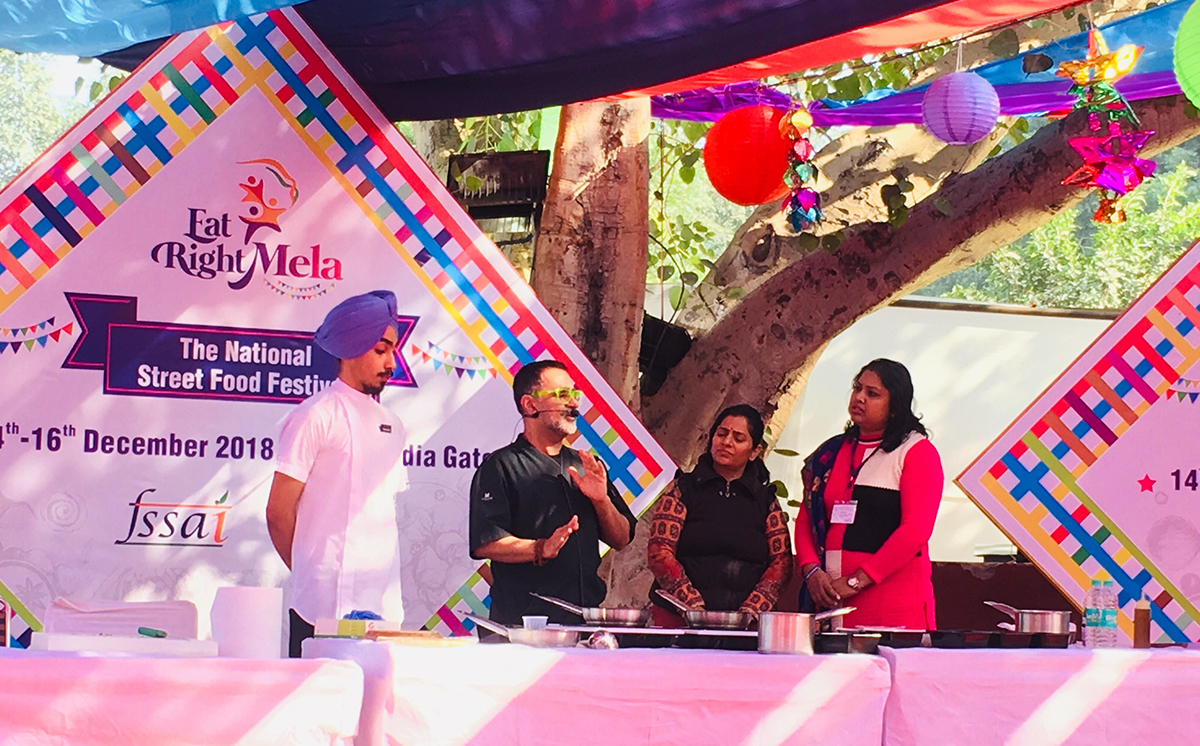 Cookout by Vineet Bhatia during the third edition of the symposium held in December.
An important initiative to emerge out of the symposium is the Citizens' White Paper on Gastronomy Tourism, written by Bhattacharya and Malhotra. It makes a strong case for the Ministry of Tourism harnessing India's culinary depth and diversity to promote Gastronomy Tourism, citing the thrust given to the idea by countries such as Australia and Germany, which have much less to offer than India.

Keshav Suri, executive director, The LaLiT, told The Punch Magazine that the hotel has been committed to the cause of zero wastage of food. "We are the first hotel to tie-up with The Robinhood Army (a zero-funds organization that works to get surplus food from restaurants and communities and distribute them among the less fortunate) and also the first hotel to start the campaign, We Serve What We Grow. Banqueting venues are still considered wastage. I'm a big propagator on cutting that down and going for pre-palating and actually do plating and not buffets. We are trying our level best. It'll take a while but I think we are getting there," he said.
During the symposium, FSSAI CEO Pawan Agarwal announced that the national food regulator will roll out 100 additional 'safe street food hubs' across the country on the lines of the one opened in September at Kankaria Lake, Ahmedabad. The FSSAI also proposes to replicate the Eat Right Mela, held at the Indira Gandhi National Centre for the Arts (IGNCA) in the capital in early December, in 40 cities and towns around India.
The FSSAI also partnered with the symposium to hold the first-ever Indo-Nordic Food Policy Workshop, where a delegation from the Nordic Food Policy Lab and the Danish Food and Veterinary Administration, led by Mads Frederik Fischer-Moller, Senior Adviser (Agriculture), Nordic Council of Ministers, showcased the public health policy interventions made in the Nordic countries while their FSSAI counterparts highlighted the achievements of the Eat Right Movement.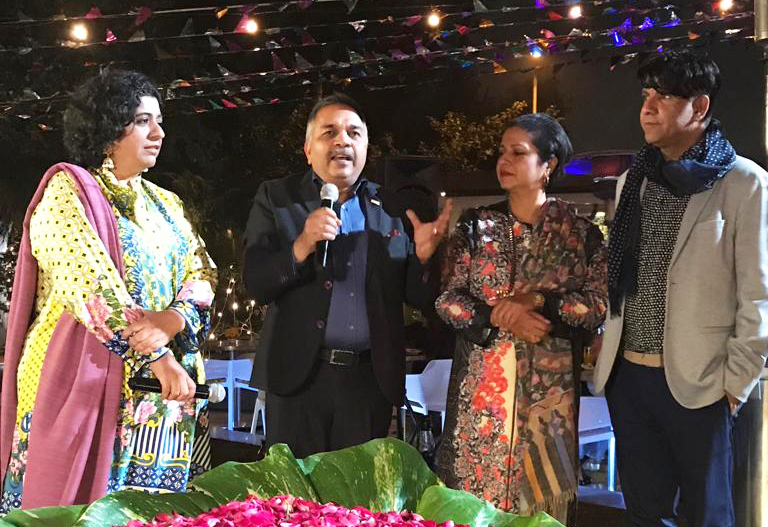 (From left) Chef Asma Khan, founder of Darjeeling Express restaurant in London, FSSAI CEO Pawan Agarwal, Priya Paul, chairperson of the Apeejay Surrendra Park Hotels, and Sanjoo Malhotra.
Among the international celebrities from the food and nutrition sectors who participated in the symposium included Claus Meyer, co-founder of NOMA (the world's No. 1 restaurant till it shut down two years ago) and global philanthropist; Dr Harald Stossier, wellness guru and founder of the highly sought-after Viva Mayr Clinic (Known for its strict diet plan and chewing techniques and touted the ultimate detox destination) in Austria; Paul Newnham, director of the London-based SDG2 Advocacy Hub, who launched the Chefs' Manifesto with the Young Chefs Association for Sustainable India; Vineet Bhatia, prolific chef-restaurateur and first Indian to be honoured with a Michelin star, who conducted a public cookery class at the Eat Right Mela; Colleen Taylor Sen, noted food historian and author of Fasting, Feasting: A History of Food in India; Asma Khan, author of Asma's Indian Kitchen and founder of the celebrated London restaurant, Darjeeling Express; Romy Hardeep Gill, celebrated UK chef and radio and television personality; Johan Jorgensen, co-founder, Sweden Foodtech; Sujan Sarkar, acclaimed exponent of Modern Indian Cuisine and founder of Rooh (San Francisco) and Baar Baar (New York City); and Justin Horne, the young eco-chef and zero waste/circular economy cooking maestro from London.
Speaking at the symposium, Claus Meyer said, "The Tasting India Symposium is trying to address real issues with food by making all the stakeholders participate in discussions of this nature. Our ambition with NOMA had never been just to make it profitable, but to change the food culture and engage the stakeholders in the agenda. We re-define luxury by seeking out deliciousness with healthiness using the humblest ingredients."
Chef Vineet told The Punch Magazine that the symposium was all about celebrating India, its culture, food and people. "It's a fantastic initiative. I hope it continues to grow every year," he said.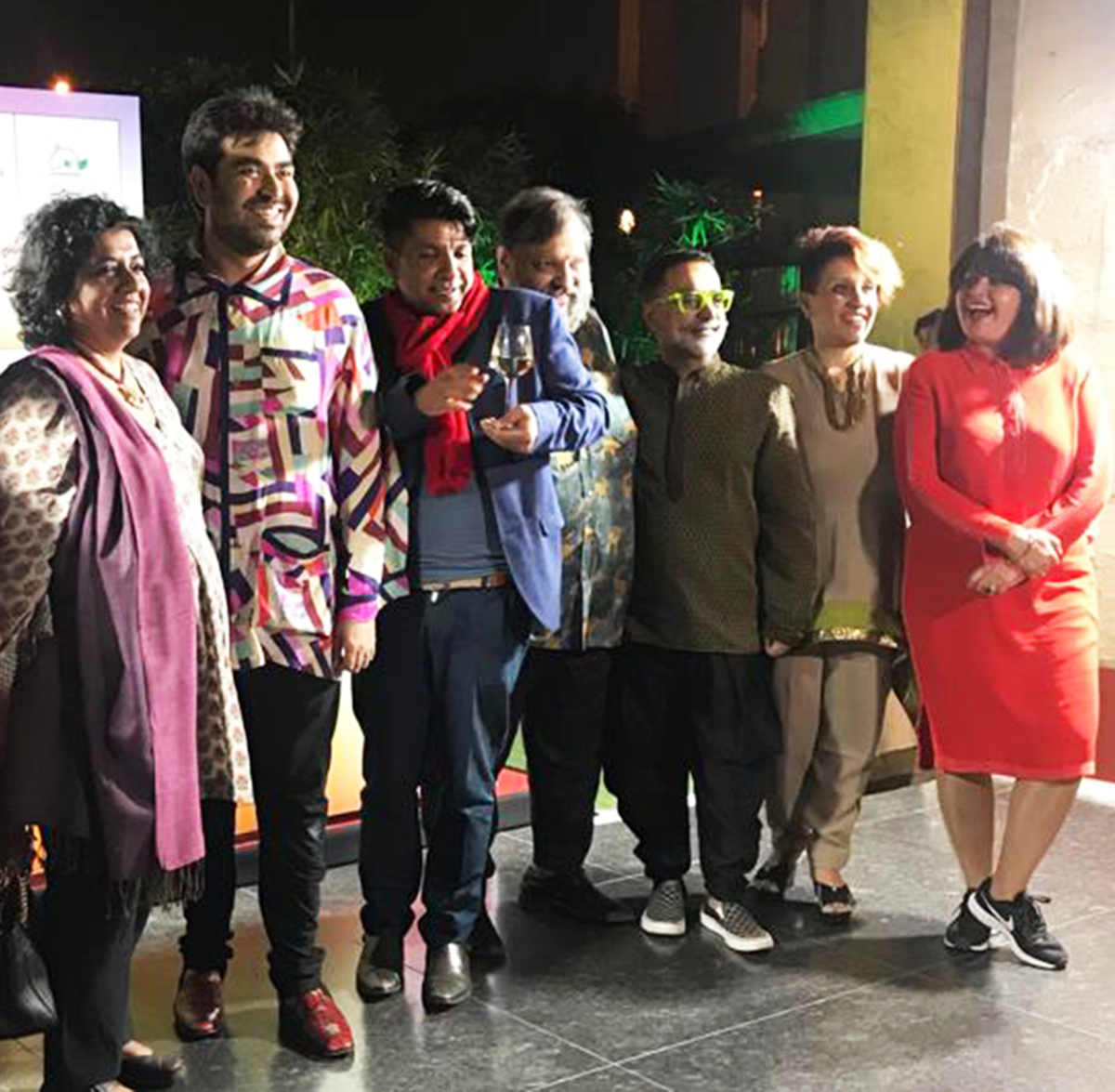 (From left) Chef Asma Khan, Keshav Suri, Executive Director, The LaLiT hotels, Sanjoo Malhotra, Sourish Bhattacharya, Chef Vineet Bhatia, his wife Rashima, and Romy Gill, owner and head chef at Romy's Kitchen in Thornbury, England
Chef Abhishek Basu and Asma Khan curated a collection of Anything But Ordinary flavours at The Park The evening was a trail of tantalising street foods of India. There was something for everyone, with counters from Kerala offering Puttu, Kadala, Duck Mappas; Punjab stall offering Amritsari Chole and Virudhnagar Koothu Paratha; The Kolkata counter tempting people with Rannaghor and Kathi Rolls, Koshomangsho and more. For Dilliwalahs, there were specialties from the streets of Nizamuddin and Chandni Chowk. The evening also saw a scintillating conversation between Priya Paul, chairperson, The Park Hotels, Agarwal, Malhotra, Chef Basu and Khan, and Meyer.
Basu, executive chef at The Park, said the idea behind Anything But Ordinary food experiences was to present how India loves to eat. "We champion sustainable ingredients and primary producers through our menu and we look ahead to reach the global goals of sustainability through our commitment to the community and the planet. Nutrition and well-being will be the third dimension we emphasise on, consciously curating a well-balanced meal for the people through Fire and our seasonal menus," he said.
Chef Khan said she was an immigrant at heart. "In the West, the word immigrant is almost used as an abuse. Despite that I was picked as the first British Chef woman of color. This is my second innings. I think when people make these gestures and decisions, a lot of people get inspired. The gesture of being inclusive or of taking someone on board because they are different makes a great difference," she said.
In a sense, Tasting India Symposium sets out to celebrate the variety and inclusivity Khan is referring to. And, of course, equality. May be it's time right to food, defined as Directive Principle of State Policy in the Indian Constitution, is made a fundamental right. Till then, initiatives like Tasting India Symposium can go a long way in ensuring that few around the country have to live on for days on empty stomachs. And often die due to starvation or malnutrition.
Donate Now
Comments
*Comments will be moderated