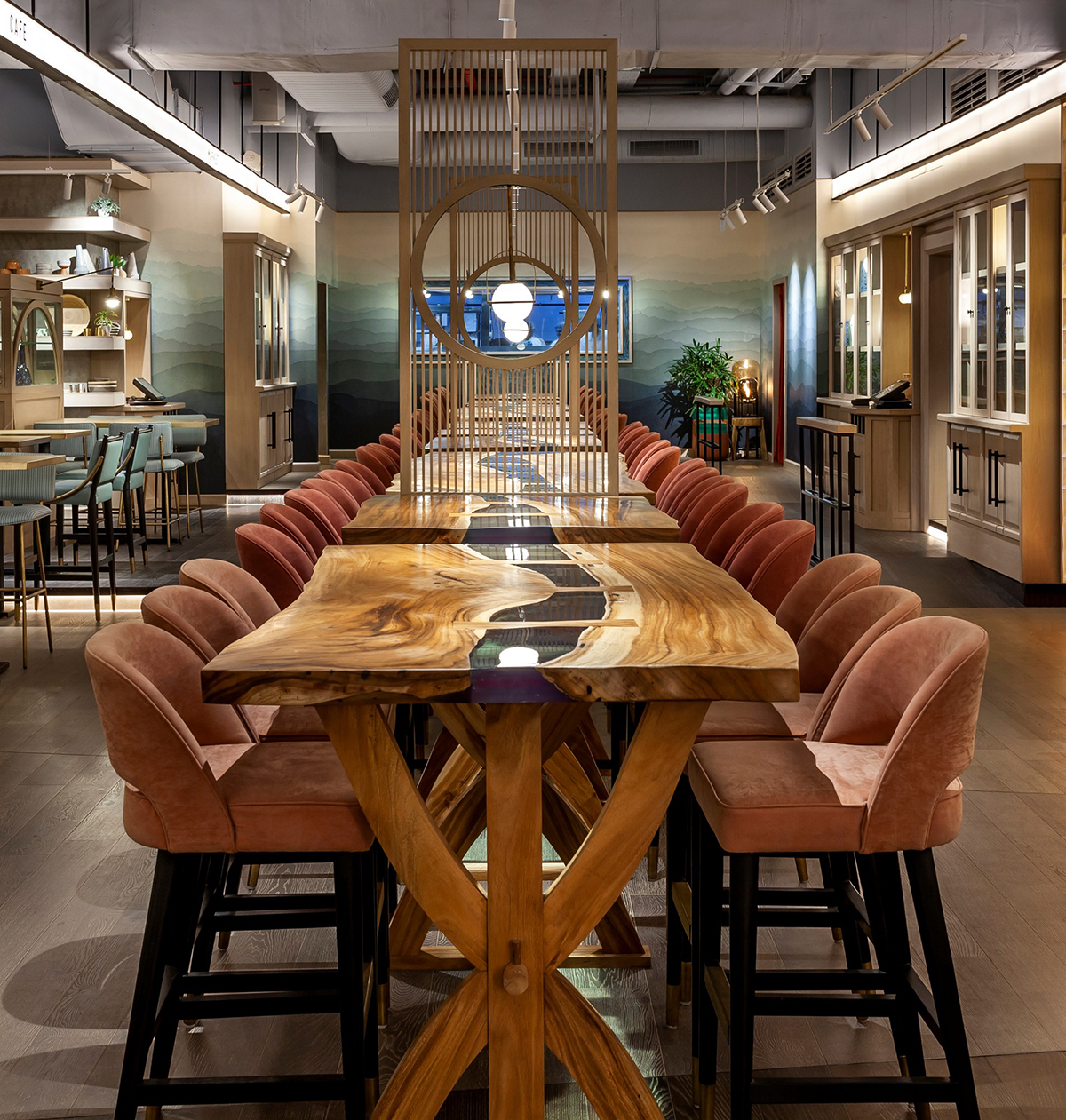 Comorin, the new retail concept restaurant from the Old World Hospitality group, at Two Horizon Centre in Gurugram. Photos: Comorin
At the new retail-concept restaurant from the Old World Hospitality group in Gurugram, you can do more than just relish dishes
Comorin, the new retail concept restaurant from the Old World Hospitality group, at the upmarket Two Horizon Centre on Golf Course Road in Gurugram, is the latest haunt of those who want to look beyond what's on their plate and explore stuff other than eating while still being at the restaurant.

Taking the tradition of its exuberant and innovative restaurants like Indian Accent and Chor Bizarre, the group's latest is a place where you can do more than just relish dishes. You can, for instance, shop what you see or savour here.
Comorin, named after Cape Comorin (Kanyamumari's name during the British rule) in Tamil Nadu, is a sleek, eclectic eatery and a retail destination. Dwelling on 5-in-1 concept, it's a 130-seat restaurant, a coffee shop, a tea point, a marketplace and a bar, all rolled into one, under one roof.
Manish Mehrotra, consulting chef for the restaurant, has whipped up a menu of comfort dishes and unusual but striking food combinations from across the country.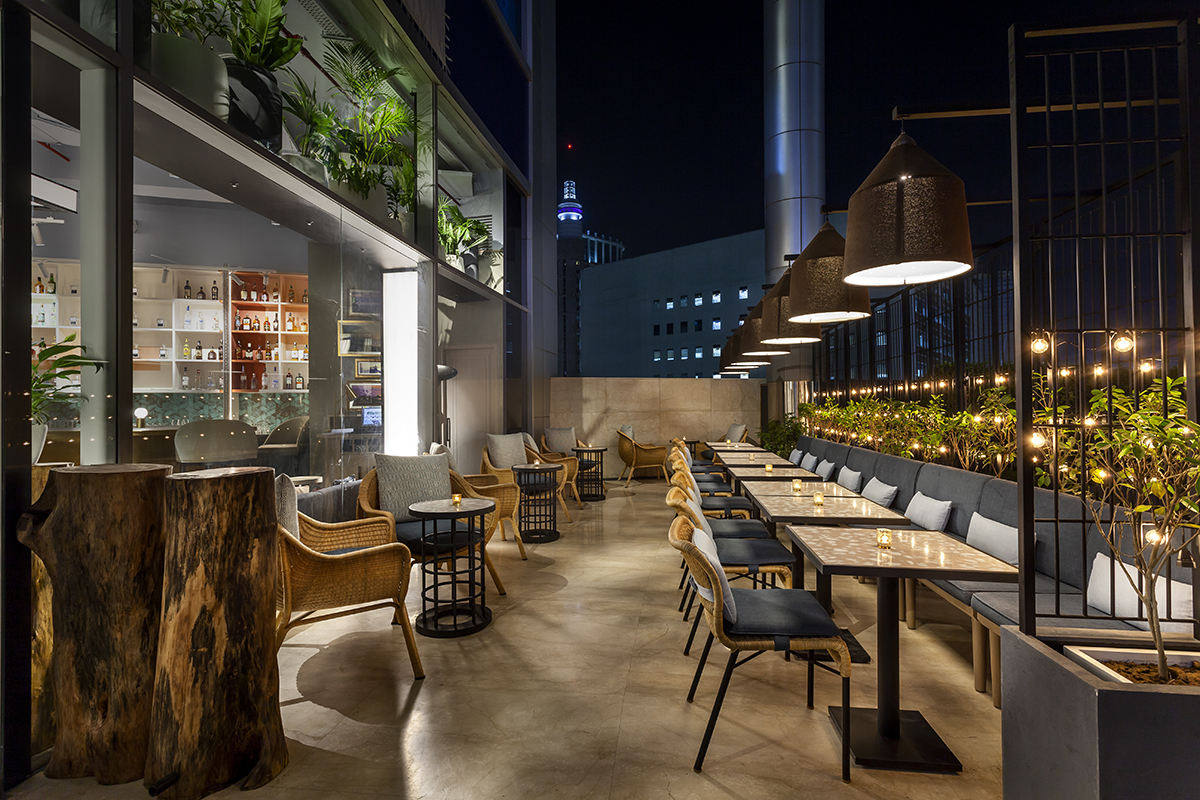 The patio used for outdoor dining.
As you walk in, the aroma of the food the restaurant has on its menu envelopes you. Its chic interiors and its pleasant, soothing ambience seize your attention. Outside the restaurant, there is a patio used for outdoor dining.
As Comorin's General Manager Vikram Taneja shows you around the place, he shares some distinct features of the restaurant that makes it a place to watch out for.
If you walk in and are not up for a bite, you can stroll around to its coffee counter and see what's brewing there. You can sit and order a cuppa or just take it away. "We brew some interesting coffee. For instance, we get coffee from states like Karnataka and Tamil Nadu. We offer Chamomile tea, green tea and white tea at very affordable price," says Taneja. The restaurant sources its coffee from Blue Tokai, which does special roasts for Comorin.
A marketplace at the restaurant, a novel concept, gives those who drop in a choice. They can do some quick shopping in case they happen to like the flavour of the tea or coffee they just tried and want to take them home. They can also indulge in buying kitchen knick-knacks, from consumable items, like masala papad, cashew nuts, kaffir leaves, juices, kombucha tea, syrups, meat, etc to serveware, barware, crockery and tableware, like bowls, mugs, plates, runners and napkins. For these items, Comorin has tied up with Nicobar and Clay Men. For some juices, they have tied up with Krishi Cress, which produces exclusive items for Comorin, available under the brand name of the restaurant.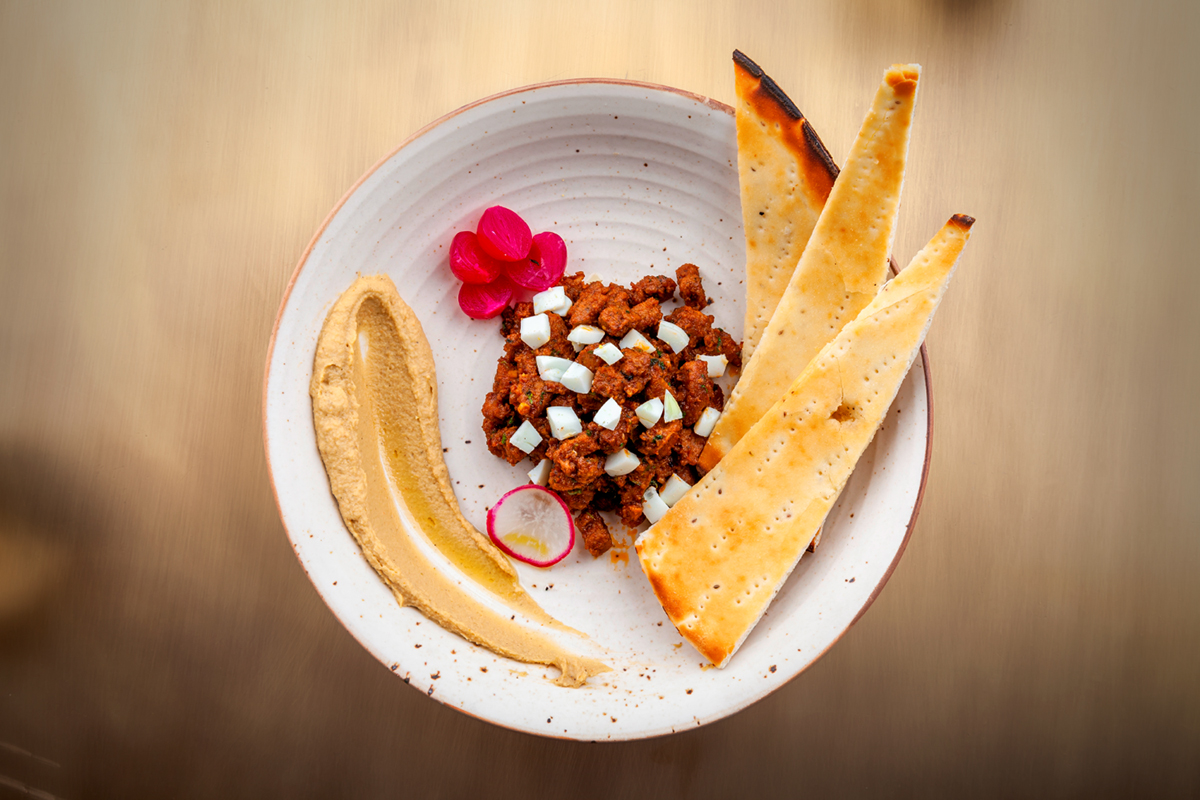 Mutton Egg Bhurji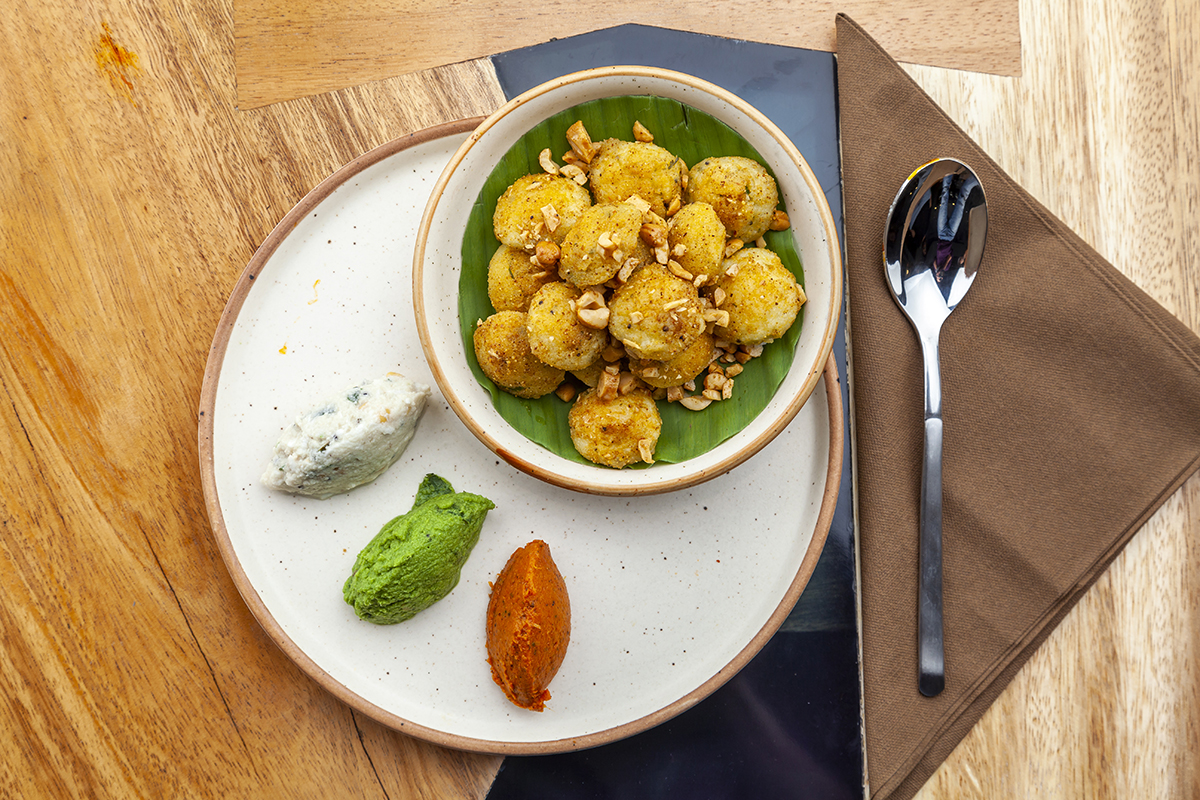 Gunpowder Idli, Golden Cashews
In fact, for most consumable items, there are various outside vendors who supply products as per the restaurant's specifications and needs but the products are sold under the brand name of Comorin.
In the meat section at the store, one can pick Baby Back Ribs, bacon and salmon. They also have Red Cabbage Sauerkraut, White Cabbage Sauerkraut (these are pickled cabbage eaten with meats that are high on salt, sausages, pepperoni etc), Kimchi and Diablo Sauce.
The desserts they offer at the restaurant also sell on the shelf — gajar halwa tart, Lonavala chikki or chocolate mousse.
Built closer to the coffee shop, there is a section which is more of a work station so that customers can have a business meeting over coffee while charging their laptops/phones. Individuals or a small corporate group can work there through the day, ordering coffee and food without paying any rental for the space.
The restaurant is at three 'step-up' levels, though the height of all the tables across the length of Comorin is the same. The table-legs have been built in three different sizes to ensure symmetry.
They have managed to play this on the height of the chairs as well, the first step-up has tall bar chairs, it is closer to the bar area. The second step-up level has coffee chairs which are slightly lower and closer to the coffee counter. The third and the last step-up level has regular chairs meant for dining, closer to the kitchen area.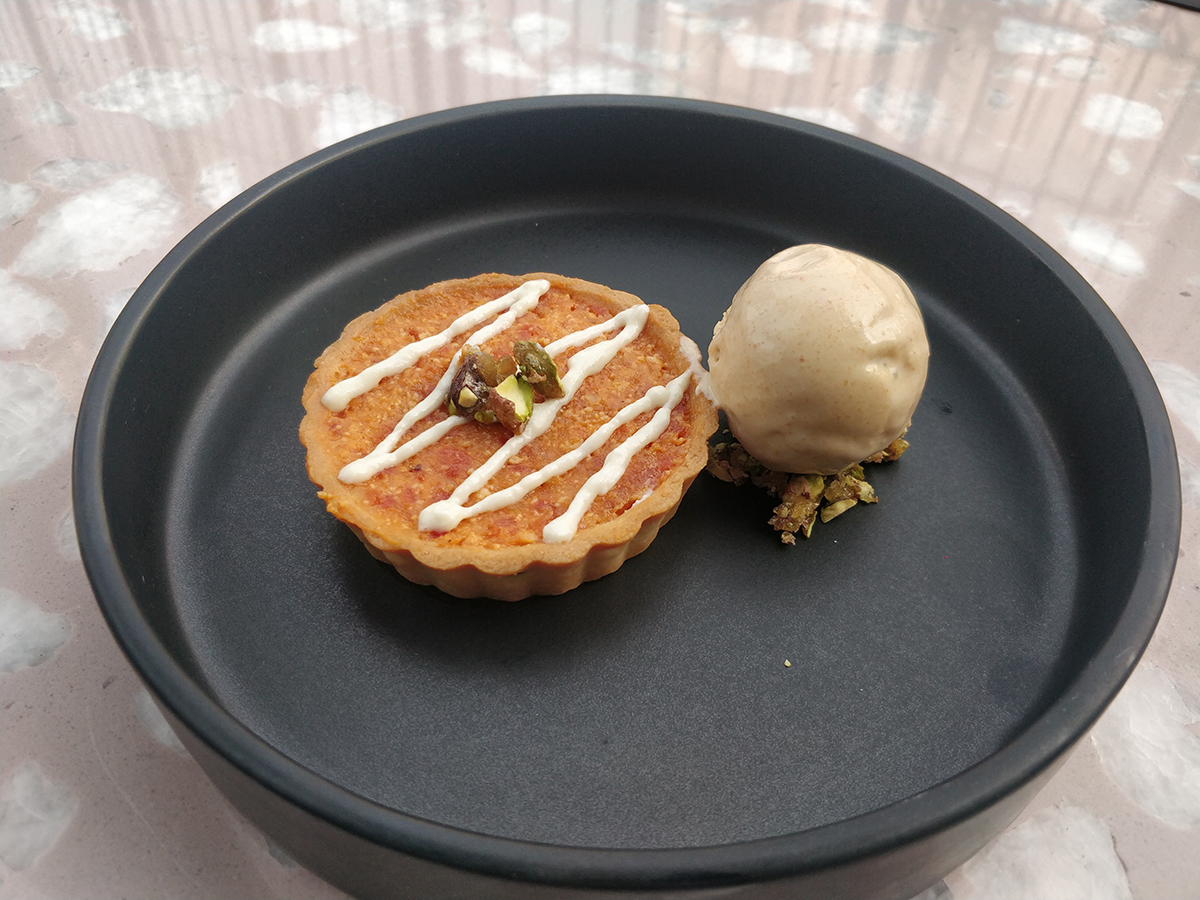 Gajar Halwa Tart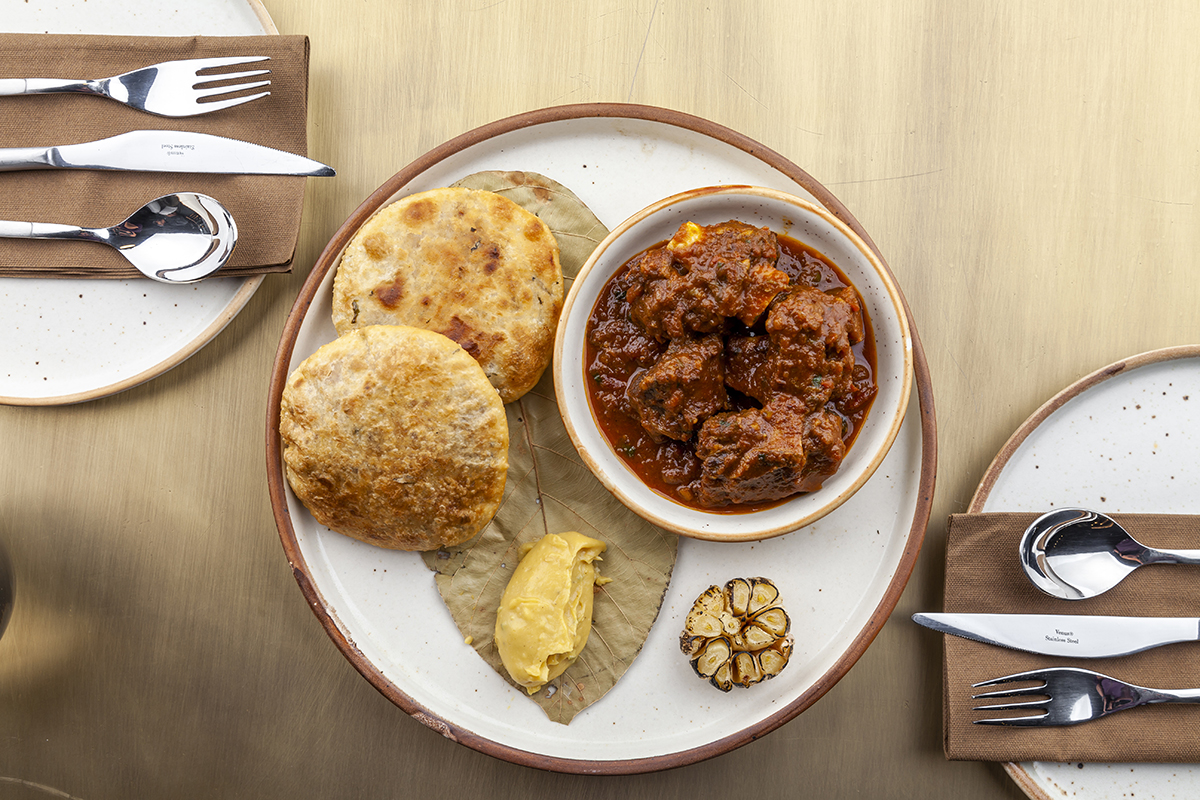 Champaran Meat, Sattu Paratha, Ole ki Chutney
The raisin work on the top of the table, along with the wood work on the sides, are crafted beautifully to give a feel and effect of a water stream flowing all across the table in the reflection of the light. Murals of waves in different shades adorn the walls. The water effect is a nod to its name, Comorin, the coastal town.

Tucked away behind thick curtains and at the end of Comorin, there is a cozy private lounge area, soaked in aesthetic richness, where one can party with close friends. One needs to pre-book this area. Or enjoy lounging here for free if it's not already booked or occupied. It can accommodate about 8-12 odd people. This section can have its own music, different from the rest of the place.
Some of the dishes that you must try at the restaurant are Whole Red Snapper, Andhra Gongura Chicken, Hot Buttered Seekh Kababs, Kanyakumari Crab Claws, and House Made Ice Creams.
Executive Chef Dhiraj Dargan and Chef Gaurav Yadav have made the casual food experience glam by adding the most authentic flavours to each dish whether it's chaat, mini idlis, sattu puri, moong dal kichdi, grilled fish, prawns or haleem. It's minimalistic yet perfect for the palate. They have the popular dishes from regional and traditional zones which add a dash of variety to their menu; there's food for everyone.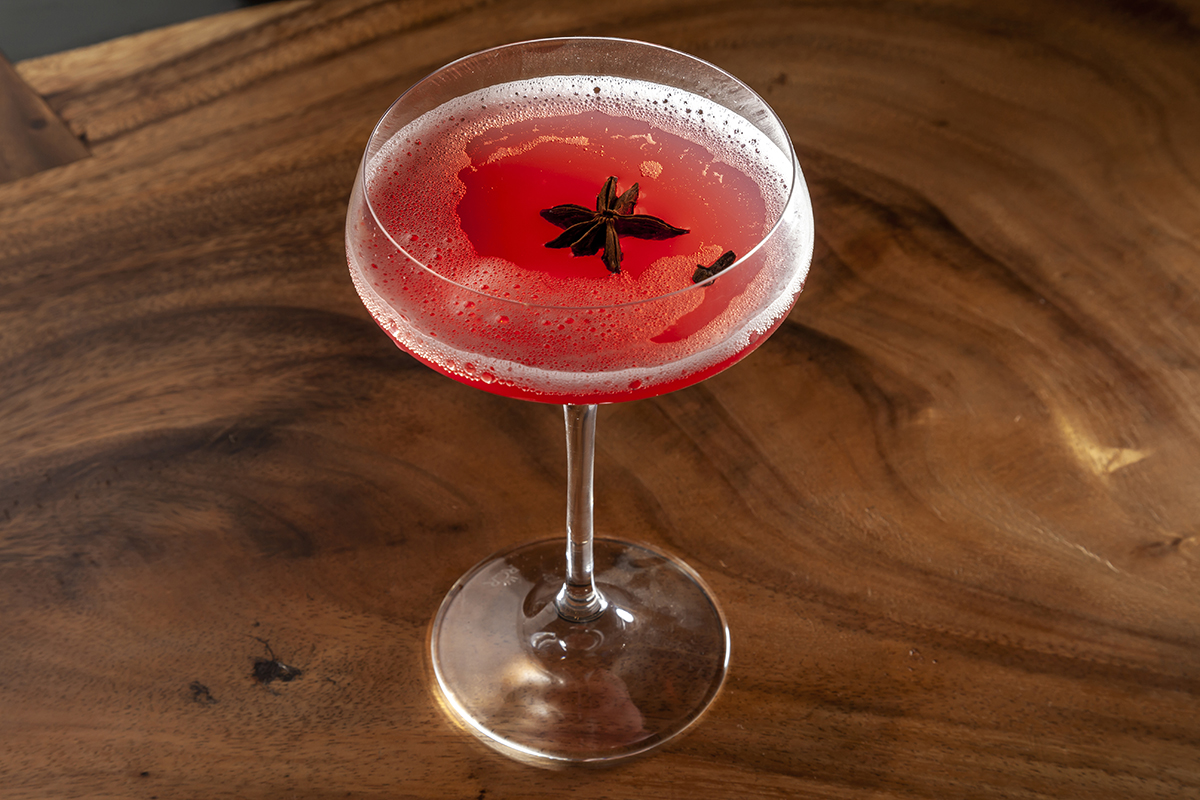 Pickled Pom Whiskey
Comorin Cocktails
According to Chef Dhiraj, Comorin's food philosophy is about exploring dishes from across India, both comfort dishes and unusual food combinations. "There is not much styling or interpretation, we let the food speak for itself," says Chef Dhiraj.
Varun Sharma, Bar Mixologist at Comorin, does wonders with gin and vodka, using herbs, spices and natural flavours to create some exotic cocktails at the Sous Vide bar. He instantly mixes cocktails at the counter, using hot and cold bath method to infuse flavours.
What's more, one can have beer on tap as well as cocktail on tap. It's the first restaurant in the NCR region that has cocktail on tap. They have a customised cocktail-shaking machine that can churn out martinis in a minute or two which would otherwise take about 8-10 minutes in a hand-shaker. In India, this is the first-of-its-kind machine.
Sharma prepares an eclectic range of drinks that you can have at the restaurant or buy for consumption later. There are Light Khus Vermouth, Dark Khus Vermouth, Fennel Liqueur, Coffee Liqueur, Walnut Bourbon etc.
There's so much Comorin has to offer that spending a few hours slip by in a whirl, taking you down the lanes of sensory delights.
Donate Now
Comments
*Comments will be moderated