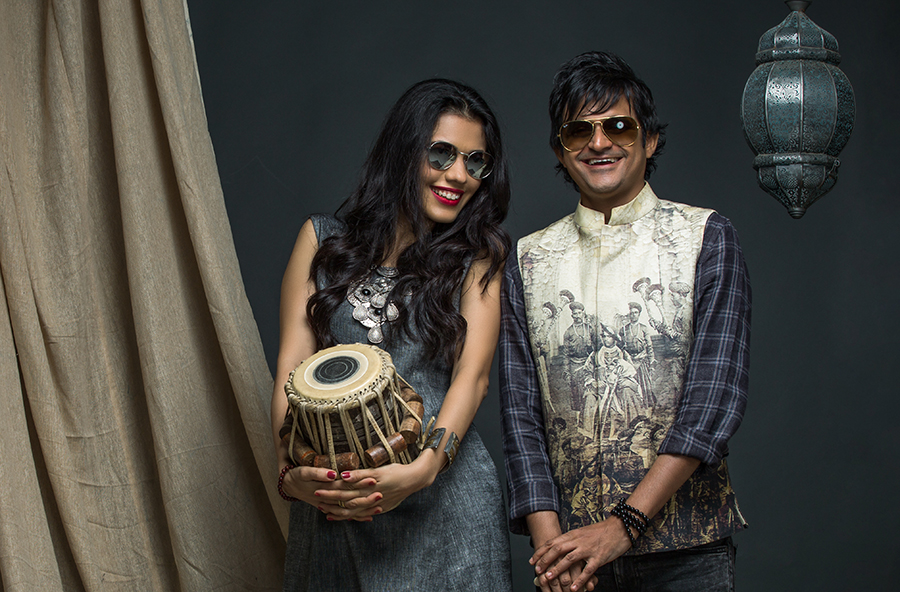 Photos courtesy of Maati Baani and Ranthambore Festival
For World Music band Maati Baani, collaboration is the fuel that feeds their creative journey. The home-grown band, which derives its name from "Voice/Language of the Earth/Soil" in Hindi, prides itself on a variety of tunes and tongues from world over.
The band, the brainchild of Hindustani vocalist Nirali Kartik (32) and composer/producer Kartik Shah (37), believes in the dictum: "No rules, no boundaries." So, for their last project, The Music Yantra, they collaborated with 50 musicians from 20 countries — all via Internet. The six-part series is an exuberant fusion of genres ranging from disco funk and electro to rock and jazz. The artists included guitarists from Iran, folk vocalists from Kutch and subway performers from New York.
The Mumbai-based band was formed in 2012 when the duo met at a café that Nirali's brother ran in Ahmedabad, the city where they both grew up. Known for songs like Balma (2013), Tore Matwaare Naina (2012) and Rang Rangiya (2014), Maati Baani combines elements of Hindustani Classical with various styles of folk music and New Age sounds. The mix is heady: it blends sounds, cultures, languages and voices of the world.
The band, which performed at the first edition of the Ranthambore Festival in January 2017, shares with The Punch the ebb and flow of their creative journey, their experiments with music and their global collaborations.
Excerpts from an interview:
THE PUNCH: It has been about five years since you started. Tell us how it all began.
NIRALI KARTIK: It has been a very interesting journey that still continues. We started off as music composers and as creators. I knew how to sing. Kartik knew how to make music. We were so passionate to create the music that we love that we found out ways to keep on creating it and also to reach out to people at large. If you are fond of a certain kind of music, it's likely that it remains inside your drawing room, that you might not find an audience for it. But we wanted to be heard by people who loved our kind of music. With the digital intervention and with all the digital platforms that we have, it has become adventurous and joyful. We have our ups and down and struggles. But, at the end of the day, that's what makes it fulfilling.
THE PUNCH: Tell us about your experiments with music. What does music mean to you?
KARTIK SHAH: For me, music is more like circus. I want it to be a grand stage where everybody should participate and have fun. I don't want it to be just two people. That's where the concept of collaboration came in. Also, we can't just be biased towards India or Indian music. That's what we feel. The protagonist is the classical music. It takes up the centrestage. We also have foreign musicians along to add to the zing. It's fusion at a very different level. The Indian classical music has such range and depth and we cannot reach beyond a point where we can do justice to it, but all we can do is just ride along with it. We get a lot of music collaborators, with different styles and cultural backgrounds. We all come together and create something beautiful and unique. They are musicians whom we didn't know before, but discover along our journey when we create music together. This is where the essence and spirit of Maati Baani comes into the picture. Maati Baani means the voice of the soil. But it can be from any soil (maati). This is what music personally means to us. In France, a musician playing accordion is the maati baani in France. In India, maati baani can be that of Manganiyar or Langa singer; In Rajasthan, it can be that of a khamaicha player. African chants are the maati ki baani in Africa. But we have become used to English terms for all global projects. We wanted to have a very colloquial and very earthy name where we cater to the global audience. It feels so good that after we released Heal the World, with around 40 child musical prodigies from across the world, our followers from across the world suddenly shot up. When people of foreign origins like our songs, recommend them to friends, it feels great. People from other countries speaking "Maati Baani" feels great.
THE PUNCH: You have been performing all over. How do you connect with your audience in each city?
KARTIK SHAH: The collaboration for videos and songs works on the same principle as live performances. So, if we are performing in south India, we want that element to be there and we would find some player who would do justice to it. If we are performing in Kolkata, we'd collaborate with a local artist. Everywhere, we try to include local element so that we can collaborate with them. As for the Ranthambore Festival, we are collaborating with Murra Lala Fafal (a successive singer from a rural family of Marwada Meghwals in the Kutch region). He will sing a Marwari song. We usually have a flautist or a saxophonist for our performances. We thought that this architecture was such that it called for a more rooted and classical touch. So, we have an artist called Ragini Shankar. She is an extraordinarily talented violinist. The way she has improvised our songs on her instruments is amazing and we are very happy with the output.
THE PUNCH: What genres are your favourites?
NIRALI KARTIK: Since childhood, I have been a hardcore classical musician. Only classical music appeals to me. People ask me why I don't do playback. Somehow, playback was never a part of my plan. I might try it someday, but my soul is into classical. I'm a trained classical vocalist. I listen to all our maestros. Pt Jasraj ji is my bade guruji. I come from his gharana and I listen to sitar renditions by great sitar players. Earlier, that is how my day began and ended. But, after meeting Kartik, my world opened to hundreds of genres of music.
KARTIK SHAH: Nirali is trained, but I'm completely untrained. I was self-taught. I grew up listening to Michael Jackson, Pink Floyd, Jagjit Singh, et al. I started writing and then composing. World music came very late when I became a part of rock band and rock n roll. And then suddenly, I was listening to music from different countries. It appealed to me more than anything else. So, my playlist would have none of the very popular artists you'd have heard of. It'll have steep musicians or somebody just playing the musical saw or just a simple instrument called African kora. I listen to a lot of funk, disco music and blues. That keeps me motivated. Our songs have classical mixed with funk. When I heard Nirali singing classical, I liked it and started listening to it and learning from her. And then we started to put together everything one by one structurally so that it does not sound like a mess. It has to be a balance. I'm a very bad cook, but a very good one when it comes to music. I know the art of mixing music and creating fusion. So, we just make sure that whatever we make has a balance of everything.
Page
Donate Now
Comments
*Comments will be moderated