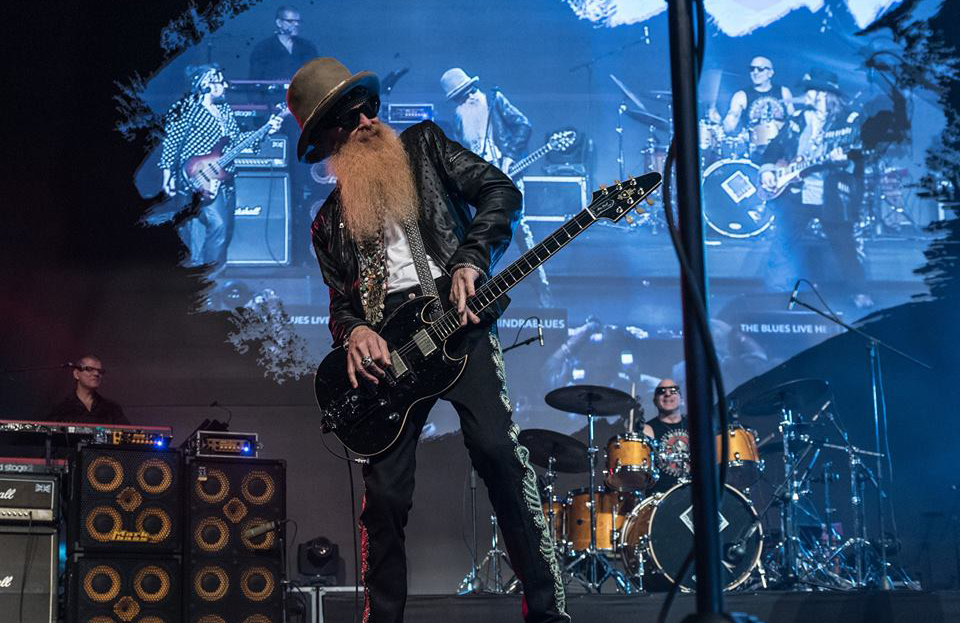 Billy Gibbons performs at the finale. Photo courtesy of Vikram Chandrasekar aka The Concert Photographer (www.theconcertphotographer.in)
No two days are the same, and as the crowds started to disperse on the second day of the annual blues pilgrimage in Mumbai, the discrepancy couldn't have been starker. When Day One of the seven-year Mahindra Blues Festival (MBF) concluded, the audience shrunk so spontaneously, it had never been easier and quicker to hail a cab from the strategically located Mehboob Studios. Conversely, rapt with attention and yearning for an encore, most of the audience stayed on till the very end of Day Two.
This edition of the festival was a tale of two days. It was the best of times, the worst of times. At its finest, the Mahindra Blues Festival highlighted that the future of the blues is firmly with the youth and can shine through despite technical glitches. At its most disappointing, it reiterated that musical genius is not enough to be a headliner; an argument quite paradoxical but not without merit. As it so happens, the chronological critique of the festival follows the classic pattern of delivering the bad before the good.
Day One began well at the Soulstrat Saloon because when the Blackstratblues play in the evening, even on a working day, they command a faithful audience that will brave bottleneck traffic and Mumbai's manic road sense, just to make it in time for the delicious opening strains of Warren Mendonsa's "strat"ospheric performance. Another full house this, Blackstratblues played a lot of new songs while straddling rock, blues and psychedelia genres, in a set that was intimate, sensitive and nostalgic. Warren brought back former bandmate (of Zero fame) Shazneen Arethna to do a roaring cover of Led Zeppelin's When the Levee Breaks. He then dedicated a song to his wife and had acclaimed singer-songwriter Tejas Menon collaborating on it. Warren ended his set with an audience yearning for more, a sign— one would imagine — of a great evening to come.
Feted as a Grammy nominee who was to fly back soon after the gig to reach in time for the awards, Janiva Magness's performance then got underway. With an upbeat, immensely talented backing band that opened her set with two fantastic instrumental numbers, it was soon time for Janiva to take the stage. She wowed with her soulful voice and emotionally charged renditions, singing with a Joni Mitchell-esque honesty that struck a chord with the audience. A couple of songs in, Janiva started sounding more monotonous, lacking in depth despite a wonderful voice and delivering a performance that started with so much promise but ended up sounding underpowered.
One of the greatest takeaways from a music festival is the discovery of unexpected talent. Delhi-based Blu that got to perform at the Garden Stage thanks to winning a talent hunt organised by the festival in association with The True School of Music, was easily the talk of the evening. Their performance was plagued with technical inconsistencies and a highly annoying sound system. Despite all that, they held their own and boy, did they mesmerise. The frontman, with a Willie-Nelson-meets-Bob-Dylan voice, grabbed the attention of those present with a stunning rendition of a Robert Johnson song. The band was tight in most parts, earnest in their "blue-ness" and incredibly gifted. Their 40-minute performance was far more riveting than the 90-minute set of the Grammy nominee that preceded it, and that says something about the international talent on Day One.
His last outing to Mumbai was with Buddy Guy and Quinn Sullivan certainly caught our interest in 2015. He was just 15 then and his potential was immense. Quinn's guitar-playing was undoubtedly prodigious and exuded the same penchant for showmanship that shredders have. This year, when Quinn arrived on stage with a sitar, he floored the audience with his remarkable control over an instrument he hadn't played before. His rendition of Little Wing was the stuff of genius. He was coy and charming, playing the guitar like the virtuoso he was touted to be, until he transformed into the 17-year-old pop star nobody was anticipating. He is gifted beyond doubt and his command over the instrument is astounding but he still is a teenager, standing at the threshold of adulthood in life and in his music. The transition cannot be easy, and the lack of years sadly started to show in his performance. He has certainly come a long way since his 2015 India debut, but has he come long enough to grace a stage that has seen the likes of Buddy Guy, Jonny Lang, Walter Trout, Jimmy Vaughan, Tedeschi Trucks putting out memorable shows? Not quite. And not for a long time. Being a child prodigy is incredible, but the transition to becoming a mature adult musician is life-altering. It puts the artist and his music through a metamorphosis for which one ought to be patient.
Patience, though, was not readily available by the end of Day One and the highlight of the evening remained Blu unexpectedly rose to the occasion and the stage with a short performance. Blackstratblues was expected to be brilliant and they didn't fall short.
Page
Donate Now
Comments
*Comments will be moderated