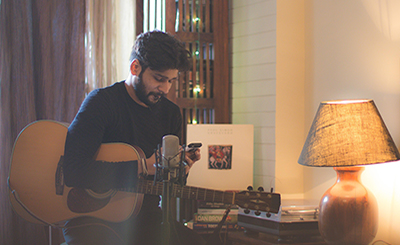 Jishnu Guha. Photo courtesy of Short Round
Jishnu Guha is an unlikely frontman with a moniker and a band name that is distinctly sidekick: Short Round. But he is someone who's reconfiguring the pace of the Indian music scene
"If you could use a change of pace
And be excused from the rat race
Just take a look at what's on view.
Lace 'em up, walk around
I guarantee you can't wear 'em down
You're gonna need a quality shoe."
— Quality Shoe from Ragpicker's Dream album, Mark Knopfler.
Everything about Jishnu "Short Round" Guha underlines a change of pace. He has over a hundred unreleased songs penned in his black books over the years. In this age of digitisation and all things virtual, he's decidedly analogue. The artwork for his songs are stylishly serif, exuding a tastefulness far beyond his years. He identifies as a songwriter; whose soulful singing and deft guitar-playing are merely convenient tools for his balladeering. He's reconfiguring the pace of the Indian music scene with a charming rawness in the time of polished, practiced and prepared newcomers. He's refreshingly old school and he's only 28.
With all the makings of the "quality shoe", Jishnu Guha is an unlikely frontman with a moniker and a band name that is distinctly sidekick: Short Round.
When he took to the stage in December, on the second day of the recently-concluded NH7 Weekender Pune edition, the crowds were still trickling in. The relentless Pune sun was coming down on the early birds when Short Round opened the Insider Stage, a platform meant for fresh, new music. By the end of his set, one's penchant for the underdog would've expected a packed arena raring for encores. Jishnu though, closed his set to a moderately filled space, where the audience that initially came to take refuge from the sun had no idea what hit them. Not with inexplicable theatrics or showmanship, but with unexpectedly searing honesty of sound and words, Short Round showed that it was here for the long haul.
Songs that seemed easy-listening but were by no means frivolous, were the hallmark of the Short Round set, and it was no surprise that the audience took to them. Not just for their sonic accessibility but also their ability to relate to the words and the emotions behind them. In 40 minutes, Jishnu Guha and his band of raconteurs, defined the very purpose of multi-artiste music festivals: discovering new music beyond the top-billed acts.
There stood a man with the lyrical quality of Leonard Cohen, Joni Mitchell, and Bob Dylan, with the guitarist-singer vibe like Mark Knopfler and the vocal earnestness of Jeff Buckley, looking like he's having the time of his life. Spanning joy and melancholy, regret and hope, "Short Round"was vocalising our changing states of mind. "For all the gravitas, the nickname is quite unremarkable. The moniker was something I got when I was in a college fraternity. I wore a hat back then that was reminiscent of the character Short Round from Indiana Jones and The Temple of Doom. And that name just stuck. When I was looking for a musical epithet, Short Round instantly came to mind. I am Short Round, and to an extent, Short Round (the band) is me," says Jishnu.
While his emergence in India as Short Round the musician happened just in 2016, Jishnu has been around music since as long as he can remember. His William Shakespeare-worshipping English teacher mum was also begrudgingly a piano teacher, whereas his corporate maven father was a keen collector of music, ranging from Elvis Presley to Queen and Dire Straits. Some of his earliest memories of visiting his maternal grandparents in Kolkata include listening to his granddad play classical pieces on the piano. Even as his family's taste in music formed a definitive part of his childhood's soundtrack, Jishnu defiantly stayed away from his mother's literary pursuits. "I did what all kids do: rebel against your parents. I may have read a William Faulkner or Hemingway for fun, but I decided I wasn't having any of Shakespeare. I was happier with my comic books. It wasn't until I watched a production of a Shakespeare play when I realised he wasn't meant to be read but to be experienced," Jishnu says with a chuckle, trying to pin down what may have inspired his flair for language and writing. He attributes his "artsy-fartsy mindset" to his later years in Portsmouth.
Jishnu's travels have played a big role in shaping the musician that he is today, honing his skills not just as a songwriter but as a frontman. Back in the 1990s, he spent a year in Kazakhstan, when his father's work took him there. One day, his father came home with The Beatles' Blue and Red albums, as well as Brothers in Arms. It was a matter of time before he announced to his family his desire to learn how to play the guitar. "I found a random local guy who barely spoke English to teach me how to play. Since we couldn't communicate properly, he pretty much just pointed to the fretboard and said:'Put finger here. This is G'.He ended up teaching me Let It Be, Obladi Oblada and Back in the USSR (how ironic!) That was when I got the bug!" Jishnu recalls.
From Kazakhstan, life took Jishnu to the US and the UK where he pursued courses in media and communication. His time as a busker on the streets of Portsmouth, enriched him musically. After applying to every place from McDonald's to a Bose store, Jishnu realised how difficult the paperwork relating to his work permit would make his job prospects. Not one to wallow in his situation, Jishnu knew that he's never going to be content if he didn't try to see outside his line. Always fascinated by the life of buskers, he recognised that to get a permit to be a busker in Portsmouth would be far easier than to be one in a city as massive as London. It all came down to finding a way to sustain a living through doing the one thing he was passionate about. "You quickly learn as a busker that if someone were to stop in their tracks, it is usually for a massive advertisement that has caught their attention or for some major shopping discounts they've discovered. If you need to attract people to your music, you need to learn how to project it. Nobody owes you on the streets, there's no agenda, so by that logic, earning money by singing on the streets has some very high stakes. The entire onus is on you. So, when someone does stop for your music, the high that you get is irreplaceable. I played so much of my own music and covers of Zero too. I probably owe them some £30 for all those times I played Not My Kinda Girl," he laughs.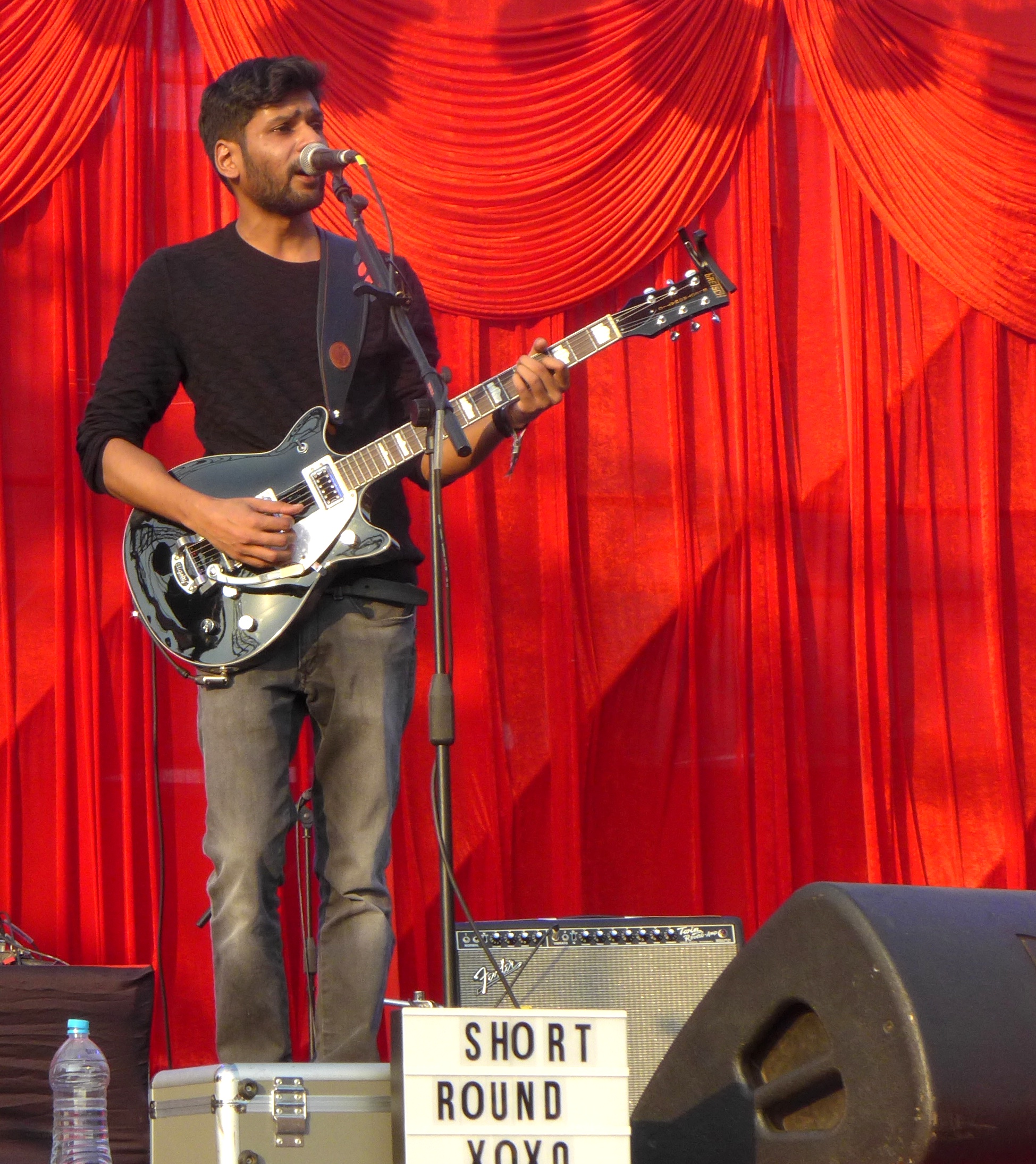 Jishnu Guha at Bacardi NH7 Weekender in Pune. Photo: Jay Javeri
By the time he came back to India in 2014-15, his friends and early collaborators had moved on to different pastures. Adil Kurwa (bassist) was dabbling with The Koniac Net, The Colour Compound, and Last Remaining Light, Aditya Ashok (drummer) had Ox7gen and The Colour Compound, and Rahul Pais was a composer with The Jamroom. Jishnu always wanted to be in a band, and the band he wanted to put together already had other commitments. So began the Short Round experiment, where Jishnu the singer-songwriter formed the core of the music with his favourite people stepping in whenever they could. "The first EP DesperateTimes worked out more easily because a lot of the songs were already written by me and I needed these guys to just help me see them through. The second EP With Friends Like These was consciously more collaborative. So I have fellow musicians like Siddharth Basrur (Last Remaining Light), Saurabh Roy (The Lightyears Explode), Anna Holmquist (singer from Chicago), and Rahul Pais amongst them. I wanted to play with as many people as I could because I really liked the idea of a band and this was the closest I could get to it."
When Short Round performed at NH7 Weekender, Pune, Jishnu was joined by Kurwa on bass, Jeremy D'Souza on drums and Rohan Rajadhyaksha (Spud in the Box) on keys, along with singer-songwriters Mali and Fat Yellow Moon. For someone who has spent a great deal of time on the road, Jishnu is deeply rooted in his friendships. Friends like Kurwa, Pais and Ashok have seen Jishnu over the course of a decade when they were in their first band together: SOS; when he was still a riff-happy shredder who had yet to discover his singer-songwriter side. There's a great deal of music that Pais and Jishnu have written that may find its way in future Short Round projects. The songwriting process is a continuous and an organic one for Jishnu, who keeps his music close and his friends closer. "Some songs are created in just a few minutes; some others are written and revisited years later. I think like a songwriter, not a producer. All I have is a song I can play by myself…"
Who knows where Short Round will take Jishnu… he's just a simple man trying to make his way in the universe.
Donate Now
Comments
*Comments will be moderated