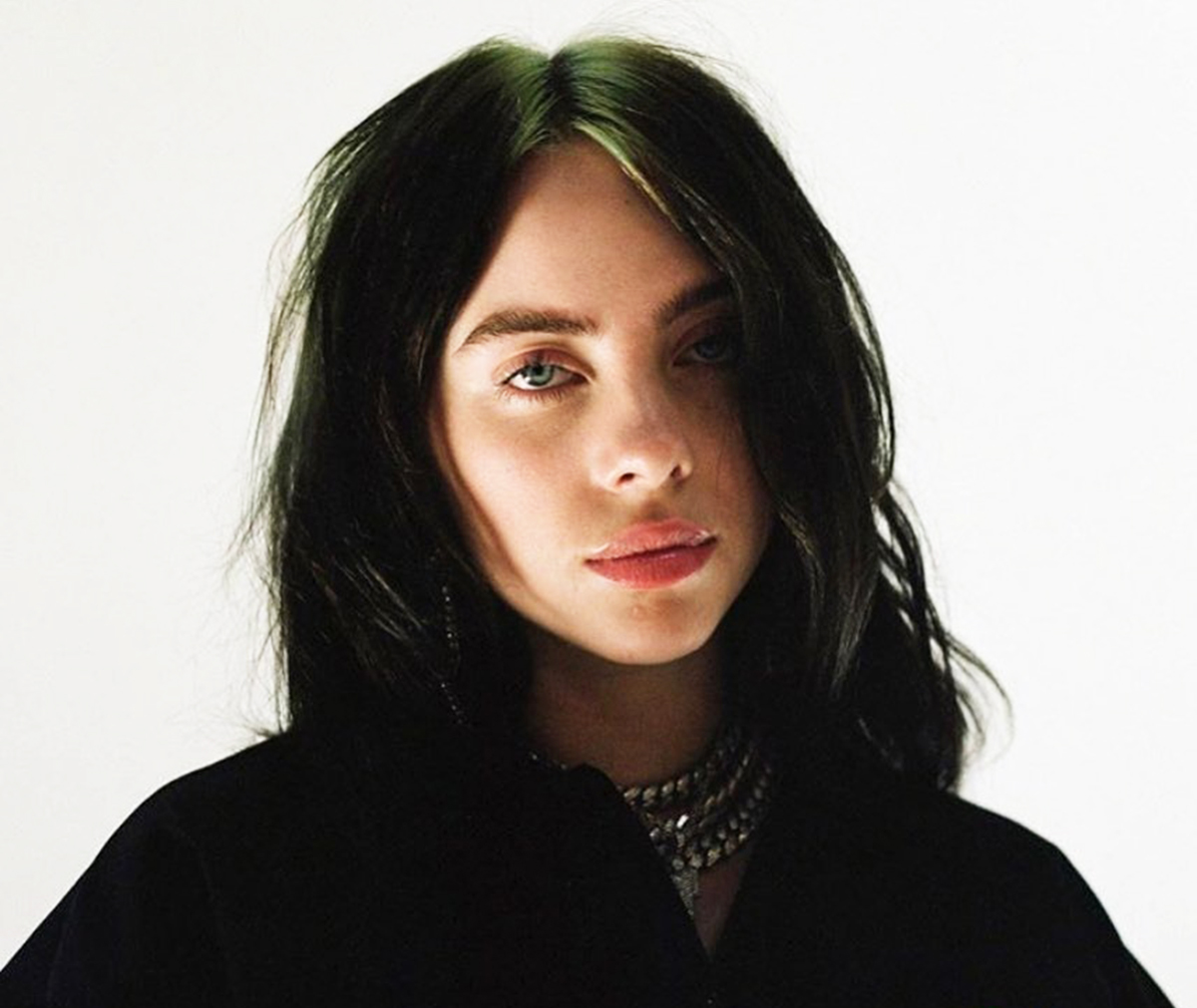 Billie Eilish. Photos courtesy her Instagram handle
The latest pop sensation, who won the five Grammys, lives, and makes music, on her own terms, defying the conventions of gender or genre
"Please, don't be me," Billie Eilish was heard mouthing seconds before her name was called for the fourth time on the evening the 62nd Grammy Awards were announced at the Staples Center in Los Angeles. But, much as she would not have liked, it was her name that was announced, again. The American singer-songwriter, 18, had walked the red carpet sporting her-signature-shade neon green locks, and dressed, head to toe, in her trademark oversized top, trousers and sneakers — crystal-embroidered Gucci jogging pants and a matching baggy bowling shirt, which she had worn over a lime green turtleneck, with puffed sleeves. Her metallic green shoes matched the green in her hair. The colour-coordination didn't stop there; her long nails, shining with the Gucci logo, were green, too. What's more, her emerald leather Flashtrek sneakers were also embellished with green crystals. Even as she walked up to the stage for yet another time, Eilish had created history: In what the CNN termed as a "Grammy bump", the pop star had become the first woman to win all four of the top category awards — Best New Artist, Record and Song (Bad Guy) and Album of the Year (When We All Fall Asleep, Where Do We Go?) — in the same year. And, as icing on the cake, she topped off the winning streak by bagging the Best Pop Vocal Album award.

Eilish, who lives in Los Angeles, has been on the cusp of stardom for a while now. She first made music aficionados sit up and take note when she posted her first single, Ocean Eyes, a gauzy dream-pop song, written and produced by her elder brother Finneas O'Connell, with whom she has been making music ever since, on SoundCloud in 2015. In 2017, she released her debut EP don't smile at me. With her debut album, When We All Fall Asleep, Where Do We Go?, which released in March 2019, sweeping the Grammys, Eilish has arrived now, and put her feet firmly on the pop firmament. The win heralds her arrival in the league of the top-notch singer-songwriters. She has become the second person ever to win the top categories in the same year. Before her, it was Christopher Cross, a singer-songwriter and a soft rock balladeer from San Antonio, Texas, who achieved this feat in 1981 for his eponymous debut album. She also became the youngest solo performer to ever win Album of the Year, beating the record of Taylor Swift who had won the award at the age of 20 for her second studio album Fearless (pop/country), in 2010. Before the Grammys happened, there was another history that Eilish had created. A month after her album was released, Eilish had become the first artist born in the 2000s or the first Millennial to have a No. 1 album on the Billboard 200 chart.
The Wunderkind
Eilish has arrived. And how. That she is a wunderkind could be gleaned from her very first single, Ocean Eyes, a "dreamy ballad" about the persistent and painful yearning for reconciliation with an ex, written by her brother, which went viral overnight when it was released. Ocean Eyes was meant for Eilish's dance teacher, Fred Diaz, who was aware of her vocal talents and had requested Eilish to put something together so that he could choreograph a new routine. Eilish had been learning dance — ballet, contemporary, hip-hop, jazz and tap — for several years when, one day, she ended up rupturing the growth plate in her hip while dancing. The accident made her quit dance forever. But, with Ocean Eyes, Eilish waltzed her way into a million hearts: she had a billion streams on Spotify before the release of her debut.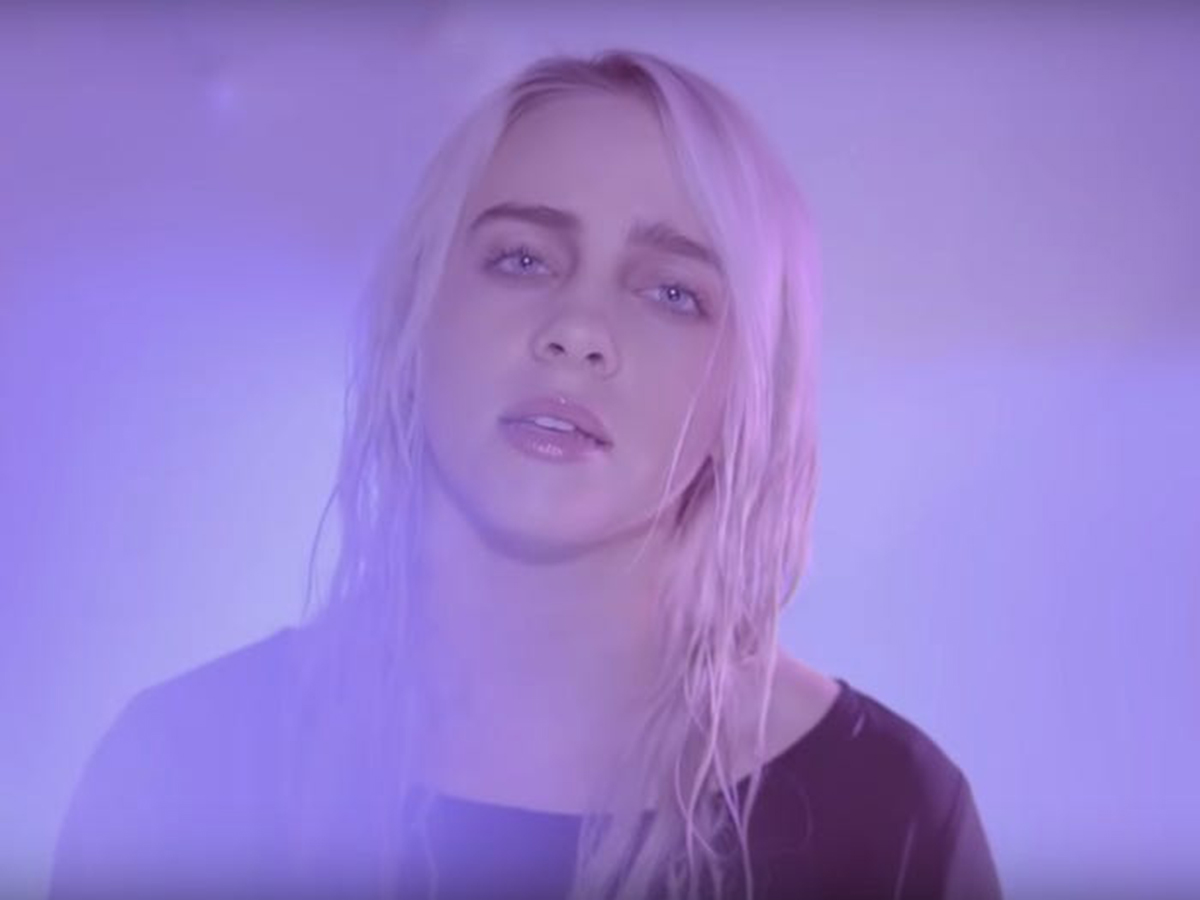 The track prompted the industry to notice her. And, at 14, a year after the tragedy, Eilish signed a record deal with Interscope Records, a label owned by Universal Music Group. The buzz around Billie Eilish, the next big thing in pop, started gathering momentum. The song, which she sang in her light and airy Soprano vocals, blends mellow percussion and minimalist synths. In Ocean Eyes, "burning cities and napalm skies" flare inside the ocean eyes of the ex. "I've been walking through, a world gone blind/Can't stop thinking of your diamond mind," she croons. Love, she suggests, was like "falling off a cliff". The song was described by various critics and commentators as "understated and heartbreaking" and "a moody bit of synth-pop".
While fans swooned over her song, there were purists who targeted her for the texture of her voice. "She must decide whether she wants to sing or whisper," a critic said. Moving on from the sugary terrain of love in Ocean Eyes, she spiked her EP, don't smile at me (Interscope), with slithery electro-pop and evolved, edgier lyrics. In Watch, the opening track, she sings: "I'll sit and watch your car burn/With the fire that you started in me", bemoaning how good was the ex at giving her "nothing". She talks of wearing her noose "like a necklace".
Bellyache, a song steeped in dark imagery, starts with "sittin' all alone/Mouth full of gum/In the driveway/My friends aren't far/In the back of my car/Lay their bodies" and builds to "Maybe it's in the gutter where I left my lover/What an expensive fate/My V is for Vendetta/Thought that I'd feel better/But now I got a bellyache." When Eilish was working on the EP, she had walked out of an unhealthy relationship. A lot of the bitterness and the ferocity in some of the songs in the EP emanated from her emotion during this phase.
Before her debut album was out, Eilish had started collaborating with artists like Vince Staples, and careening across the world on her first tour. By this time, her music seemed to have acquired a life of its own. And, on the world tour, her shows were all sold out.
Grim And Weird
Eilish's debut album inhabits a dark, gloriously weird universe, but it has made her world brighter. When We All Fall Asleep, Where Do We Go? (released by Darkroom and Interscope Records in the US and Polydor Records in the UK) marries grim genre-bending tracks with goth. It revolves around depression, suicidal thoughts and climate change and went on to become a multi-platinum global smash debut. The world we live in is full of horrors. And Eilish, in her songs, is only trying to evoke those horrors as seen through a teenager's eyes, capturing them in her own unique ways, taking us into a parallel universe where normal is boring.
After the release of her debut album, the world discovered the "weird and wonderful" side of her music. "Sonically, Eilish's music is genre-omnivorous: post-Lorde confessionals, bouncy Benny Blanco pop, skittering-808 trap beats and Yeezus-era-Kanye abrasion. Vocally, she recalls everyone from Lana Del Rey to early Eminem, her singsongy nyah-nyah raps giving way to beautiful, hushed ballads over a minimalist bottom end," wrote Josh Eells in The Rolling Stone. Finneas told Eeels: "Billie has this specific vocal range, sort of between a whisper and a hum. If you play a lot of instruments in that range, her voice sounds foggy — but things like bass, kick drums, and low, clocky snares can co-exist and not conflict."
Listening to her songs and watching her music videos are two different experience. Listening to her songs can be soothing, if you don't particularly analyse the lyrics. The videos of her songs, however, give off a sinister feel. In the video for You Should See Me in a Crown, spiders slither across her body and face and, even, crawl out of her mouth. Bad Guy video shows Eilish's face smeared with blood as she dances around wildly. Bury a Friend video is replete with horror-like visuals. In the video for When the Party's Over, she is seen drinking a black liquid, which later drips out of her eyes, like tears. In the video for All the Good Girls Go to Hell, she is shown being injected in her back with multiple syringes before a pair of black wings bursts out.
The album also seemed too dark to some. The New York Times termed her vision as "sullen, depressive and death-haunted", and her aesthetic as "moody and idiosyncratic". Nevertheless, her music struck a deep chord with the Gen Z, owing largely to its distinct character — striking musical arrangements, sweeping strings interspersed with strategic piano riffs. Her fans, mostly millennials, fell in love with Eilish's music not just for her whispery vocals but also because of what her songs were all about. Pop, and the perception of good music, it seemed, had transitioned from the loud belting-out of Celine Dion and the Selena-esque hushed tones to Eilish-ish soft and intimate whispers. The fact that she dips into disparate styles — pop, EDM, industrial, trap, and even jazz — not just makes her a genre-bending artist, but also gives her music a wider canvas, thereby enhancing its net reach.
After the recognition by the Grammys, Eilish has been catapulted to pop's own royalty, comprising singer-songwriters like Adele, Alicia Keys, Britney, Beyoncé, Lady Gaga, Madonna, Mariah Carey, Rihanna and others.
Incidentally, her debut album has also brought to the fore some of her fears and anxieties around fame. "It's annoying," she told Rolling Stone. "I have this amazing thing in front of me, and I don't want to hate it. And I don't hate it. But I hate certain parts of it."
Goodness, Gracious Me
As she accepted the Album of the Year award, Eilish, betraying a sense of surprise and, even, shock, said from the podium: "Can I just say that I think Ariana deserves this?" The gesture didn't seem to have followed any template. It didn't seem to have a recent precedent. When was the last time you heard a Grammy winner announcing that she thought it was another nominee who would have won? But Eilish was genuinely stunned. For she was aware that each of the seven other nominees — okay, let's say most of them, if not all — for the Best Album of the Year award had achieved something significant, too, especially Grande. The five others included: Bon Iver, a folk band, Lana Del Rey, Having Everything Revealed or H.E.R., rapper Lil Nas X, rapper and flutist Lizzo, and Vampire Weekend, a rock for their albums — I, I; Norman F***ing Rockwell; Thank U, Next; I Used to Know Her; 7, Cuz I Love You and Father of the Bride — respectively.
If her statement about Ariana was an act of acknowledging another genius, it also demonstrated a streak in Eilish character that downplays her own talent, forever steering clear of making any show of her success. Ever since she burst on the pop scene, Eilish has, adhering to her core personal philosophy, underplayed, and, at times, even sabotaged the vampiness and pomposity often considered the prerequisites to be a star. She comes as she is and never hides beneath any layer of pretense; her no-filter mode is always on. Her lack of pretense and absolute disregard for nonsense are strong components of her persona. Ruth La Ferla wrote in The New York Times that Eilish often going without makeup and favouring a pastiche of outsize 1980s and '90s hip-hop and skater look speaks "assertively to a Gen Z crowd chary of artifice and aggressive displays of sensuality". It is also a crowd wary of the everyday, a crowd that has a growing interest in everything that borders on the eccentric or outlandish, gory or macabre, spooky or salty. "The repeated refrain of I want to end me (in Bury A Friend) speaks to this generation's sharpened appreciation of irony and their love of using hyperbolic death in casual conversation," wrote Simone Williams, while analysing the "macabre asymmetry of Billie Eilish" on a blog.
Her fans like Eilish the way she is — and music, the way she makes it. If you don't like her music, do know that Eilish doesn't care what you think of it. She doesn't care what anybody thinks of her either. She is busy being herself. "I'm not gonna look like anybody except what I am. I want to impress myself," she has said in interviews. Her modesty and individuality seem to be her prized possessions. And she clings to them even while swanning in a Gucci, Chanel, Versace, Kenzo or Marc Jacobs. Eilish likes being herself — unapologetically, brashly and frighteningly herself — both onstage and offstage. She has never wanted to blend in or belong. Indeed, if there is anything she belongs to, it's her music.
In her own ways, Eilish has been subverting the idea of a star and flipping the idea of beauty. In a Calvin Klein ad, she says that she prefers baggy apparel to avoid body shaming: "Nobody can have an opinion because they haven't seen what's underneath. Nobody can be like, 'she's slim-thick,' 'she's not slim-thick,' 'she's got a flat ass,' 'she's got a fat ass'."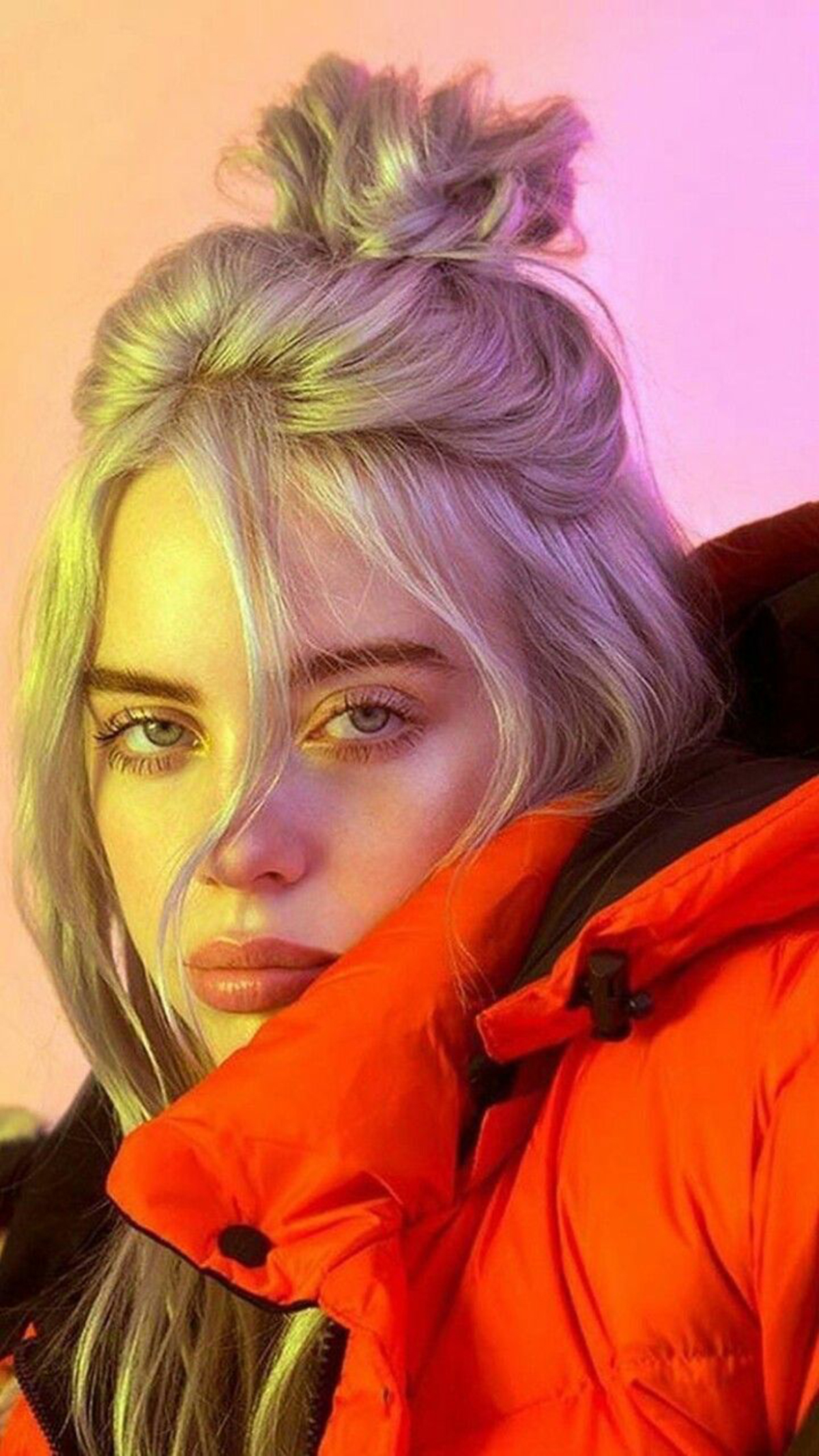 If you look at her journey closely, you will realise that it has not been that easy. She has had her own share of fighting against odds. As a child, she was diagnosed with Tourette syndrome, an auditory processing disorder that makes it rather hard for her to listen and absorb meaning the way a normal person does.
She has also another condition: synesthesia, the neurosensory wire-crossing in which senses seem to blend together. "Every person I know has their own color and shape and number in my head, but it's normal to me," she told Rolling Stone, adding that Finneas, for example, was an orange triangle to her and the name "Finneas" was dark green. Her song, Bad Guy, is yellow, but also red, and the number seven," she told Rolling Stone. "It's not hot, but warm, like an oven. And it smells like cookies." She also had to fight against depression and anxiety, finally overcoming them with the support of her family.
The home — spread over 1,208 square ft in the Highland Park neighborhood of Los Angeles — where Billie Eilish Pirate Baird O'Connell was born (to actors Maggie Baird and Patrick O'Connell), and homeschooled, along with her brother, has been crucial to their shared creative journey. It is from their bedroom of this house that they made the album. To them, the album is like a "home-made cookie".
If there was a statement Eilish was trying to make at the Grammys, it was that people should stop looking at her through the prism of her gender. If her gender-neutral dresses were not enough, to emphasise this further, she had worn a Blohsh sterling silver pendant adorned with cubic zirconia stones shaped like a genderless human silhouette. This was her way of showing a middle finger to "old-fashioned and overly feminine norms".
No Time to Die
Having listened to her songs on loop, I can't get over the soft, sombre and somnolent embrace of her voice. And I am no Gen Z. Listening to her has made me aware why her songs are like hymns to the weary sensibility of a generation that is forever seeking newer ways to express, and identifies with all that Eilish stands for. She has given soundtracks to a medley of their emotions, beliefs and philosophies.
Stardom, however, comes with a price tag; it is quite a tightrope walk. Eilish, though she knows no peer pressure, runs the risk of getting into the vortex of its attendant requirements and expectations. She has got to self-preserve. Since, as US actor-singer-dancer Shirley Temple, whom Eilish admires, said, "any star can be devoured by human adoration, sparkle by sparkle". If Eilish were reading this piece, however, I know what she'd, in all likelihood, say: "Duh."
Eilish's journey has just begun. And she has a long road ahead. For the time, she has had her hands full with a few projects. In August and September this year, Eilish and Finneas will embark on their Asia tour, "Where Do We Go?" 2020 will also see the duo taking on a wildly popular franchise; they have been tapped with composing and performing the 007 theme song for No Time to Die, the upcoming instalment in the Daniel Craig-starring James Bond saga that releases in April. In the annals of the Bond franchise, Eilish creates another history — she is the youngest artist to have done so.
As a star, Eilish is like her own little island in an archipelago of countless stars like her — tossing and tripping on her own zen, a high all her own, shattering ceilings and breaking records, and, yes, eroding the conventions of genre or gender.
Donate Now
Comments
*Comments will be moderated