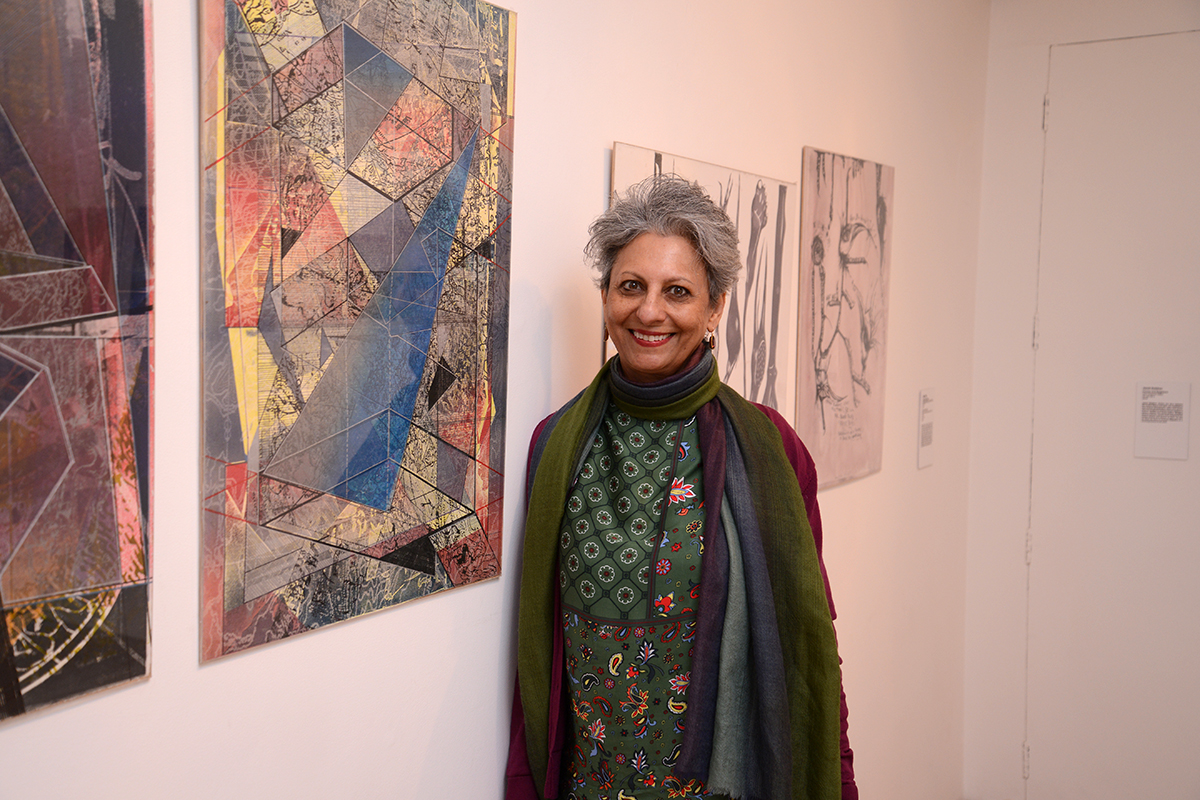 Tara Sabharwal in New Delhi. Photo courtesy: Art Alive Gallery
The New York-based artist of Indian origin on curating a show about migrants, the politics of 'othering' and the horror of the migrant crisis
The Art Alive Gallery in New Delhi recently put the spotlight on refugees as part of a show, "You Will Know Me: Migration Stories", curated by Delhi-born and US-based artist Tara Sabharwal. The show — comprising paintings, print works, installations and filmsde — presented the complexity and gravity of the migrant crisis that's raging around the globe, with the artists drawing on their dilemmas or dualities of identities.
Sabharwal, who has lived in New York City for the last 30 years, was in India for the show. Her artistic journey, spanning 37 years, has been marked by many milestones. She has held over 40 solo shows in India, Germany, the UK and the US, and received many awards, including The British Council and Durham Cathedral fellowships in the UK; and the Joan Mitchell and Gottlieb fellowships in the US. Her work is in the collection of the Victoria and Albert, DLI and British Museums in the UK; and The Peabody and Essex Museum, NY Public library and The Library of Congress, in the US.
We meet Sabharwal at the gallery where the works of various artists from around the globe are on display. She shows us around, taking us to each of the work, and explaining how and what a particular artist aimed to achieve in his/her work. Looking at the crisis through the eyes of the artist, one got to understand the issue from multiple perspectives. It also left one to wish for a more tolerant, saner world where human lives were treated as precious, where religion or race or region didn't create false divides between people.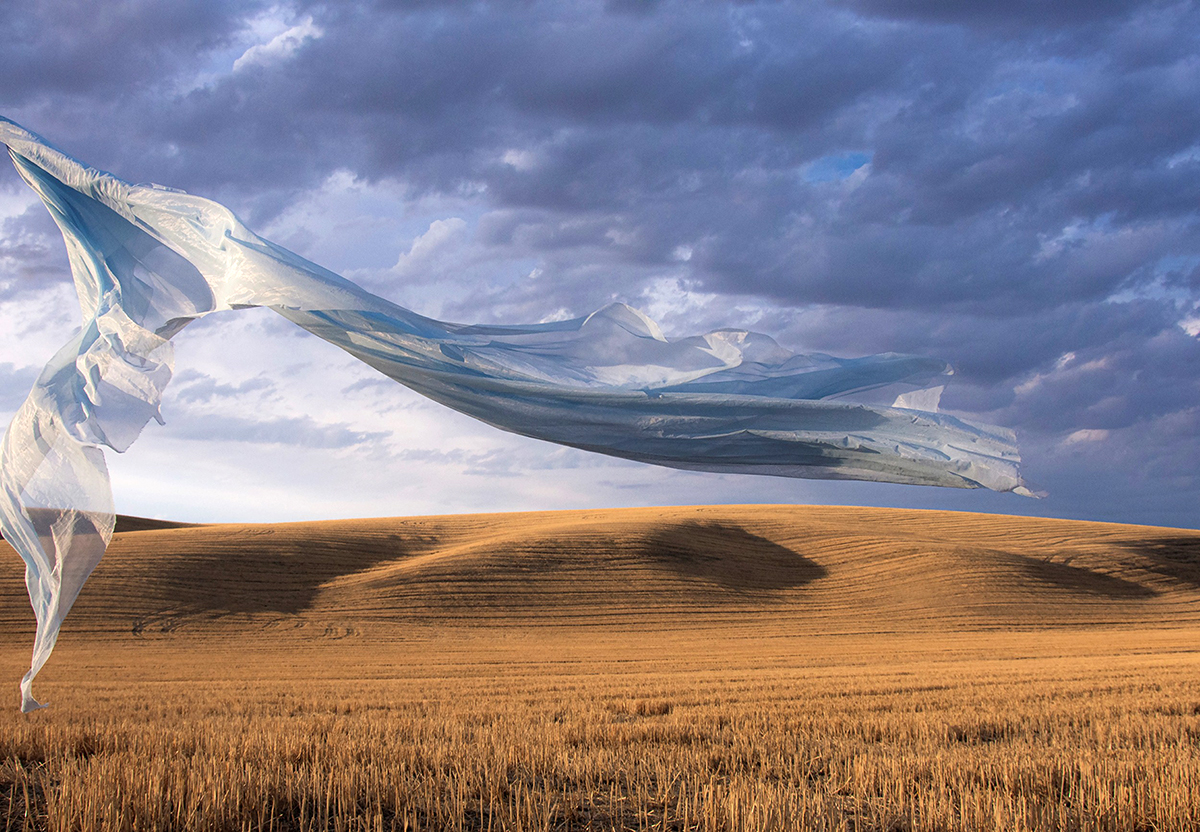 Berette Macaulay's il legible presences, inkjet, vinyl, print
Bengaluru-based Ayisha Abraham (India), in her film, explores the life of a Nepali migrant living in Bengaluru. Chile-based Ben Zawalich print works meditates on his transient identity through America, Ghana and Chile. Delhi-based Veer Munshi makes an installation on his return to his exiled home in Kashmir. Other works include Dharamshala-based Ritu Sarin and Tenzing Sonam's film on the experience of Tibetans in exile; NYC-based artist Leslie Jean-Bart's photographs of Haitian American identity discord through photos of reflections in water; Nebraska-based Karen Kunc's woodcuts on rural urban migration; New York-based Shervone Neckles' prints on her overlapping Caribbean-American identity; Chakaia Booker's prints referencing African-American displacement and transformative power of improvisation; Tomie Arai's silkscreens referencing Japanese internment camps in US during the second World war; Judy Blum Reddy's film on her parent's post holocaust migration to the US; Mary Ting's paper cut prints on the ecological effects of migration; Sudanese-American artist Mohammad Omer Khalil's etchings on a Sudanese classic Season of Migration to the North.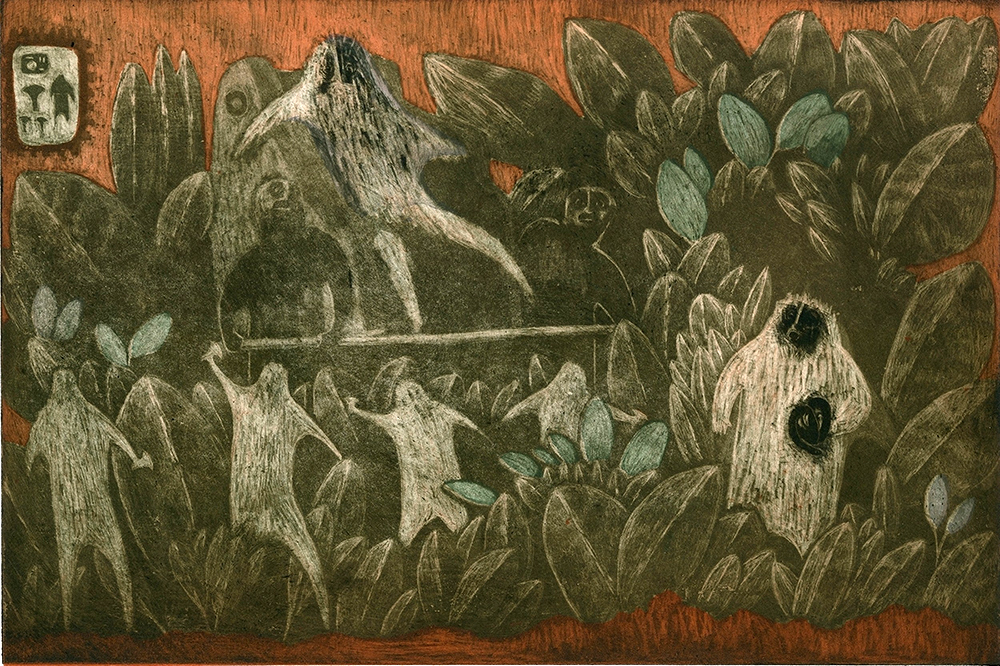 Ben Zawalich's The-Pardoning of Ebenezer Yaboa I, etching, aquatint, mezotint
In a powerful film, titled il legible presences 20, Berette Macaulay, of West African/Dominican/German-Czech descent, who was born in Sierra Leone, raised in Jamaica and the UK, and now lives in the US, tracks the identity transformations relating to her roots in Sierra Leone, UK, and Jamaica. Other works included Vadodara-based Lavanya Mani's dyed textiles on migrations, the Netherlands artist Sarojini Lewis's prints on her grandfather's migration during his service in British army in World War 2; Tara Sabharwal's collaged silkscreened of refugees on boats encountering the 'other'; Rosendale-based Tana Kellner's monoprints on the US Bill of Rights and immigration; NYC-based Karen Goldner's film on US border crossings; Iranian-American artist Golnar Adili's paper cuts on Iranian poetry of displacement; Georgia-based Larry Millard's batons and Cheryl Goldsledger's prints of migration maps; and Kansas City-based Miguel Rivera's overlapped drawings derived from his Mexican-American roots. The works of three German artists include sculptor Roger Rigorth's installation of thin, fragile oars; Barbara Beisinghoff's art books on the poetry of Jewish poet and holocaust victim Gertrude Kolmar; and Sabine Stange's photographs on perceptual transience.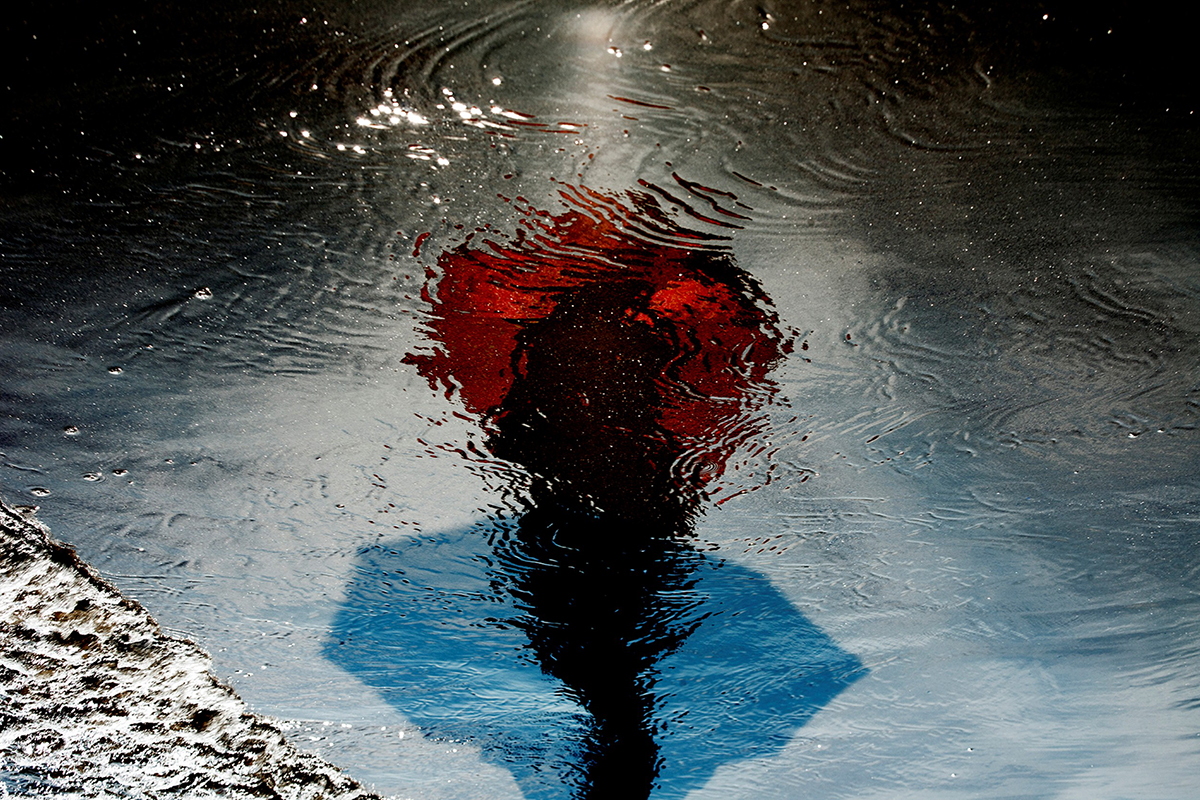 Lesile Jean Bart's Untitled, photograph, archival, pigment print
"Refugees across the world today, confront a surge of xenophobia. The alien 'other' is not only demonized but also turned into an existential threat. Indeed, in this age of global anxiety, where even citizens of developed nations suffer a lack of security in their finances and future, the mere 'otherness of the other' becomes yet another source of anxiety, much to the detriment of both populations," writes Sabharwal in the curator's note, adding that the artists in the show live within communities as natural outsiders, forming their own borderless intersections. "Our work addresses in-betweenness, a space between two cultures where relationships and negotiations consistently define and redefine themselves, remaining unfixed, in a state of constant transformation," she writes.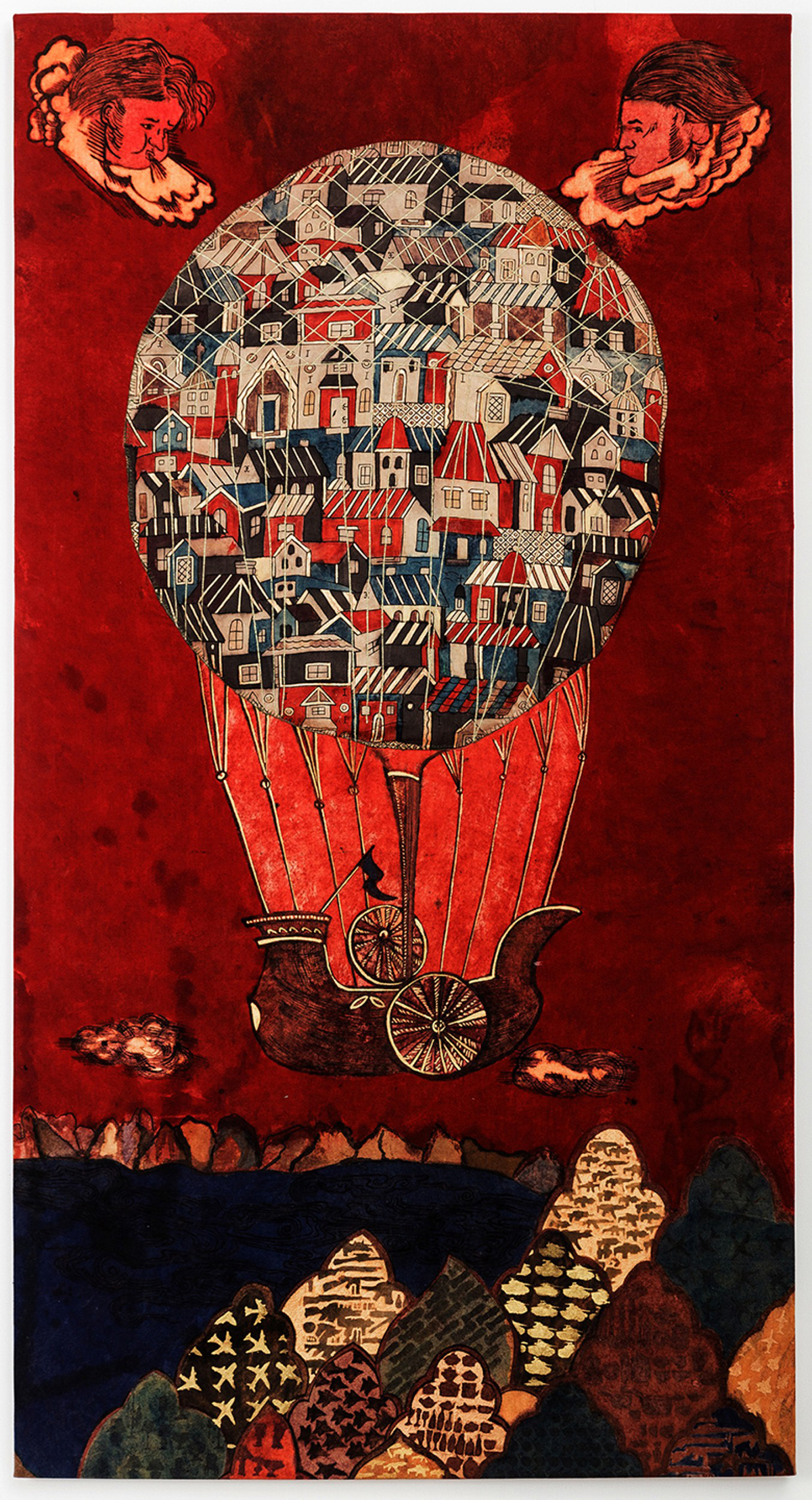 Lavanya Mani's Where the Wind Blows, natural dye, pigment, paint and machine embroidery on cotton fabric
While walking us through these works, Sabharwal touches upon several issues relating to the sordidness of the sagas of the migrants making difficult journeys in search of better lives and a roof over their heads, leaving behind a trail of loss and despair. She talks about how artists around the world are responding to this crisis, created largely as a result of neo-colonialism, climate change, war and poverty. Excerpts:
How did the show, 'You Will Know Me: Migration Stories', come about?
The first flash of this idea came to me when Donald Trump got elected as President of the US in 2016. Then, I was working in a residency where everybody was immensely loving and supportive. When he won, many of them talked about how some of their relatives had voted for Trump. At that point, when I got the idea for this exhibition, I felt like the ground beneath my feet in America as a minority was really thin. The world had changed and xenophobes and Fascists seemed to be everywhere. We decided to make an in-between group of artists to do shows together and hold them where each of the artists is based, thus engaging and involving several communities. The idea is to keep going on, with one show after another. We keep adding local artists along the way. We have had one show in Georgia and three shows in Germany so far. We have several shows coming up in Mexico, Mali, Sudan, Tehran etc.
When I was doing a residency in upstate New York, I kept making boats and, in every boat, I put one person. It was a lonely period of my life and I wanted to be with people. It was then that it struck me that perhaps we were all like this — living alone in a boat. I got really involved with the images of the boat and it was then that the connection with the refugees just happened. There are 70 million forcefully displaced people in the world today. There are 70,000 children, separated from their parents, in detention camps in the United States alone.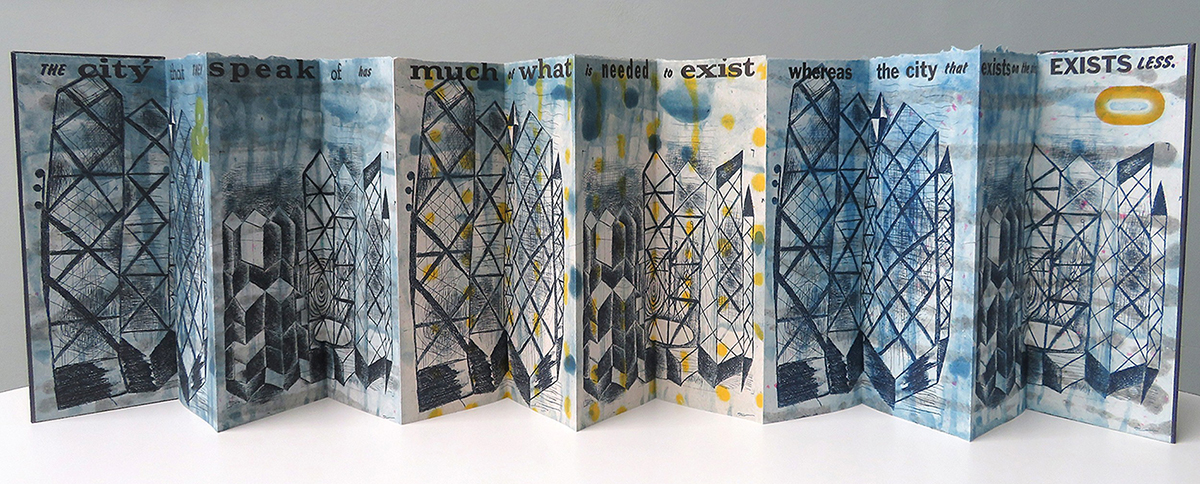 Karen Kunc's Glass Towers, installation, bookwork
A young Somali-British poet, Warsan Shire, in her poem titled Home, writes: "No one puts their children in a boat/unless the water is safer than the land. No one leaves home/unless home is the mouth of a shark". I relate to this because I feel like I do not have a home. Where do I belong? Home is India. But home is America, too. In the US, I belong to a group of artists who are from everywhere — our world is a world of in-between people. We are outside of categories. I think it's lovely this way, in today's time of fixed positions. I make these boats and, then, read about the horrific stories of the refugees, and think about them, often.

The big reason for the migrant crisis is climate change. But who has created climate change? The West is the biggest polluter. It was here that the earliest industrialization happened. Another reason is globalization — it's been done in such a way that it benefits the West. The third reason is inequitable distribution of wealth. Then, there is war and poverty. Also, there is "insider-outsider" politics that divides us. Muslims, for instance, have been made into "the other". We are living in an age of anxiety.
The show brings together artists of diverse nationality and ethnicity. How did you zero in on these specific artists?
First of all, I want to make it clear that the artists whose works are on display are not refugees. The refugees are sitting in refugee camps and detention centers. We are artists who call ourselves in-between people — we don't take a fixed position. Developing the show took about three years and the title of the show also came to me the same way the titles of my paintings come to me. I kept thinking, and, then, one day, I felt that technology has brought people closer, but it has not brought them together. Asians have lived together peacefully, but Europe is largely self-centered. The show asks the question: "Who is the other? Do we need to other a certain section of people? Is it that we need an enemy or the other to know who we are? If you get to know the other, will they still be the other?" The show asks us to look inside ourselves: do we really need to be like this?
For the last three years, I have been travelling a lot. I have been doing residencies in Germany, China, Italy and different parts of America. In all these places, when I met people, I saw how the conversation was different. In Germany, because of its history of Fascism, it's totally different. They say they can read the signs (of Fascism unfolding in several parts of the world). They seem to alert us: What happened to us can happen to you, too.
How was the process of curating the show?
I wanted to make it a mixture and there were many factors involved. There is a Chinese, a Japanese, a Central American, a South American, a Sudanese, a half-Malian, a Jewish, an Indian, a German, a Tibetan and a Nepalese representation — so there is demographic diversity and, of course, then they had to be community-conscious artists. The works on display are largely about how a particular artist sees their own in-betweeness.
Tell us about your own works — installations and paintings.
One of my paintings, Untitled (collage and acrylic on silkscreen), portrays lives being adrift and a scream going out in the world about this. Every boat has got one person which tries to show the aloneness of one's journey. It began with a small pen and ink drawing and underwent many transformations. First, I printed many sheets of woodcuts in graded colors, dark blues to light yellow. Then, I made a silk screen of the small ink drawing and printed it on these papers, printing several versions from light to dark. Finally, I put the sheets together and collaged over them with a lighter tone print, creating a turbulent movement.
My art practice involves multiple ways. Art has to be deeply connected with your soul's journey. The referential points have to be various. Just like in dream, there are multiple references in the unconscious mind. My work has always been about in-betweenness and letting go of the space one's mind inhabits to be in the larger space one's egoic mind inhabits. For We Are Together, Alone — installation, hinged extended object — I made a polymer plate of this image and printed about odd 50 copies of them and then cut and hinged them together.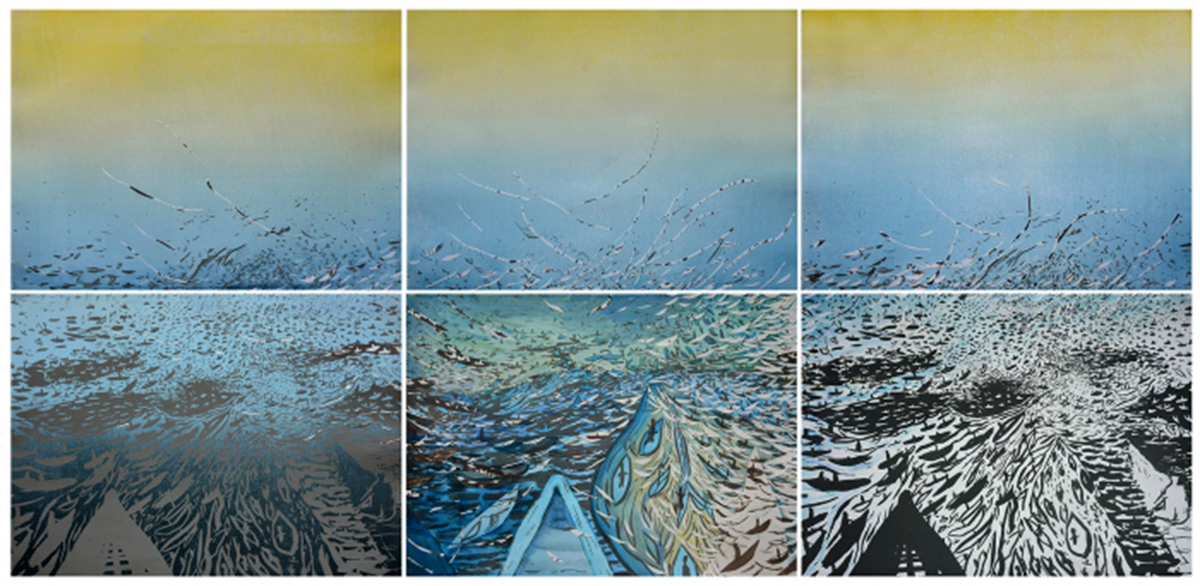 Tara Sabharwal's Untitled (collage and acrylic on silkscreen), portrays adrift lives
What's next?
I would like to work on climate change. I might like to research the effect of migration. I would like to work on a specific project. And I would like to work in India, may be Gujarat, live in a community there and see a specific case that has happened to establish the link between global warming and migration. I travelled all over for three years and this show sprang from those journeys. My next show in India might be of abstract works that I have been doing as a parallel practice. I have a portfolio of twenty etchings. They are going to several group shows around the world.
Donate Now
Comments
*Comments will be moderated