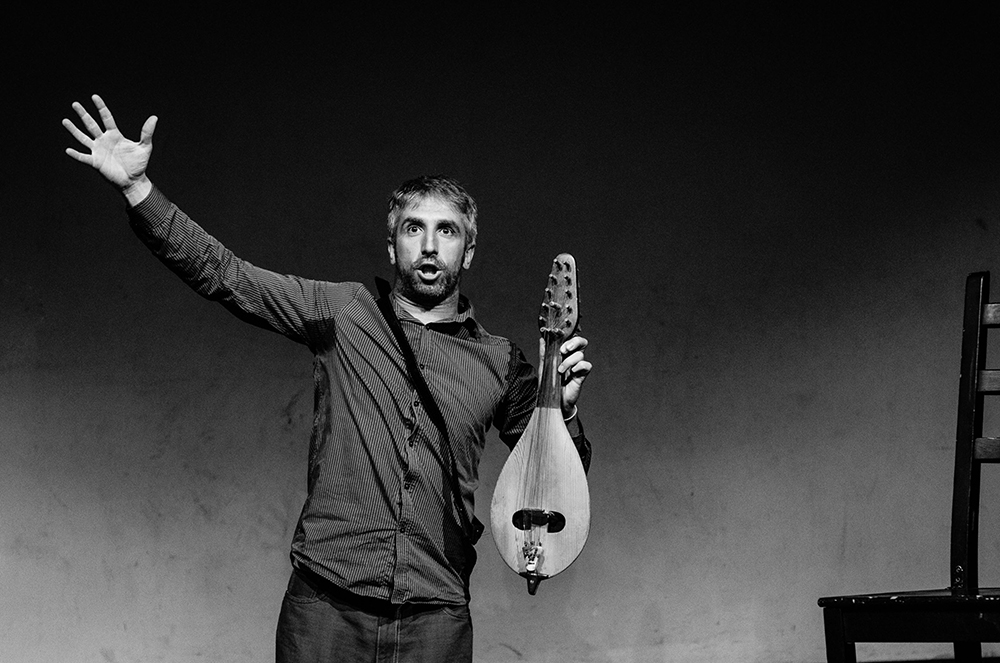 Miro Kokenov in The Burning Gadulka, which delves into love, loss, conflict and self-belief. Photo courtesy: The Edinburgh Fringe Festival
62 countries. 53,232 performances of 3,398 shows in 300 venues. The Edinburgh Fringe Festival offers a dynamic cross-cultured journey that evokes a gamut of emotions
The Edinburgh Fringe Festival is diverse, wild and exhilarating. For over seventy years, the festival has offered the participants an opportunity to struggle with their whims of creativity, and come up with fresh and enticing shows. The Fringe began in 1947 when eight companies — six Scottish and two English — who appeared uninvited in Edinburgh and staged their own shows alongside the new International Festival. Today, it is the largest festival in the world. Although 200 Fringes in the world have followed this format, they cannot compare with the energy and creativity of The Edinburgh Fringe Festival. The shows are not curated and anyone can perform at the Fringe, if they can afford the trip, leaving the performers with a sense of great freedom and anticipation. You are never too old or too young to perform at the Fringe as was evident last year when both comedians Grace, aged 13, and Lynn Ruth Miller, aged 83, participated.
This year, the Fringe offered a dynamic cross-cultured journey that evoked a gamut of emotions. Shock at the male prostitute's predicament (Thief), empathy for the transgender (Adam), sadness for the missing (Gazing at a Distant Star), sympathy (Gazing at a Distant Star), joy (The Egg-born Princess), disgust (Mies Julie), laughter (Hot Brown Honey), understanding (The Believers Are But Brothers), compassion (Salt), introspection (Our Carnal Hearts), thought (I Am Your Love Story)… A never ending list… I refer to just a few performances that moved me.
One of the most emotive performances was that of Adam, a moving trans play by Frances Poet. It is a true story of Kashmiry, an Egyptian who grows up in Egypt with a woman's body and a man's soul. He flees to Scotland to seek asylum and soon gets a sex change. His life changes and he is liberated. It is the actor's own story enacted by him to perfection. An international world choir of trans individuals from across the globe has been uniquely integrated into this remarkable multimedia production.
His own mother is shown talking to him on Skype after the transformation. Her shock and reaction of seeing her daughter in the form of a man is believable but tragic for both. Poet's treatment of Kashmiry's plight shows the indignity, fear, and humiliation trans face. The acting is superb and the slick production leaves the audience completely mesmerised. It captures the poetry and atmosphere of reality and compels the audience to understand their trauma. There were awe-inspiring and unexpected moments that left us speechless.
After Adam's plight, it is Thief that pulls you into his world of homosexuality, rape, robbery, murder, prostitution and prison. Inspired by the works of French novelist and playwright Jean Genet, this revelation of an impoverished man is brilliantly executed by Leith-born writer/director Liam Rudden. It was raw, realistic and honest.
Lee Fanning portrays the broken anti-hero, Sailor, with a painful passion that completely grips your heart. His narrative of the tear-jerking story of his sex worker mother to his own flashes of sexual violence and self-destruction are sorrowful, yet absorbing to watch. The only means of survival for the unhappy Sailor was prostitution and theft in this cruel world.
Graphic details of unsavory moments are shared with the audience through a fair amount of nudity. Because of the raw narrative, Fanning not just demands your attention, he grabs it.
It was loss that took over Gazing at a Distant Star. The play explores the lives of three unfortunate people — Arun, Anna and Karen — whose loved ones are missing. Arun works in a drab call centre, saving money to finance a university degree. He is depressed by the random empty phone calls he makes. His colleague Glen has been missing for over a week and he feels inadequate, wondering what happened… Anna's sister Jane never came back, leaving many unanswered questions. Was it after she had met Pete? The most heart-wrenching is Karen's situation who had thought her son Danny was on
vacation.
Jenny Delisle's (Karen) performance as the grieving mother is outstanding. She gets into the skin of the character and convinces with her tears and quivering voice. The feeling of fear, anxiety and longing is communicated convincingly to the audience through her sterling performance. Director James Haddrell handles the gravity of the situation with great compassion.
There was a different kind of loss in Mies Julie, set in South Africa 23 years after apartheid. The effects of the deeply entrenched emotions of racial segregation and colonialism can be traced throughout the play. A single night of brutality and tenderness unfolds between a black farm labourer, John (Bongile Mantasi), and his white master's daughter Julie (Hilda Cronje). The superiority and fear of Julie is cleverly balanced by the supreme physicality of the black male. Mies Julie displays a tension so taut that you can run a knife through. Cronje's performance is raw, gritty and truthful as she inspires sympathy and disgust. Mantasi matches it with a strong performance. Together, they show how apartheid has fractured the very spirit of humanity in their country.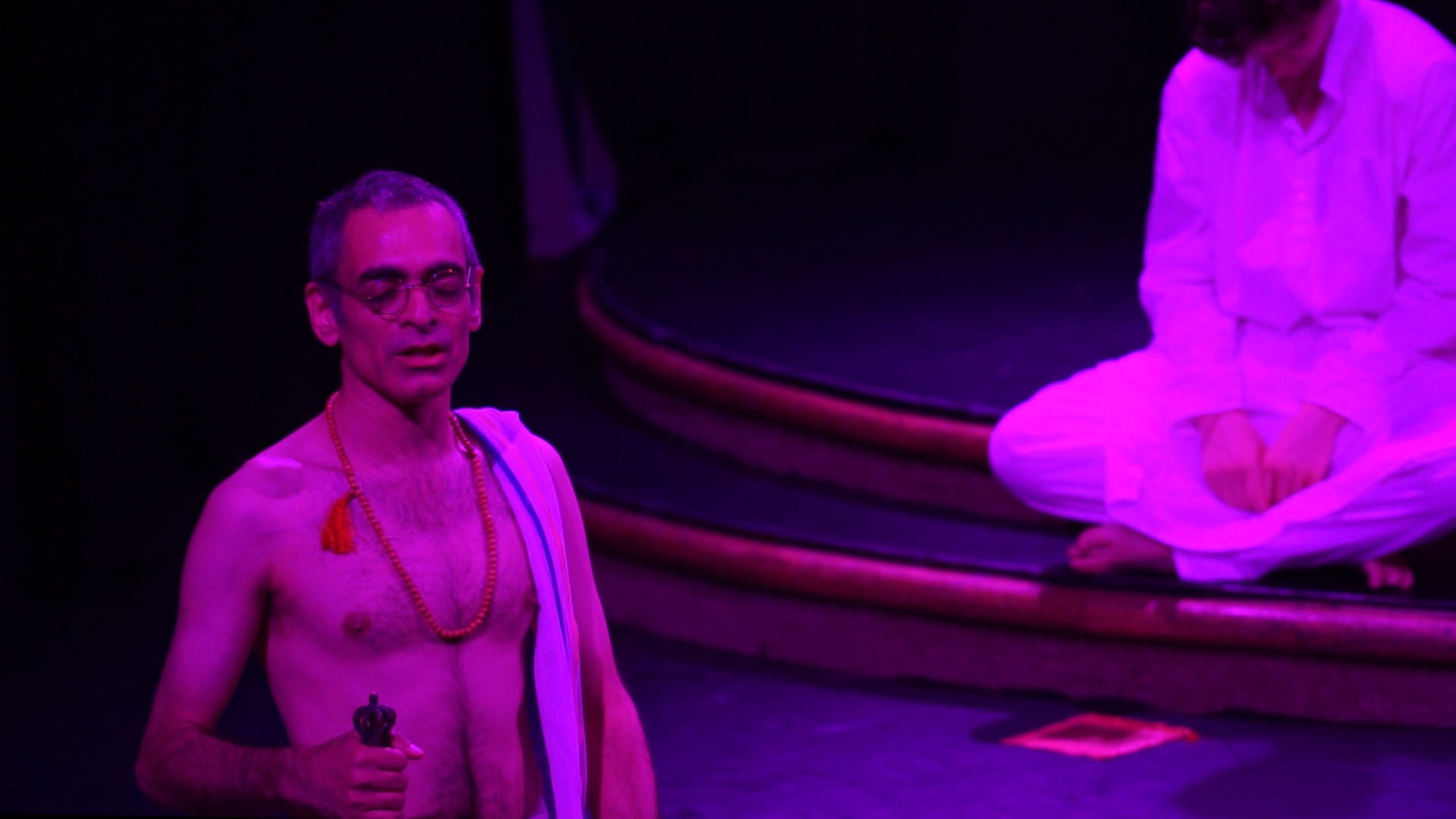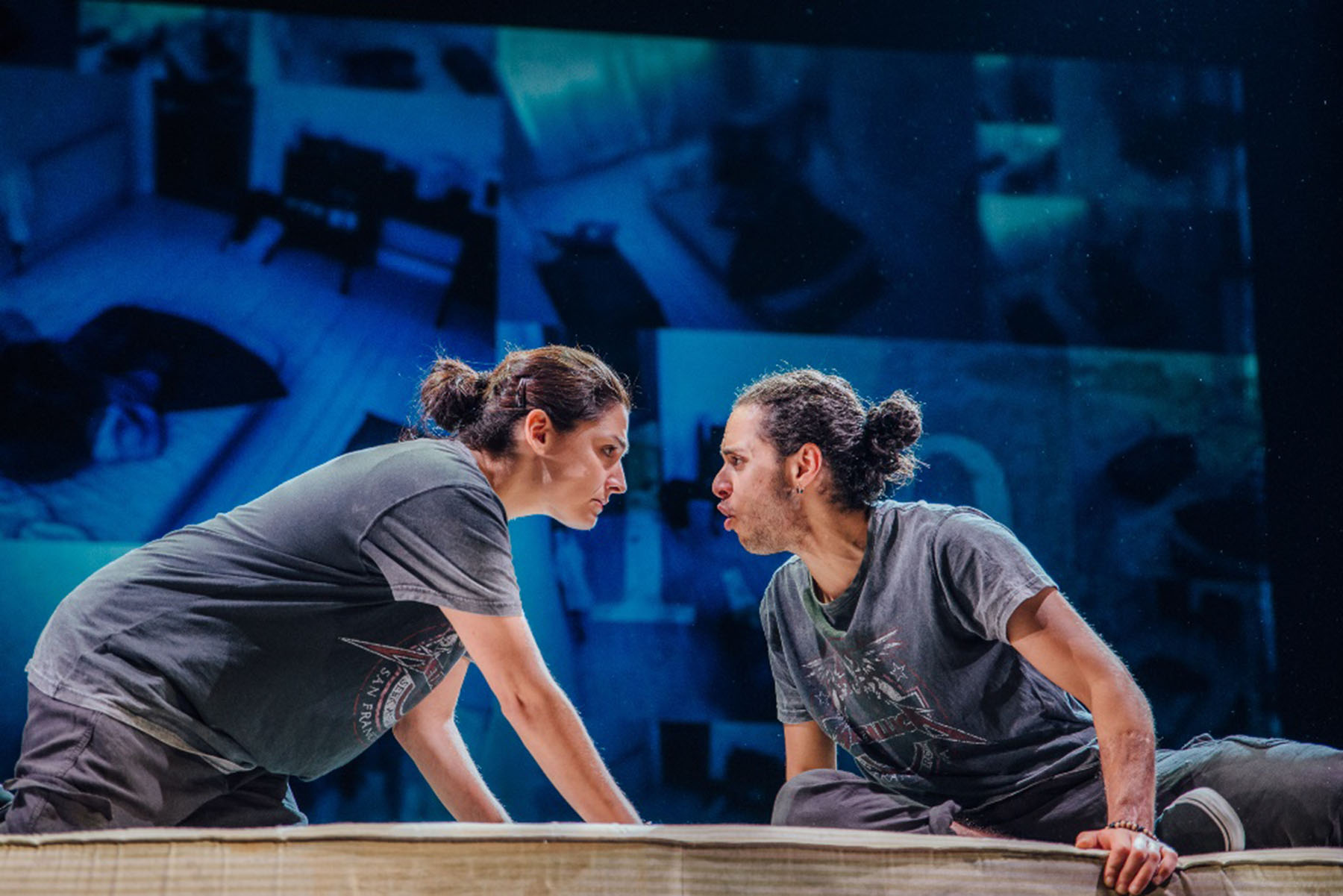 A scene from I Am Your Love Story (top) by Pramila Lehunte. Neshla Caplan and Adam Kashmiry (above) in a scene from Adam. Photo by David Monteith Hodge
The spirit influenced by social media and internet influences the thought process of the present generation was the focus of Javaad Alipoor's The Believers Are But Brothers. He shows how his generations have become radicalised through the Internet, sometimes travelling to Syria to join the organisation that calls itself Islamic State. Alipoor's 55-minute performance takes the viewer to an unexplored sphere. The artist/poet reaches out to the viewer with an impressive text accompanied with stunning visual images by Jack Offord and Adam Radolinski. Through poetry and visuals, he exposes the frightening speed with which the internet is developing our beliefs, resulting in a lack of understanding of each other.
Yet another marginalised voice was expressed by Selina Thompson in her touching monologue Salt. There was a simple stage featuring a glowing triangle and one massive piece of rock salt, which Thompson gradually pounds into dust. While doing this, she recounts with anger the slavery and exploitation suffered by her previous generations, and sets out on a triangular voyage — Britain to Africa, Jamaica, Carolina and back — that mirrors the slave routes of the 18th and 19th centuries. In a haunting atmosphere created with grey, blue and gold lighting, Cassie Mitchell shaped images that were difficult to erase. She is courageous, candid and unforgiving.
Hot Brown Honey used humour and dance to convey sentiments of another sidelined faction. Through their challenging, stimulating and fun approach, the talented artists invented cabaret, hip hop and acrobatics to convey several strong messages of injustice. This feisty, feminist and intense extravaganza is a great feminist theatre. It may be in your face, but it was also educating as well as empowering and entertaining. There were daring songs about cultural awareness, and habits which deliver intense mockery of others culture. Some directed at the white feminism were incredibly engaging. This raucous and provocative show had music that completely enthralled the audience.
Black and White Tea Room portrays an intriguing situation. In Korean with English subtitles, it is about a therapist and his new client in the tearoom of his dead wife. It is a combat of wits between the two. They soon realise that they had met before in rather chilling circumstances. After much drama, they find themselves both vulnerable. With their shackles down, they are able to build on a new meaningful relationship based on trust. The acting was superb and believable. It is a universal story only the setting maybe different. The performance is very human, assured, though also subtle-paced to avoid overkill.
Rachel Mars's Our Carnal Hearts is a thrilling and provocative interactive show. The audience joins Mars who takes on the role of the preacher, prose writer and storyteller in an exceptional and captivating manner. The subject is envy; what if a fairy came to you in the middle of the night promising anything you want on condition your neighbour got twice as much of the same thing?
This performance makes us reflect on our dark side. Can we congratulate our rivals on their success (and learn to mean it)? Although it makes the audience laugh, sing, admire, envy and confess. It also makes them think and question their inner dark side. This show will act as an experiment that will inspire the audience to take a voyage into self-discovery.
George Mann's Odyssey is a passionately told story about myths and tales. This one-man show leaves the viewer speechless, grappling for appropriate adjectives. He is versatile and moves from one character to another with huge aplomb. He weaves the story with a confidence of a great actor. Mann has a grip on every aspect of his body and is able to manipulate himself to convey every emotion under the sun. His use of breath in particular was phenomenal — no words and he conveyed all. Mann enacts the Greek tale at a great speed, presuming that his audience is familiar with this tale. That makes both performer and piece very accessible, enjoyable, informative and, on occasions, inspiring.
Niv Petel's Knock Knock is a heart-rending story of the plight of a mother in bringing up her only son, knowing that one day she will have to let him join the forces, as Israel insists on compulsory military service. As a liaison officer for the Army, Ilana, a single mother, supports families who have lost their sons and daughters to the war. Written and convincingly performed by Petel, it is based in part on experience and in part on stories Petel has heard and seen while living in Israel. As the title suggests, the mother is terrified of the 'Knock Knock' that will take her son to the war.
Off Ramps by Michael Brandon, star of TV and film, and award-winning Broadway actor's one-man show gave the viewer an account of his very exciting life aided by photos of Hollywood icons, actors and film stars he has been associated with in different ways in his life. Riddled with amusing stories from his childhood to later life, he takes the viewer on a journey full of exciting trappings. There is cinema, love, pain, career and endeavour, deftly directed by Guy Masterson.
I Am Your Love Story gives us a taste of India post-Independence, tracing the journey of a young English boy and girl who seek spirituality and excitement in the modern India. A powerful, heartfelt story, it unfolds the trials and tribulations of several marginalised lives. The young girl and Baba are most convincing. This is an accomplished piece of storytelling by writer-director Pramila Lehunte.
There were several plays for children, like The Egg-born Princess, directed by Gemma Mayes and Johnathan Williams. Performed by The Seckford Theatre Company, it is an adaptation of traditional folklore, of a sad queen who has no children. Enter the fairy in the queen's life with magical powers! What follows is the birth of the egg-born princess that is orchestrated with great panache. The princess is blessed with a girl (through mysterious circumstances) and a boy and her husband return victorious from the battlefield. Misfortune strikes again when the grown-up daughter of the princess faces several ordeals — from stepmother to the three sisters. Although the princess emotes sorrow with great flair, it is the witch or fairy that steals the show. The simple writing, good direction and enchanting music make the narrative most entertaining.
There were several other jewels in the festival, like Guy Masterson's Under Milk Wood. It was hilarious, enchanting and moving narrative in the day in the life of sleepy Welsh fishing village, superbly enacted by Masterson. Elephant in the Room was an unconventional and absorbing take on the legend of the beloved Hindu god Ganesha, told by Master Tusk who is kidnapped by star-crossed lovers, encounters an eccentric old elephant, and hunts for his missing head. There were other great performances like Miro Kokenov in The Burning Gadulka, Aditya Roy in The Offering. Shakespeare was the inspiration for Chinese version of The Dreamer, Lady Macbeth: Unsex Me Here, Venus and Adonis and several others.
The choices were immense, from theatre, circus, cabaret, children's show, musicals, opera, and music to dance. Once you get a whiff of the Fringe atmosphere, you will go back for more. It is intoxicating for both the performers and the viewers. This year, 62 countries participated and The Fringe spanned 25 days and featured 53,232 performances of 3,398 shows in 300 venues. So much excitement, such great musicals, comedies, dance performances and theatre! Must get ready for the Edinburgh Fringe Festival again next August.
Donate Now
Comments
*Comments will be moderated