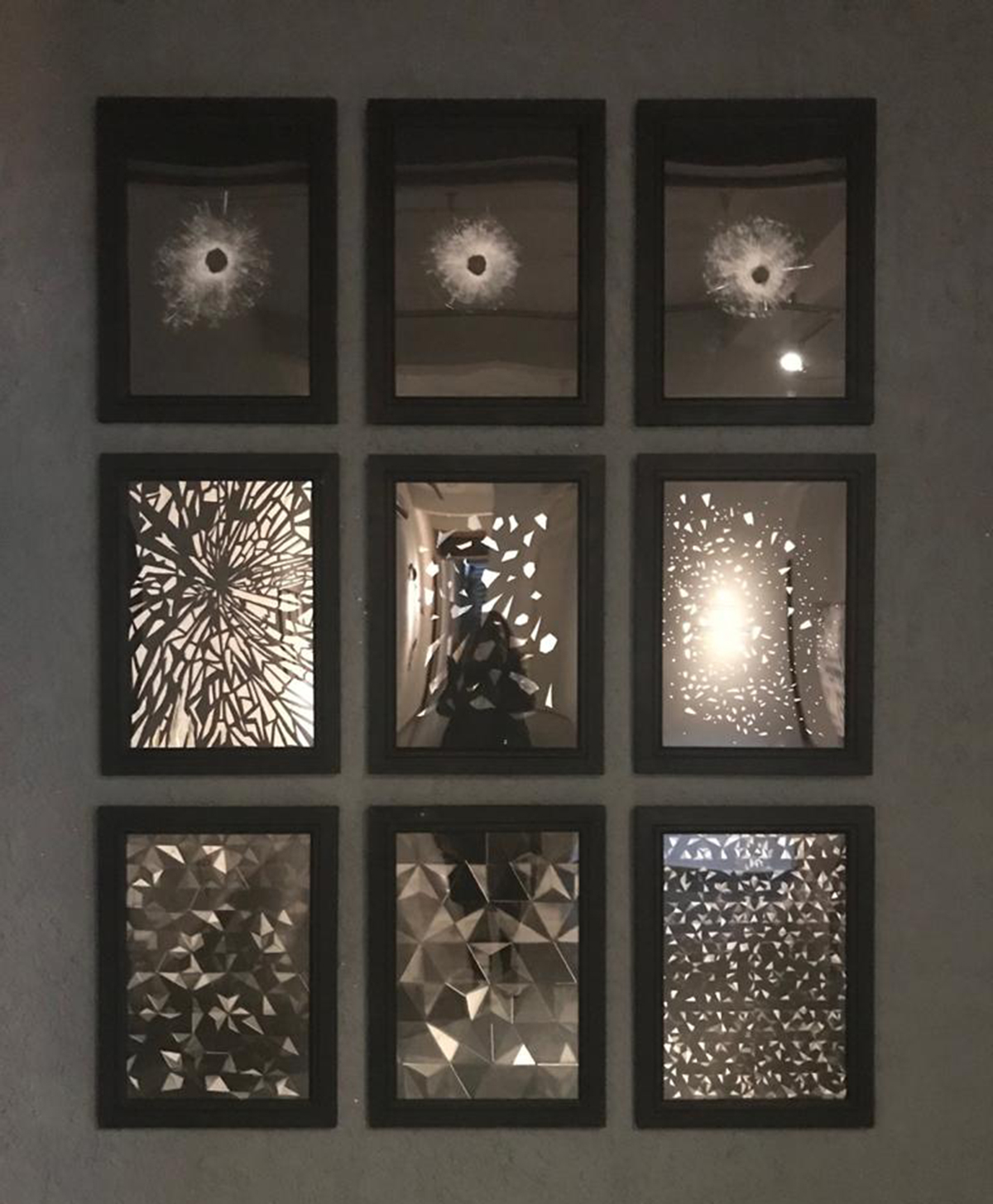 Gargi Raina's Ayeneh Kari/Fracture (gouache, gesso, paper, mirror) on display at the Threshold Art Gallery in New Delhi as part of "Kintsugi/Bakhya". Photos: Shireen Quadri
A group exhibition in Delhi brings together works that seem to mend an artist's broken sense of the self or the world
A recent group exhibition on view at the Threshold Art Gallery in New Delhi put the spotlight on the triumph of the indomitable human spirit — its resilience, its equanimity — against seemingly insurmountable odds. Titled "Kintsugi/Bakhya", meaning stitch, the show was curated by Tunty Chauhan, the gallery's director, and brought together artists such as Achia Anzi, Manisha Gera Baswani, Gargi Raina, Priya Ravish Mehra, Rajendra Tiku, Rubaba Haider and Yael Bartana. In their works, the artists dwell on the dark and difficult passages of their lives.
Just like Bakhya — one of the stitches (known as shadow work) of chikankari, the traditional embroidery style from Lucknow that uses fabrics like chiffon, silk, muslin, organza or net — the artists, through their various ways and mediums, showcased how they respond to adversity and brokenness. Bakhya is one of the diverse and rich textile traditions of India. There are many others, for instance, Kantha, a centuries-old tradition of stitching patchwork cloth from rags. In the show, the artists demonstrated how they were the rafoogars of the broken bits of their lives, just like a darner is a healer of damaged clothes.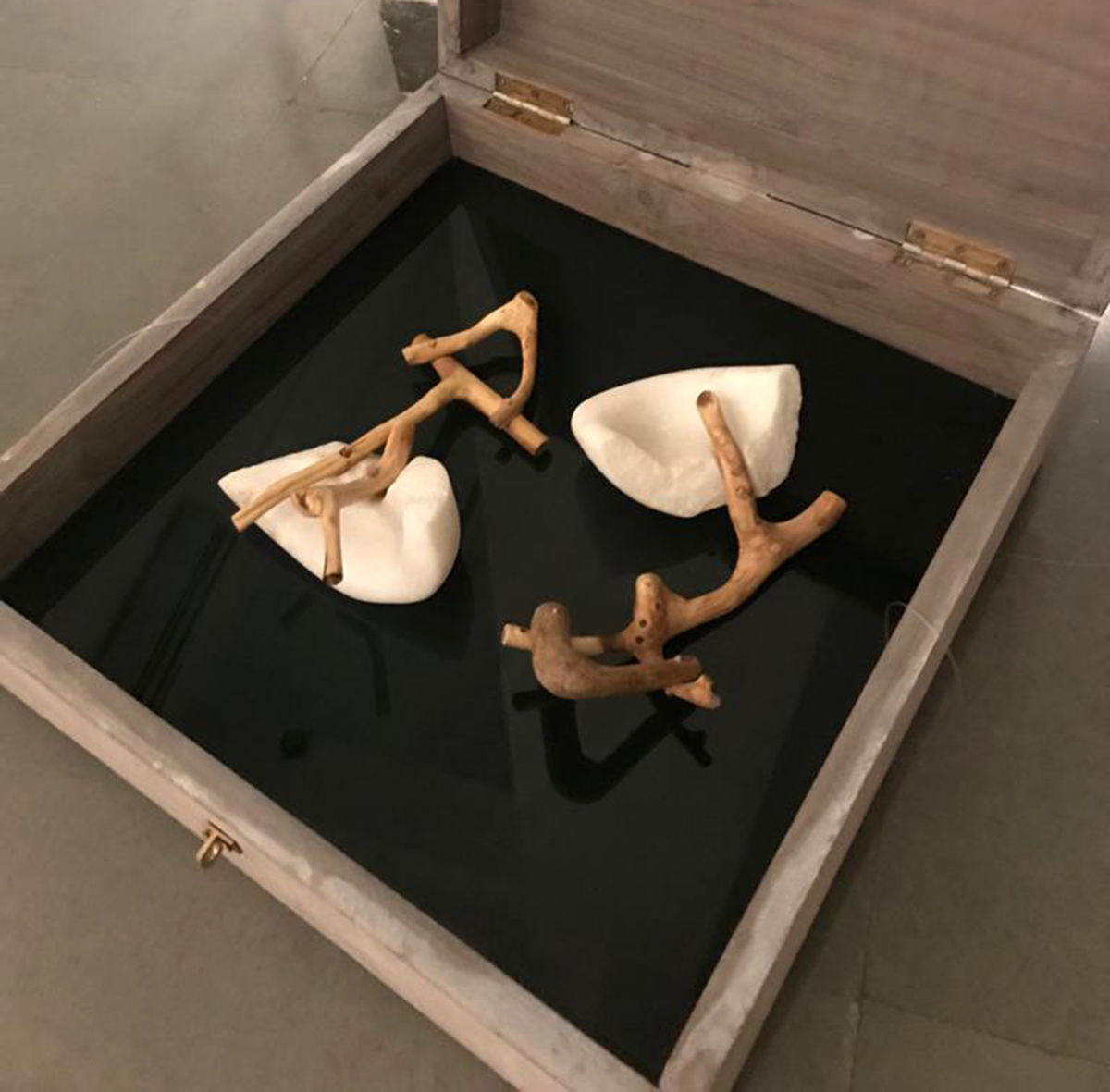 A work by Rajendra Tiku, snowflowers, white marble, wood, glass
"Yaadon ke girebaano ke rafu par dil ki guzar kab hoti hai/ik bakhiya udheda ek siya, yun umr basar kab hoti hai (the heart can't go on by mending the collars of memories/unfold a stitch and sew another in turns, life is not spent like this)" Chauhan quotes Urdu poet Faiz Ahmad Faiz in her curatorial note. Elaborating on Kintsugi, the Japanese art of repairing broken ceramic objects by enhancing the cracks in the ceramic-ware with gold embellishment, she writes: "Here the gold fissure or scar becomes a testament to a difficult journey, and the marks of the wear add value to the object. We find reflections of this deeper philosophy of 'not rejecting the imperfect ' in various other cultural traditions, including Sufism. The practice of Bakhya, suturing the garment by the Sufi darvesh (mendicant) symbolises the meditative activity of not letting things fall apart. Kantha, Sujani, Rafoo come from a similar philosophy of repurposing rather than discarding. It is a metaphor for embracing flaws and imperfections present in all human existence, where the fragility of life itself becomes its strength," she writes.
The exhibition, she writes, "serves as a subtle reminder to the viewer to embrace and appreciate all aspects of life and revisit our conception of beauty/desirability not as the absence of imperfection but rather, by recognising those very flaws as an inextricable part of what completes us — the fingerprints of life itself."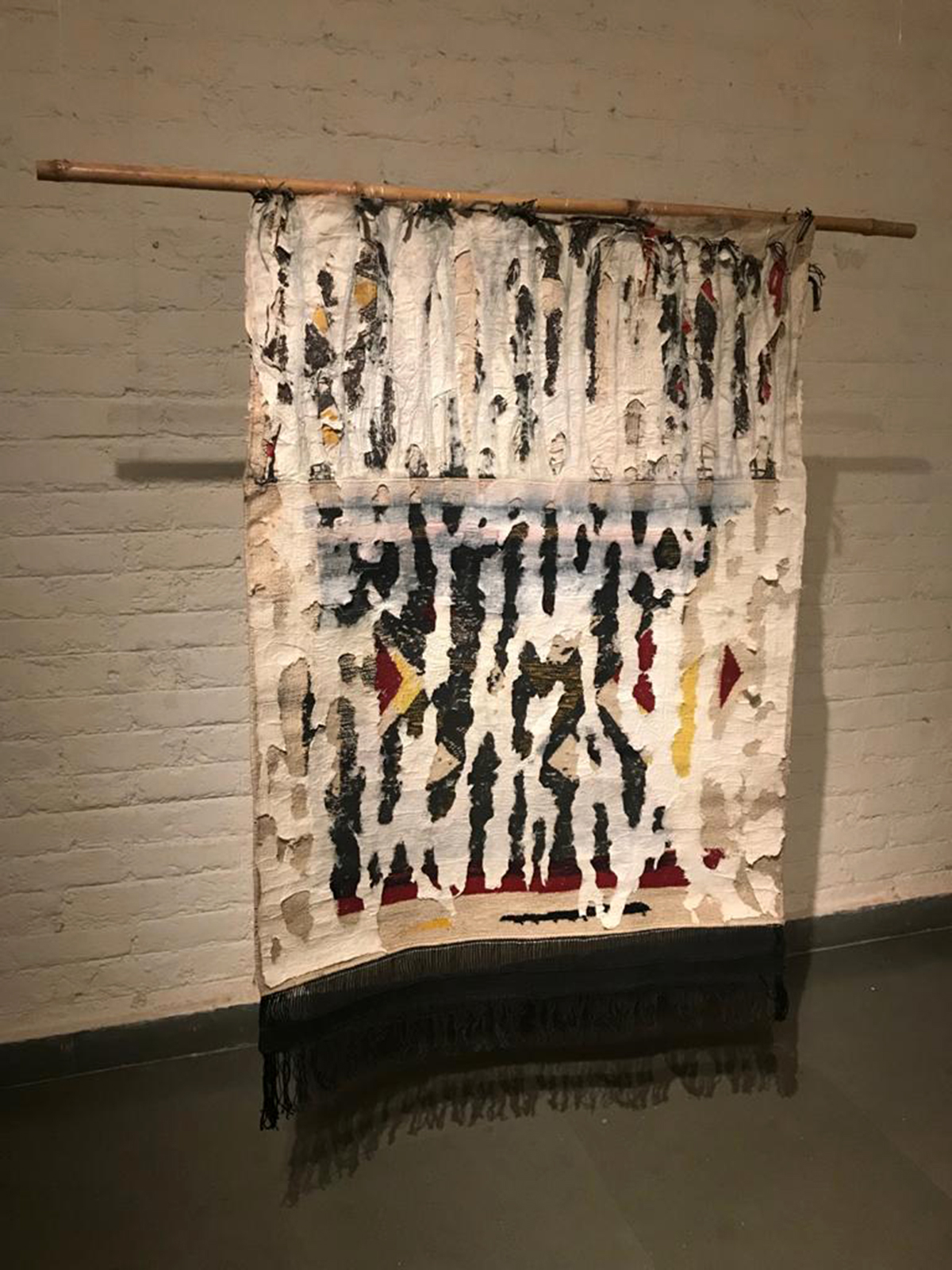 A work by Priya Ravish Mehra, paper, graphite, thread wire
In an interview to The Punch Magazine, Chauhan says she responds to works that "speak". It could be a block of wood or a piece of rock, she says. Each of the artists whose works were on display had personal interactions with her. And each of their works struck her. "You can't be sensitive to life unless life sensitises you. To me, this has probably been the most successful show so far because in any curatorial effort. It's eventually about how the artists respond to the concept. And, for the show, perhaps the selection of the artists was just so right," she says.
Refracting from their works, she says each of them seemed to echo: "what doesn't break you makes you". And everything happens for a reason, and happiness or sorrow or sickness and health all spring "from the rosary of divine understanding" that just says just this: "A diamond remains a piece of coal unless it goes through the process of chisel and cuts".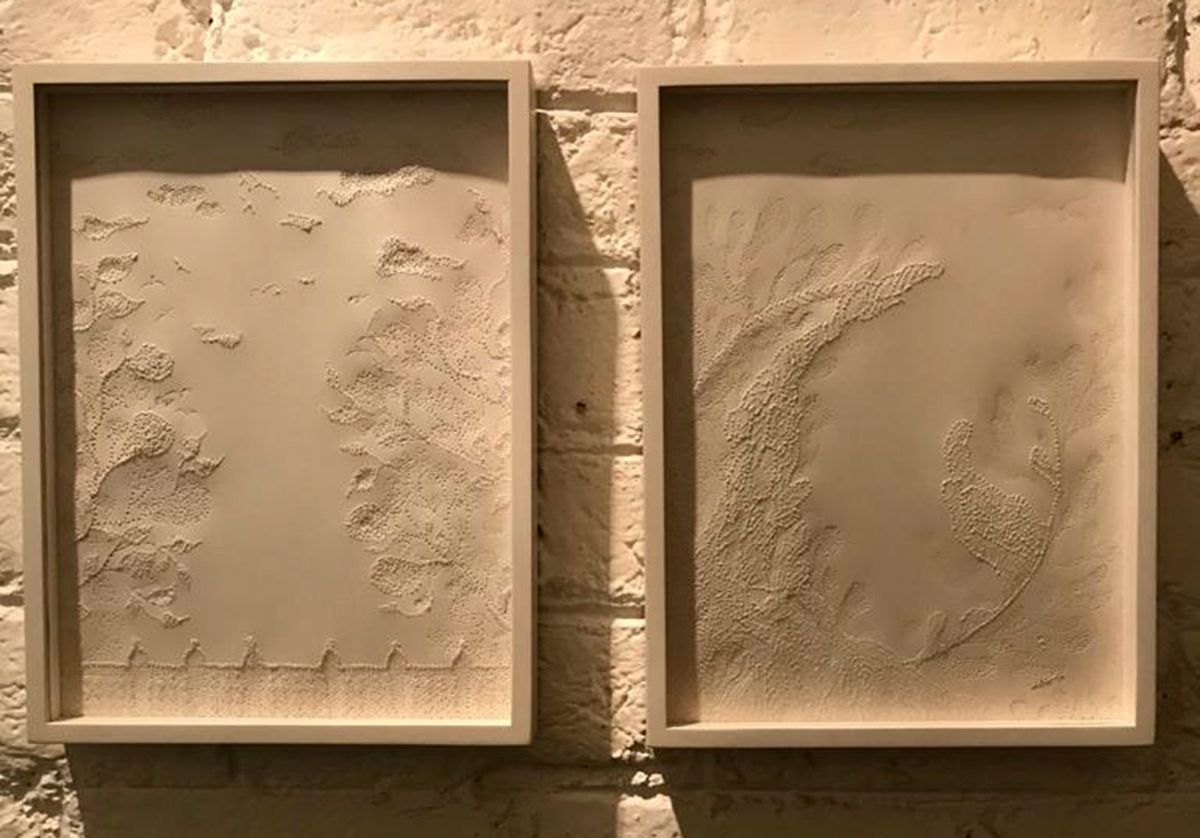 Manisha Gera Baswani's Life Breath, pin drawing on paper
In Vadodara-based Gargi Raina's "Ayeneh Kari/Fracture", the world or the self is reflected as whole in the broken pieces of mirrors. Jammu-based artist Rajendra Tiku, known for his outdoor stone sculptors, speaks through the aesthetics of displacement in "A Broken Oath Reorganised", created in bronze wood and jute, to evoke the idea of readjustment. Delhi-based Manisha Gera Baswani, in her artist's note, writes about the "scars" from the betrayals of life and how they start appearing "jewel-like" as they take form on the stark white sheet of watercolour paper facing her. "I grip the needle firmly, piercing through the virgin paper, one hole at a time," she writes, adding that her work pays homage to the "recurring chapter of life, the inevitable rise and ebb".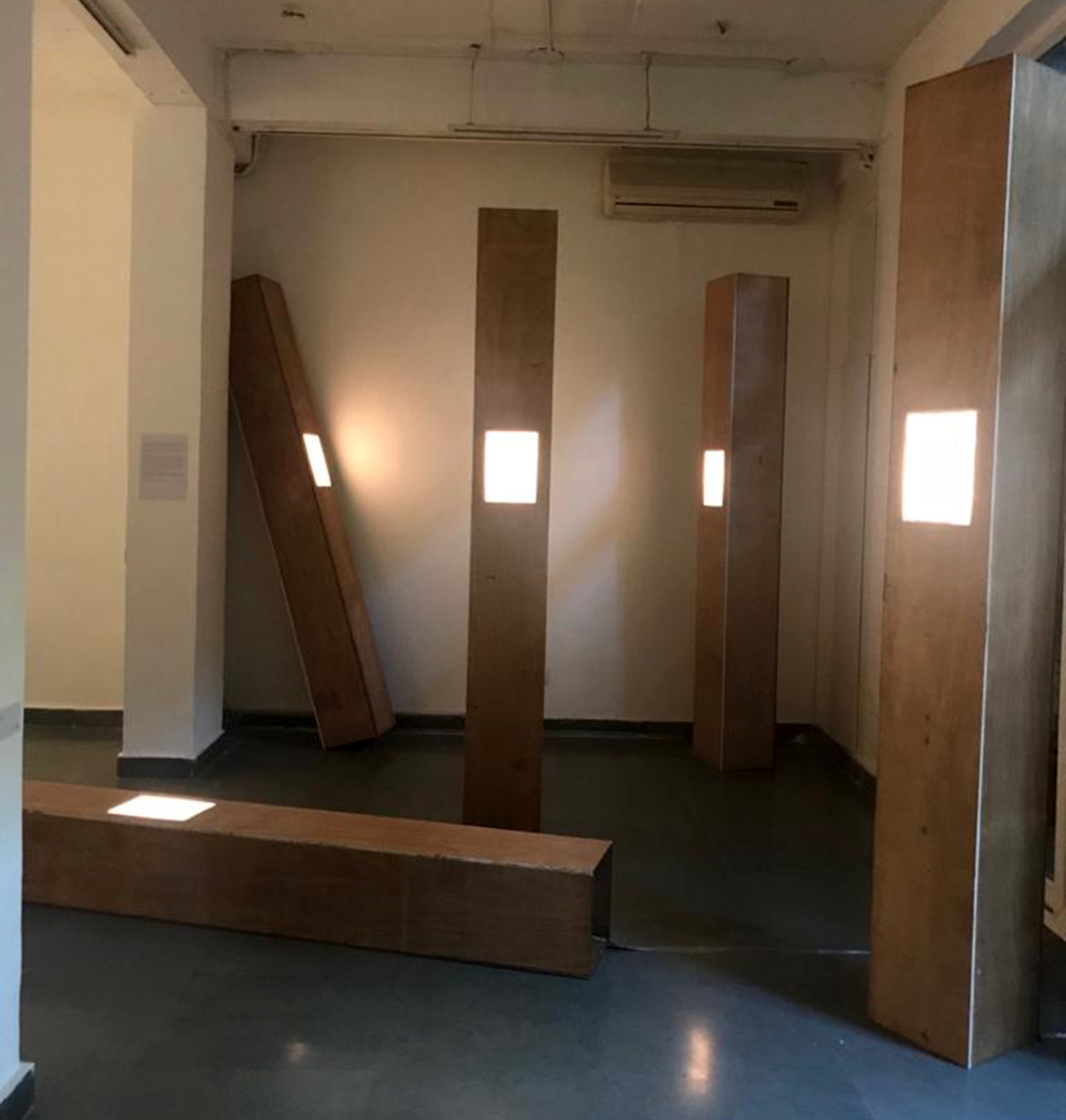 Achia Anzi's Colonial Times, sound, light, plywood
Israeli artist, filmmaker and photographer Yael Bartana, in his one-channel video and sound installation, "A Declaration," takes us to the southern seashore of Tel Aviv which shares an invisible border with Jaffa. Bartana has a young man rowing a boat replace the Israeli flag unfurling on 'Andromeda's Rock' with an olive tree, thus making a statement on the long-term strained relationships between Israel and Palestine.
In her works, exquisite gouache on wasli, Quetta-based Pakistani artist Rubaba Haider tries to create a space where gendered issues are explored. "The damage that has been done to my people is often explored on the mass scale, yet much of the impact of these social forces is very intimate. The use of threads, fabrics and needles symbolise these intimate wounds and tears as well as the upheavals to various relationships throughout my life. The personal, familial and community conflicts are shown through the use of unraveling threads, different types of knots, and needles," she writes in the note about her works.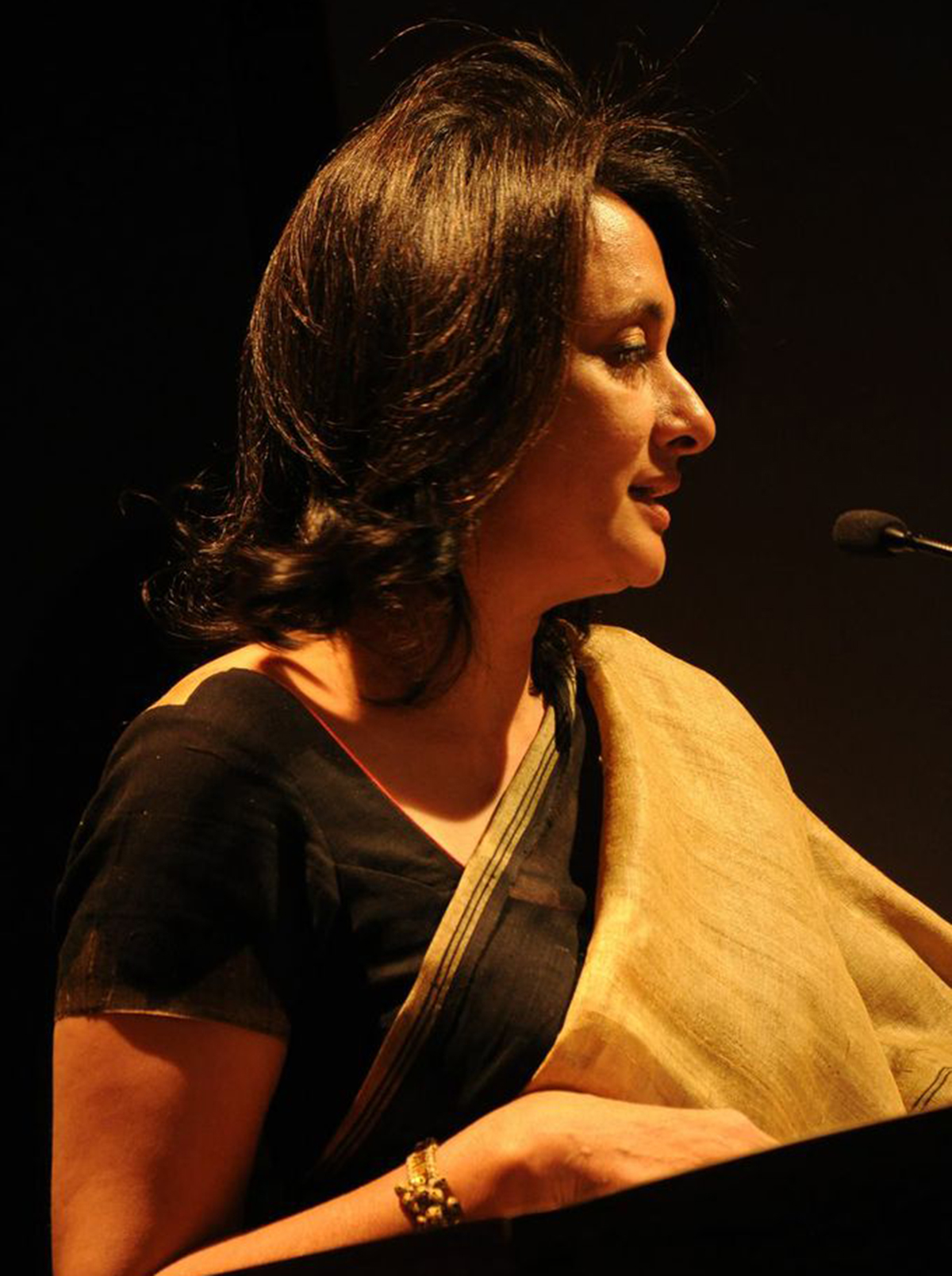 Threshold Art Gallery director and curator Tunty Chauhan. Photo: Threshold Art Gallery
Israel-born Achia Anzi, who teaches at OP Jindal Global University, Sonipat (India), in "Colonial Times" presents a text-light-and-and sound project comprising extracts from five poems by different poets —Jewish philosopher Judah Leon Abravanel (1460-1530), who was expelled from Spain in 1492; nationalist Indian poet of Portuguese origin, Henry Louis Vivian Derozio (1809-1831); Martiniqian poet, Aimé Césaire (1913-2008), who was one of the founders of the Negritude movement; Romanian Jewish poet and Holocaust survivor, Paul Celan (1920-1970); and Palestinian poet Mahmoud Darwish (1941-2008). "While the poems belong to different times and diverse spaces, they were all conceived from the margin of modernity and responded to the experience and logic of colonialism and coloniality," he writes.
Priya Ravish Mehra (1961- 2018), in her mixed media works, uses the "metaphor of visible and invisible rafoogari traditional darning to invoke sudden, unexpected and violent rupture in our daily experience of the apparently seamless, stable, reliable order of things".
Chauhan says that there were several works that spoke to her but couldn't be part of the show. Bartana's Summer Camp, for instance. "It still haunts me, but because of constraints of space could not be included in the show," she says, adding that she would have loved to have Vadodara-based visual artist Nilima Sheikh as part of this exhibition. "She loved the concept but couldn't participate because of her large project at a Dhaka show," says Chauhan.
Donate Now
Comments
*Comments will be moderated